News
Villegas Hangs On To Lead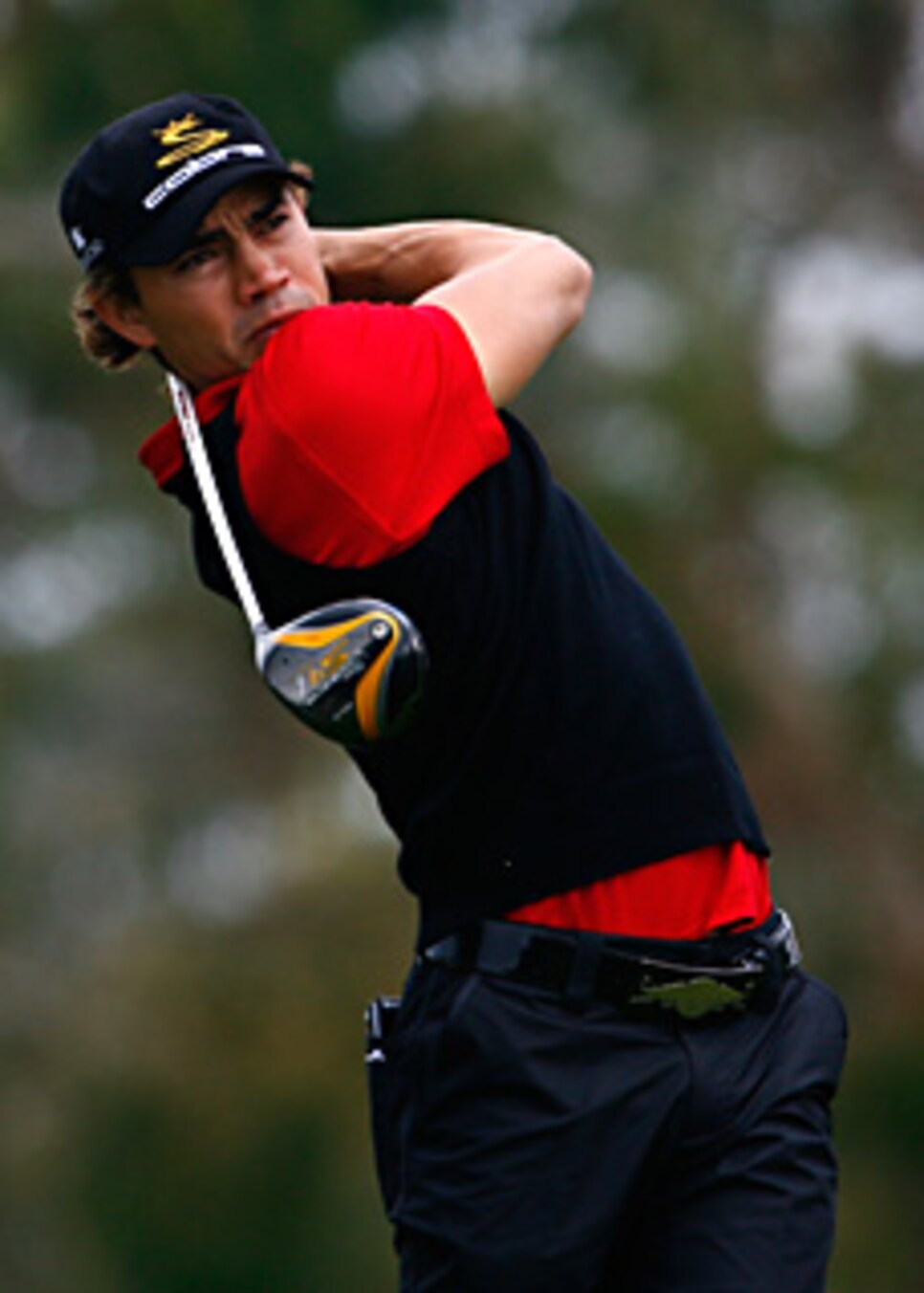 At the halfway point, Villegas is T-1 in sand saves and T-3 in putting.
SAN DIEGO (AP) -- Camilo Villegas accomplished his goal Friday in the Buick Invitational, keeping it around par and keeping the lead while playing the tough South Course in all the elements a golfer dreads, from rain to wind to cold.
John Rollins was one shot behind, and achieved more than anyone imagined.
On a tough day for scoring, Rollins holed out a 9-iron for eagle and made six birdies on his way to an 8-under 64 that at least gave Villegas some company heading into the weekend.
Villegas teed off in a steady rain, and when he reached the exposed holes along the Pacific bluffs, more rain arrived equipped with gusts up to 25 mph that made the San Diego weather feel more like Sun Valley. But he scrambled for pars, took advantage of a few par 5s and wound up with a 70 that put him at 11-under 133.
"I looked at my caddie walking down the 10th fairway -- it was just pouring -- and I told him, 'Listen, let's find a way to keep it around par and maybe get it in the red numbers,'" Villegas said. "I scrambled pretty good and 2 under, I'm happy with it."
Villegas was among the early starters, and his solid round made it look as if this Buick Invitational might turn into a runaway. That changed when Rollins played the front nine (he started on No. 10) in 31.
"When I saw he was at 11 (under), I was just trying to get in position to be in the last couple of groups, just staying in the mix," Rollins said. "It just so happened things started going in."
He caught Villegas at 11 under with a birdie on the par-3 eighth and had a chance to match the South Course record since 2002 -- when Rees Jones first began to lengthen the course for the U.S. Open -- until a bogey on the par-5 ninth.
It wasn't his best round on tour, but it felt like it.
Charley Hoffman, who grew up in San Diego and is coming off a playoff loss last week at the FBR Open, shot a 66 on the easier North Course and was at 7-under 137. The group at 138 included Paul Goydos, who wasn't planning to play the Buick Invitational.
Goydos learned two weeks ago that his ex-wife had died, and he said he would take a break from the PGA Tour to be with his two daughters, for whom he had full custody. He said he did not want to talk about his family yet, preferring to answer questions only about his golf and his chances on the weekend.
"I'm not overly excited about playing long ball with Camilo on the South Course the next two days. There's really not much advantage for me there," Goydos said. "But I'm just happy to be playing well, and happy to be playing on the weekend."
Phil Mickelson, coming off a missed cut at the FBR Open, also is playing the weekend, although not as close to the lead as he would like. The three-time winner at Torrey Pines made three bogeys on the par 5s at the North Course for a 72, leaving him at 2-under 142.
Padraig Harrington, at No. 3 the highest-ranked player in the Buick Invitational, went 13 holes without a birdie until holing a 15-footer at No. 5 on the South Course, raising his arms in mock triumph. He had a 74 and was at 145.
Eighty-five players made the cut, which was 2-over 146.
Harrington played the first two days with Villegas, and the 27-year-old Colombian has put on quite a show.
He holed another shot from just off the green on the par-3 11th hole for his fifth consecutive birdie on a par 3, but he was equally impressive with his pars. With the wind at full strength, Villegas missed four consecutive fairways starting at No. 4, but never did worse than par, and hammered a 5-iron out of the rough on the par-5 sixth to the front edge of the green for a birdie.
"Obviously, you want to hit a lot of fairways and try to keep it as simple as you can," Villegas said. "I did completely the opposite today, so then you've got to work hard, be creative and get it up-and-down somehow, which I did."
Even more amazing was the 64 by Rollins, especially on this course, and in these conditions, and his description of how he "got out of there with 8 under."
"It doesn't happen real often you can say, 'I got out of the South Course with an 8 under.' But today, everything kind of worked out well for me," Rollins said.
It started with a 60-foot birdie on No. 10, so maybe that should have been a clue. And he only had 23 putts, including that 9-iron from 123 yards on the fifth hole when he didn't need the putter at all. He also holed an 18-foot par putt on the seventh.
So how does that compare with his best rounds?
"If it was in the U.S. Open last year, it would been the No. 1 round," he said. "It's high up there, for sure."
Better yet, it allowed him to get high enough on the leaderboard to keep it interesting.
Divots: Tadd Fujikawa, the 18-year-old from Hawaii who shot a 62 in the Sony Open last month, will play consecutive weeks on the PGA Tour to start the Florida swing. He has received sponsor exemptions to play in the Honda Classic and Puerto Rico Open. ... Kevin Streelman, who played in the last group in the third round last year at the Buick Invitational and had a share of the 18-hole lead at the U.S. Open, was among those who missed the cut. ... Villegas' younger brother, Manny, began his Nationwide Tour career in Panama and missed the cut.