News
In Need Of A Stimulus Package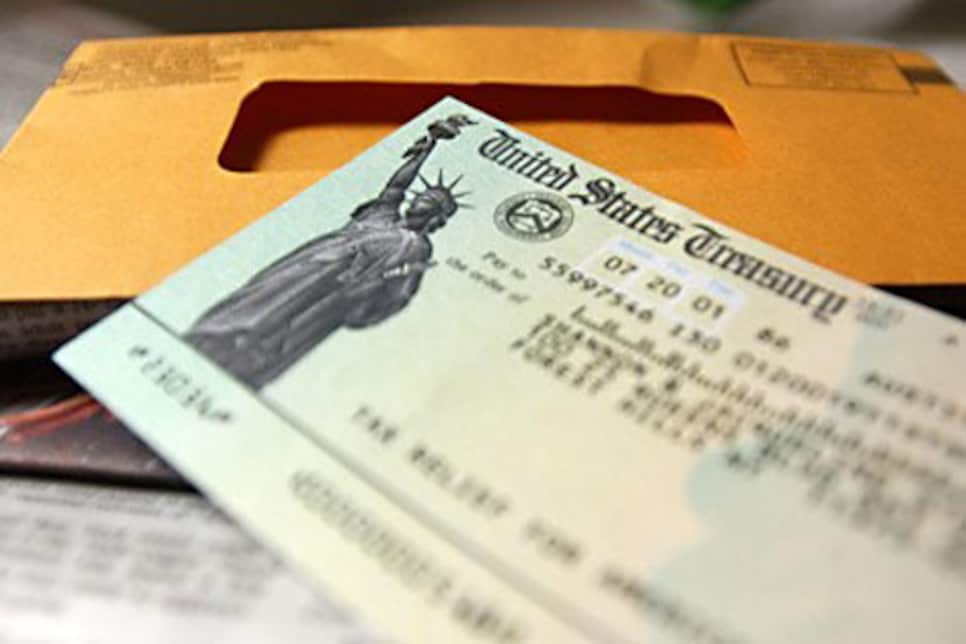 It may be time for the PGA Tour to issue it's own rebate checks.
LA JOLLA, Calif. -- Here's a suggestion to Tim Finchem, the PGA Tour Commissioner: Let's drop the façade that the fundamentals of the golf economy are strong. In the spirit of a tanking global market and the perception that golf is a game of corporate excess, take $1 million off each purse, and donate it back to the sponsor of that particular event. Then take another 5 percent, and kick it in to all the charities that will be hit hardest, in a gesture of generosity across the board. Do it for one year, as part of a stimulus package, because the PGA Tour could use some stimulation based on the scene at the Buick Invitational this week.
This is not just my idea. It's an idea coming from tournament directors and even some players, including one who raised a skeptical eye at the tour back even when our 401Ks were not 201Ks and golf was still riding a Tiger Woods windfall.
"If I was (Finchem), I would cut the prize money by 20 percent to show U.S. citizens, corporations and the world, that have lost anywhere from 25 to 55 percent of their wealth that we, the tour, sympathize with what has taken place and we are not acting like we, the tour players are recession- or depression-proof," Presidents Cup captain Greg Norman said in an e-mail this week. "What would the difference be between getting $800k for first instead of $1 million? This would be great PR."
To Norman's point, what kind of message would a PGA Tour rebate send to America? Never mind the Arnold Palmer video shown at a Tuesday night players meeting at Torrey Pines intended to reach a group that really hasn't felt the impact of the recession -- or at least not yet. There is a call to be more engaged in the tournament commitment process, more personable in pro-ams, more receptive of the media, more passionate on the golf course. There was discussion by CBS about the players being "miked up," but it's not about the product or the presentation anymore. It's about the economy and what happens when sponsors start lining up behind Bobby Ginn after filing bankruptcy.
As one veteran said on the putting green Tuesday, "This is the calm before the storm."
Under an otherwise clear sky, on the edge of an azure Pacific Ocean, there were enough signs of those storm clouds forming. Ben Curtis, the 2003 British Open champion, is without his NFL clothing deal. Players who always have had the standard "ball, shoe and glove" contracts were shut out, prompting one player manager to say solemnly, "There are no bones being thrown anymore."
One player had his agent tell him that a corporation wanted the logo removed from his shirt. They'd still pay him, but like Chrysler a few weeks ago at the Bob Hope Classic, this one particular company didn't want its shareholders to know it was "investing" in golf.
And then there's Buick, off Tiger Woods' bag and hardly represented here after being synonymous with this tournament since 1992. Finchem has been in town to meet not only with his players and staff, but also with marketing representatives of a car company that was part of the distressing flotsam coming out of Detroit about January car sales plummeting 37 percent in January.
The tour already has a lucrative TV contract in place, signed before the FedEx Cup was rolled out in 2007. But in the case of a total financial meltdown, how many events could it subsidize from its emergency fund?
"I'm shocked that we're still able to play golf right now. I think in a year, if things don't get better, I really worry where this tour goes," said Jay Williamson, who has been on and off the tour for 14 years. "I just don't think that if these companies are getting government money, they're going to able to say, 'Oh yeah, by the way, we're going to have a golf tournament next week for $5 million.
"My takeaway is that Tim is concerned ... I mean let's face it, without sponsors there's no professional golf. That's the bottom line. And without professional golf, I don't know what else I'm going to do for a living."
A temporary solution could be players agreeing to play for less. Maybe that's not something they would campaign for, but most understand it beats an alternative of empty weeks on the schedule.
"For some reason if there was a need to take 5 to 10 percent off the purses I don't think that would be a big problem," said Charley Hoffman, who made $648,000 for finishing second to Kenny Perry at the FBR Open on Sunday. "The PGA Tour hasn't cut back and its sort of amazing that it hasn't."
As of now, the tour has no drastic measures in the works. According to executive vice president Ty Votaw, that's not a reflection of a lack of concern, but of so many questions remaining unanswered.
"We've looked at a number of ideas generated both internally and externally," Votaw said. "We've concluded that at this point it would be premature to shift resources around as a reaction to what some people might feel are only optics. But we continue to prepare to do things if things worsen and this is a long-term systemic malaise instead of just a cycle."
In the meantime, one of the tour's main talking points has been increased player participation. In the '80s and early '90s, Norman proclaimed that the season started at Doral. But when Woods came along, it was Torrey Pines that marked the unofficial start-up after the soft opening in Hawaii and at the Hope. Taking Tiger off any pairing sheet sucks most of the excitement and anticipation from an event anyway. But with Woods back in Orlando, and only recently allowing himself to go full bore on his knee, it's still up to Phil Mickelson, reigning Player of the Year Padraig Harrington and the sexy Colombian, Camilo Villegas, to fill the void.
In Mickelson's case, he hasn't come up big since Tiger headed for the exits last June at Torrey, but the tour needs him now more than ever.
"I'm not an economist," Mickelson said in a Tuesday news conference, wearing logos from KPMG and Callaway. "But this year, knowing our contracts are already in place, we haven't necessarily felt the effects. We haven't seen or felt the hardships on tour, per se."
It would also be nice if Mickelson's Ryder Cup partner, the electrifying Anthony Kim, showed his face more often. After a closing 67 at Kapalua that amounted to a back-door second-place finish, young A.K. pulled out of his hometown event, the Hope, with a bum shoulder, then missed the cut at FBR. Where is he this week? At home in the California desert, just on the other side of the mountains from San Diego, awaiting a plane ride Saturday night for back-to-back appearances in Malaysia and Australia.
Kim, 23, doesn't have the built-in excuse of kids getting older, which Mickelson took full advantage of last year. Phil played 21 events in the U.S., a couple overseas, and the Skins Game. That was enough.
"It's easy for guys to play every event every four years when we only had 27-28 events," Mickelson said. "And that's what a lot of older players did and are committed to doing. But we have some 40-odd events now, and it's just not as realistic."
Seeing how 18 of the tour's sponsors being car companies or financial institutions, that number is destined to go down. There's lean and mean, and with two million Americans lining up for a free breakfast at Denny's, there's every man for himself. At this point, the tour needs to let Woods play out of a cart, Mickelson have a free pass into the weekend and Norman to win the Masters -- and even that wouldn't save pro golf with type of numbers coming out of Wall Street and Detroit. This is a correction that has 10 to 12 months before a recycle -- which puts it in the wheelhouse of the tour's next renegotiation phase.
"I don't have any answers for what should be done. I just know it's tough times and everybody is struggling," said 2010 U.S. Ryder Cup captain Corey Pavin. "We certainly want to keep playing for what we're playing for, but if something has to change, it'll change. That's up to Tim and the boys to figure that out. I'm just happy that we have the opportunity to play what we do out here, and which ever way it goes, I'm still going to be happy."
The subject of courtesy cars has come up as a way of belt tightening. Pavin remembers coming out on tour in 1984, when there were only 30 cars in the pool, and the players who didn't need them were the ones who got them.
"That way it was fine," Pavin said. "If it's that way again, that's fine, too. There are a lot of guys who weren't out here then, but it's nothing. If I have to rent a car, big deal. We're out here playing for $6 million a week. If I have to rent a car for $500 a week, I think I can handle it. I think everybody out here has to understand that. And I think everybody is getting educated out here to understand that."
The final word on this goes to Paul Goydos, who was recently cited as one the brightest players on tour in a Golf Digest poll, and who goes by the nickname "Sunshine." Goydos figures that if he and his caddie have to share a rental car, they'll manage. He also thinks it's silly to ask a professional golfer who never had a real job to weigh in on the economy.
Nonetheless, he weighed in on the subject of a corporate-purse rebate as the sun set over the Pacific and he worked on a 10-footer with a right-to-left break with swing instructor Jamie Mulligan.
"It's an idea, but if we decided to do something along those lines, that would be between Tim and the sponsors," Goydos said. "I don't know if the sponsors would want to publicize they were taking a rebate. I don't know if that's the strategy you'd want to look for. The people who are going to survive this economy are going to say, 'Look, we need to be ready when this thing gets better. We need to continue to build our base. The companies who are going to come out of this are the ones you want to be in business with.'"
Goydos paused long enough between putts to make his closing point.
"If it doesn't get better, it doesn't matter," he said. "If it goes south, the company to buy is Smith and Wesson. Their sales will go through the roof. If the Dow goes to 3,000 what difference will it make? Do you think the PGA Tour will matter?"