News
Further Assistance Required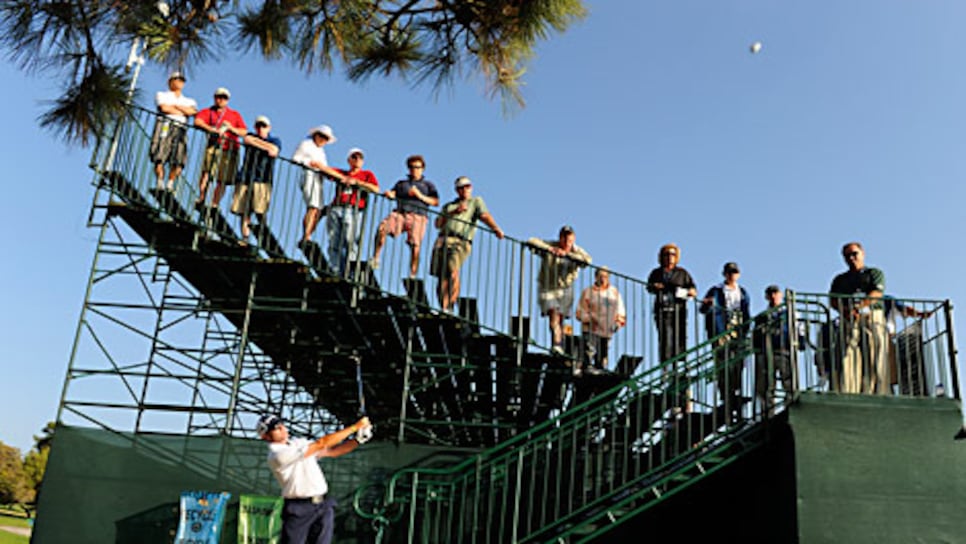 Unless the PGA Tour takes definitive steps it faces more granstands like this.
Desperate times call for practical measures, only a few of which might require a stack of dynamite. If the PGA Tour entered America's double-bogey economy in excellent shape financially, perhaps a half-dozen of its tournaments may struggle to survive these tough times. Television ratings have never been lower, the dependence on a single player never greater, its relevance on the national sports radar barely existent beyond the four major championships -- none of which are governed by the tour itself.

Of course, Camp Ponte Vedra would like you to think it is recession-proof and above the mainstream fray when it comes to gauging its fiscal health and popularity. Privately, however, the tour must be concerned about its reliance on a wobbly corporate America, the competitive failures of its postseason format and the widening gap between successful tournaments and endangered ones.
"If you're asking how we're going to save opposite-field events and the Fall Series in this economic climate, it's going to be very difficult," admits tour veteran Joe Ogilvie. Those nine stops, plus three or four others, represent the tour's disposable commercial largesse and are rendered meaningless in the grand scheme.
Growing suspicions over the demise of the Bob Hope Classic, however, serve as an alarm to the difficulties facing all smaller events. Can the bottom quarter be salvaged? Perhaps, but it may require significant alterations to the tour's methodology.
Downsize, downsize, downsize -- After years of pondering the pros and cons of the all-exempt list, it's time to reduce the field number from 125 to 80. At the end of the regular season, those 80 guys head into the FedEx Cup playoffs. Everybody else has to qualify for full-time status in a revised format to be discussed later.
Ogilvie is among those who doesn't see this accomplishing much. At the very least, it would generate healthy turnover and give young guys a better chance to make the big leagues, which might produce more interesting storylines and some national attention for the lesser events. It would force big-name players having lousy years to participate in tournaments they might otherwise skip and create a greater sense of urgency at Greensboro, a weak-field gathering right before the playoffs.
More than anything, it would send a prudent message: Play hard. The number of seats on the gravy train just got a lot smaller.
The Five-Year Rule -- Viewed by some as the logical fix to what many perceive as pro golf's biggest problem: more than half of all tour stops have virtually no chance of getting Tiger Woods to show up at their tournament. Thus, the tour would require every player to tee it up at every event over a five-year period, a mandate that ostensibly affects a select few. Basically, you're usurping the rights of the one guy who has carried the operation on his back since he turned pro in 1996.
Is it fair, or even sensible, to penalize Woods for his massive success? "We already put too much pressure on Tiger and Phil [Mickelson]," says one veteran. "We need them to play more and we should be bending over backwards to accomplish that. Maybe we think about making them exempt from some pro-ams. Maybe we ask them to put on a half-hour clinic or do an hour-long Q&A with the sponsors."
These are good ideas, but how do they relate to saving tournaments such as the Hope? If you work with your superstars, maybe your superstars will work with you.
Invisible appearance fees -- When Mickelson signed an endorsement deal with hotel chain Crowne Plaza a couple of years ago, those paying attention knew it meant Philly Mick would be playing regularly at Colonial, a tournament with a long and deep history that has struggled to draw quality fields in recent years. Mickelson won at Colonial in dramatic fashion last spring, so the event got its money's worth -- even if it was a lot of dough.
A title-sponsor investment depends on the tournament, with $6 to $10 million being a safe estimate. Bottom-tier events obviously cost less, but if you lure just three of the top 50 players in the World Ranking and fail to get more than a passing mention somewhere other than the Golf Channel, it can be hard to justify that $6 million commitment. That's why sponsorship on the bottom third undergoes such a high turnover rate, which conveniently takes us to our next point.
Smaller purses, different formats -- More of a survival proposal than anything, Camp Ponte Vedra should lower the price on title sponsorship and reduce prize money, which it has already done out of necessity at certain tournaments. Meanwhile, the death of the International in 2007 left the tour without an alternative competitive format. Every event is stroke play except for the WGC-Match Play.
Why not use some of the lower-tier gatherings to mix things up? The Stableford scoring system generated a lot of excitement for a long time. A two-man team event similar to the Shark Shootout wouldn't be a stupid idea -- the best players might consider participating in something that includes a partner. From there, you can do anything the imagination might allow. Not for nothing, it's an idea definitely worth exploring.
Six rounds? Why not six weeks? -- As Ogilvie mentioned, the Fall Series, a rank-and-file money grab held after the playoffs, needs serious help. The tour's Qualifying School, however, has always engineered a bit of interest with its cutthroat nature and feel-good storylines. The thought of combining the two ranks somewhere between a no-brainer and an inevitability.
"There is a gap and an opportunity that we haven't scratched yet," Ogilvie says of the premise.
Like all of these modifications, the logistics would have to be worked out, but the concept is solid. Instead of holding a six-round Q-School in early December, everyone outside the top 80 must compete in a six-tournament stretch to earn or regain tour membership. Six different locals, no more than 50 cards awarded -- to give out more would nullify the basic purpose of the exercise.
There are a bunch of ways to give Super Q additional flavor. First-tournament byes for those who finished between 81st and 100th on the money list, for example, or a "group cut" after the third event that would reduce fields for the final three weeks and amplify the pressure. At that point, the Fall Series would be a lot harder to totally ignore.
Touching the hack -- Holding two pro-ams (Tuesday and Wednesday) would only scare away the stars, but at a grass-roots corporate level, it would strengthen relationships. All tour players are exceptional golfers with a lot to offer the 22-handicap. Whether it's via a lesson, a clinic or a trick-shot contest, you need to throw the rank-and-file into situations where they interact with the guys who have helped make them rich. Pro golf offers an excellent product. Circulating the talent of its constituency is crucial to that product's long-term prosperity.
Banking on Vegas -- The tour stop in Sin City was all but dead until mega-entertainer Justin Timberlake took sponsorship of the event last year as a means of generating charity revenue for Shriners Hospitals. As I wrote in this space last fall, Timberlake has the potential to become a gigantic asset for the tour. He is exceptionally popular. His talent is not going to disappear tomorrow, and the dude absolutely loves golf.
Timberlake, however, is not going to remain content for very long with a tournament stuck in the Fall Series. His 2008 debut was an unqualified success, and we're talking about a guy didn't get to where he is by accepting minor-league status. This tournament needs to move into the regular season as soon as possible. Preferably yesterday.
Las Vegas also presents a whole new world of gaming opportunities that could greatly benefit the tour. There is a pronounced downside to the potential of legal wagering on golf tournaments, but if implemented and controlled properly, betting could provide a public-interest boost not unlike the positive jolt it gave the NFL.
The tour also plays a Fall Series event at Turning Stone, a casino in upstate New York. From a big-picture perspective, it's a match made in heaven if you regulate the small portion of hell involved. More than one in-the-know player has endorsed the idea in conversations with the home office -- privately, of course, at least for now. Sometimes, the best ideas start with a whisper.