News
Villegas Opens An Early Lead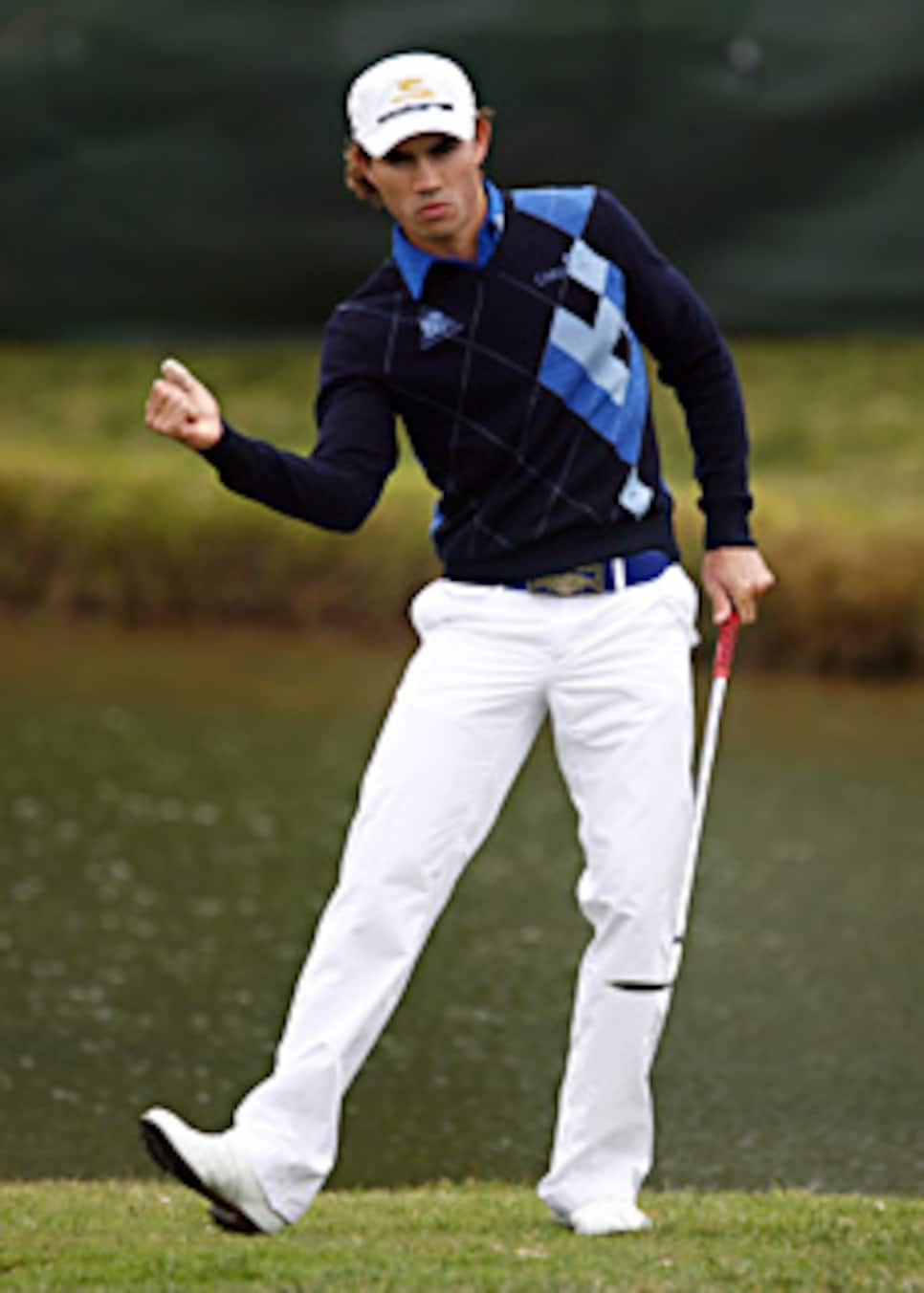 Villegas' round included eight birdies, an eagle and one bogey.
SAN DIEGO (AP) -- Camilo Villegas seems to play his best golf when Tiger Woods isn't around to defend a title.
Villegas holed out for an eagle early in his round and made a string of birdies late for a 9-under 63 on the easier North Course at Torrey Pines, giving him a three-shot lead Thursday in the Buick Invitational as he goes for a bizarre hat trick.
A victory this week would be his third straight at a tournament where Woods was the defending champion.
He hit a lob wedge over the bunker and into the hole for eagle on the par-4 second hole to quickly put his name atop the leaderboard, then built his lead with three birdies in a four-hole stretch on the back nine.
Davis Love III, coming up on two pivotal weeks as he tries to get into the Accenture Match Play Championship, and Aaron Baddeley each shot 66 on the North while playing in the same group.
The best score on the South Course, site of the U.S. Open last summer, belonged to Scott Sterling and Matthew Goggin at 69. Given the disparity of these courses, the leaderboard doesn't sort itself out until everyone has played both sides.
Phil Mickelson, a three-time winner of the Buick Invitational, put together a solid round of 70 on the South Course with a few big par saves, including a 15-footer on his final hole.
British Open and PGA champion Padraig Harrington, making his PGA Tour debut, started strong with three birdies on the opening four holes of the North Course, but a four-putt double bogey on the 17th sent him to a 71.
Woods is the four-time defending champion at the Buick Invitational, but still is recovering from season-ending surgery on his left knee -- a week after his U.S. Open playoff victory.
"I'm glad he's not here," Villegas said. "He plays pretty good around here, I can tell you that."
Villegas wasn't too shabby on the North Course, which was more than 3 1/2 strokes easier than the South, but still no bargain with blustery, cool conditions, along with greens that were firmer than usual with no water on them in anticipation of rain this weekend.
Coming off a missed cut last week in the FBR Open, Villegas opened with a simple birdie on the par-5 first, then made a mistake with his tee shot on the 326-yard second hole by hitting his drive to the right, 50 yards from the flag with a bunker in the way.
Using a new 63-degree sand wedge, he popped it up over the sand and never saw it go in the hole.
"I had a decent lie," Villegas said. "I just puffed it up in the air, and I knew it was good, but I didn't see the ball go in. My caddie said, 'It went in.' Early in the round, not much of a reaction."
He made some big putts on the back nine, including a 25-foot birdie on the 14th with a big break to the left. That followed a chip that bounced harder than he expected, part of the difficult of playing the firm greens.
It should get tougher Friday.
The average score on the South Course was 75.37, which is why Pat Perez was smiling after a 73. "That's like 69," he said.
Villegas had the right attitude going into his second round.
"The rough is up. It's tough. It was very firm during the pro-am," he said. "If it rains a little, it's going to get softer, the rough is going to get a little more severe. Who knows, man? Just go out there and hit some shots."
Love is at No. 58 in the world ranking, needing to stay inside the top 64 after next week at Pebble Beach to qualify for Match Play, then keep going into the top 50 to get into another World Golf Championship and eventually the Masters.
He was pleased with a 66, for no other reason than it kept him near the top of the leaderboard going to the South Course.
"You've got to get off to a good start no matter what," Love said. "Because three rounds on the South will bring you down."
Mickelson missed the cut at the FBR Open last week in his 2009 debut, but has a good omen on his side. The last two times he missed the cut on the West Coast, he won the following week. Lefty made a collection of good par saves, but got away with a mental mistake at the end of his round.
He decided to hit driver to get to the front of the green, setting up an easy up-and-down for birdie, but he couldn't go right. And he went right, into a face of a bunker. From there, he hit into another bad lie in a greenside bunker, and did well to blast out to 15 feet. But he made the putt, and all was well.
"It wasn't the smartest play there," he said. "I should have hit 3-wood down there and taken 6 out of play. But that's what happens. I was fortunate to walk away with par."
Divots:@ Pete Bender, the caddie for Baddeley, is back to work. Bender missed nearly a year recovering from cancer in the throat area and looked happy to be back. ... Six players in the 156-man field failed to break 80, including Eric Axley at 85.