News
Here, There And Everywhere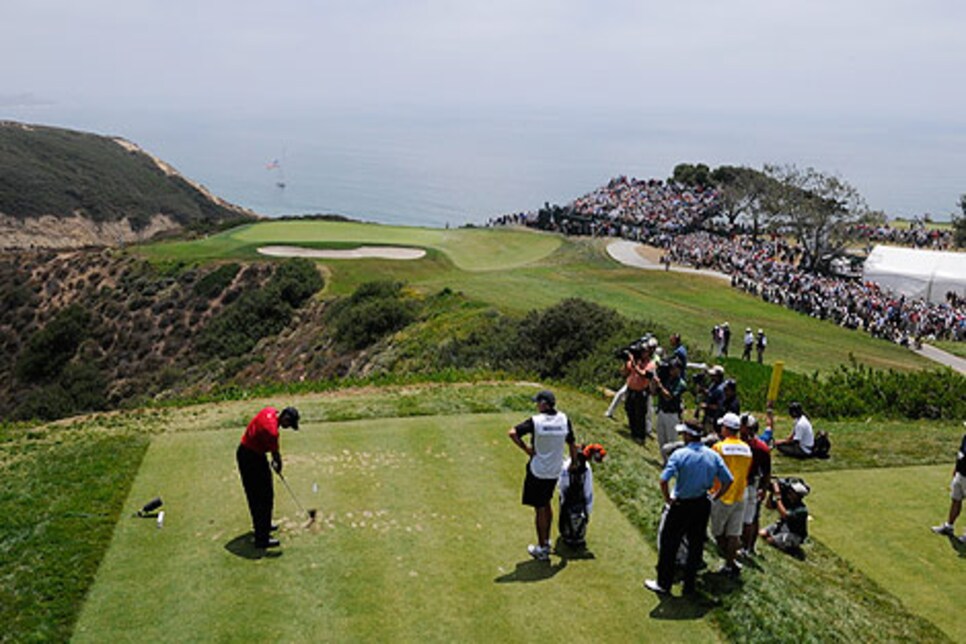 Tiger Woods isn't in the field at Torrey Pines this week, but the memories of his last visit there should give his competition plenty to think about.
LA JOLLA, CALIF. -- At first glance, Torrey Pines didn't look that much different. Padraig Harrington and Retief Goosen stood at the far end of the driving range, where they took turns pounding golf balls and checking their swings on a launch monitor. Pat Perez pulled a boxing glove head cover off his driver while a few feet away, Woody Austin fiddled with the stuffed toy airplane cover on the driver in his bag.
Jesper Parnevik tested a new putter from short range and Todd Hamilton worked on his long-distance putting.
Phil Mickelson signed programs and caps as he made his way to the players' dining room.
It might have seemed like business as usual, but something still didn't seem right. Something was missing among the pine and eucalyptus trees -- something as integral to Torrey Pines as that pond in front of the 18th green.
They're playing the Buick Invitational this week at Torrey Pines, the most Tiger-friendly course on the PGA Tour, and Woods isn't around. Chances are you remember what happened the last time Woods was here: he won the U.S. Open in riveting fashion.
That was in June, his last tournament before undergoing reconstructive knee surgery. And a couple of months before that, he won his fourth consecutive Buick Invitational and sixth overall, and by a record eight shots.
Woods is getting healthy and preparing to return to competition sometime soon, but not this week, and his swing coach said everyone should understand what a Tiger-less tournament means.
"It means there's probably a little more money left in the purse for somebody else," said Hank Haney.
Haney passed on that he has been spending a lot of time working with Woods in Orlando; and that while Woods is hitting full shots, he won't play before he's ready. Haney said Woods' left knee is coming along well.
"Coming into the ball, his knee looks stable. Before, his knee was flopping all over the place. I don't know how anybody thinks he can't come back and be any better than before. He won the U.S. Open with a broken leg."
And now the tour is back at the same place. Woods may be miles away, but his footprints are everywhere.
They're over there at the 17th hole, between a couple of bunkers in the greenside rough. From an uphill lie, Woods chipped the ball into the hole on one bounce, then grinned and covered his face with his cap.
Of course, they're on the 18th green, where Woods rolled in a 45-foot eagle putt.
They're on the seventh green, where he finally closed out Rocco Mediate in a 19-hole playoff to win the Open.
Two days later, Woods announced he was done for the year and needed knee surgery. Haney said the magnitude of Woods' victory is unmistakable, whether Tiger is missing from Torrey Pines this week or not.
"One of the memories of a lifetime. It just showed once again Tiger's mental toughness," the teacher said
It's going to be someone else's chance to show something like that this week at Tiger-less Torrey.
"I know that this tournament misses him immensely," said Mickelson, who last won at Torrey Pines in 2001.
Woods will come back, possibly as soon as the Match Play Championship in three weeks. And according to Gary Player, it can't come a moment too soon.
"If ever golf needed a golfer, more so than ever in the history of golf, if we ever needed a champion to play, we need Tiger now," the nine-time major champion said recently.
Player said diminished television ratings, a slumping economy, smaller galleries and a possible decline in fan interest have all coincided with Woods' extended absence.
"I think he'll come back better than ever," Player said. "I also think there are a great many people who wish he would come back right now."
If it's possible to feel an absence, to put your finger on something that's not even here, then that's what is happening this week at Torrey Pines. The U.S. Open was more than seven months ago, but whatever shadow Woods was able to cast, he's still doing it.
Thomas Bonk is a Writer-at-Large for Golf Digest Digital.