News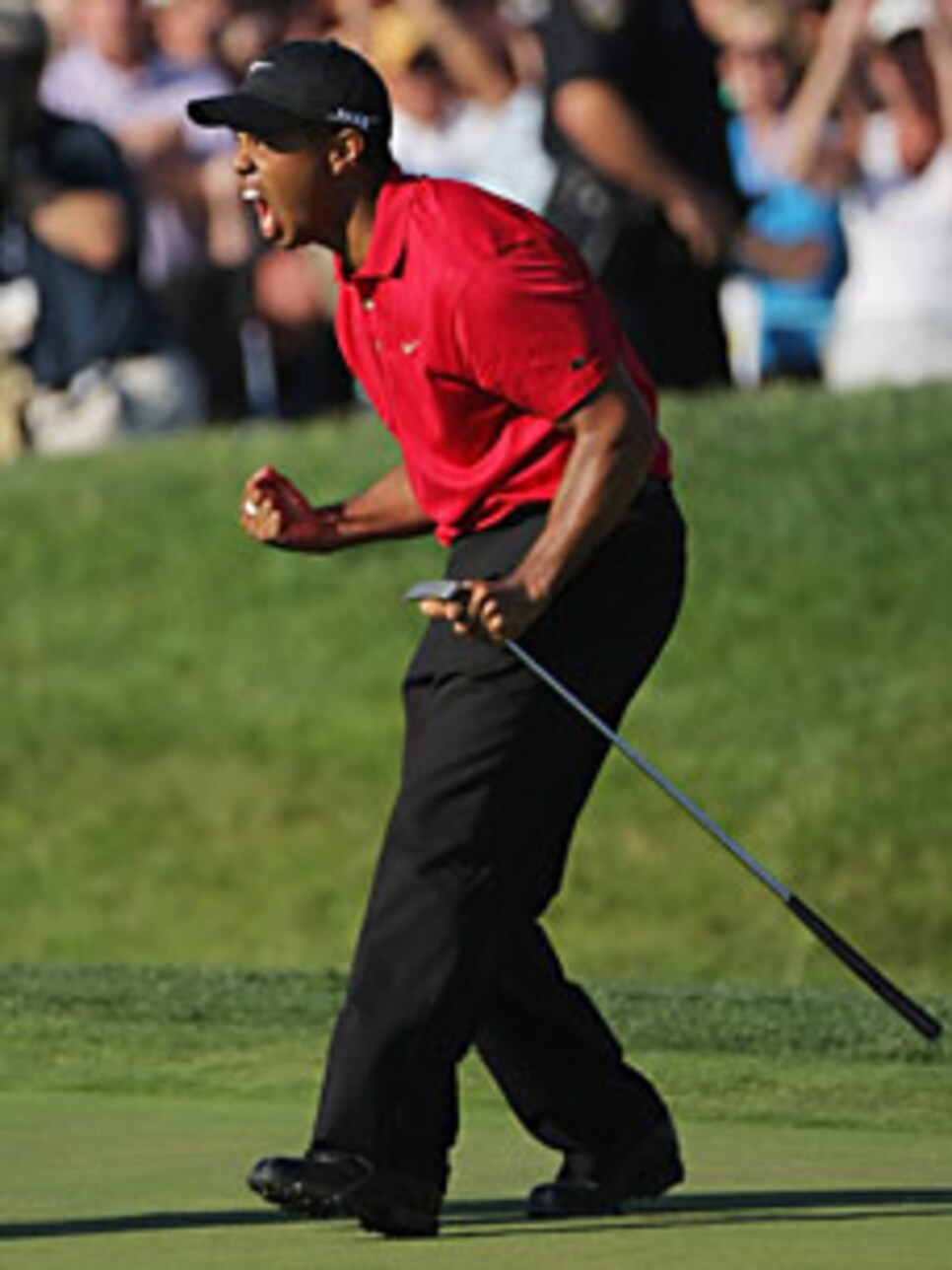 The prospect of Tiger Woods is better than anything else the sports world has to offer these days.
February is the Black Hole of sports -- a cold, content-less void into which our passion for the games we love disappears. The column inches of newspapers are so absent of interesting articles that the sports talk show hosts have no place from which to steal their ideas. What passes for reporting for most of these babbling heads, after all, is simply reading the work of those who actually work. Thank goodness we have golf as our salvation.
Those of us with black-and-gold hearts will celebrate the six-pack Super Bowl win by the Steelers for another six months -- until training camp starts -- and not even bother faking an interest in the Pro Bowl. The NBA and NHL are bogged down in the mad race for umpteenth place so they can finish sub-.500 and make the playoffs. And baseball barely gets going in February as pitchers, catchers and dealers report.
Golf, however, is easing out of first gear, revving up the RPMs in second and getting ready to jam it into third on the way to full throttle at the Masters. The PGA Tour returns to Torrey Pines this week for the Buick Invitational, and even though Tiger Woods will not be there we will be visited by our memories of his one-legged triumph at Torrey in last year's U.S. Open.
Sometime this month the aforementioned Mr. Woods will become a father for the second time and the timing of that blessed event will likely give us a better idea when he might return to competition. The best guess here is we will next see him tee it up in earnest at the CA Championship at Doral in mid-March. And tell me you aren't chomping at the bit to see him play at Augusta National.
There is no shortage of golf news out there to entertain sports-starved fans. The men's European Tour spends February in Dubai, India, Malaysia and Australia -- in short, just about everywhere except Europe. Next week the LPGA kicks off its season at the SBS Open in Hawaii where local gal Michelle Wie will make her debut as a tour member and begin trying to disperse the ugly clouds of failure that have shadowed her last couple of seasons.
But what it all comes down to is this: Golf has the most famous athlete in the world, the only athlete who spoke at the Lincoln Memorial celebration of President Obama's inauguration. Woods is the rarest of sports figures who not only transcends sports, but who creates interest even when he isn't doing anything.
With no one else in sports does it take mere speculation for him to make news – unless you count Barry Bonds' hat size or the smoking habits of Michael Phelps.
Love him or hate him, Tiger is someone people cannot resist talking about, even if they don't know what they are talking about.
What comes to mind is the story of the TV reporter who arrives on the scene of a small plane crash, grabs a bystander and rushes on-air live.
"How did you feel when you saw the plane go down?" our intrepid reporter asks the bystander he believed to be an eyewitness.
"I didn't see the plane go down," the bystander replied.
Not missing a beat, and certainly not wanting to miss out on any face time on the air, the reporter asks the penetrating follow-up question: "How do you think you would have felt if you had seen the plane go down?"
That's what we have with Woods. Even when we don't have him in the field we can think about what it will be like when we do have him in the field. Tiger is, quite simply, a one-man hot stove league.
If the only thing better than playing golf is watching golf, then the only thing better than watching Woods play golf is talking about him playing golf. Sure beats discussing whether the New York Knicks can get the eighth-seed in the NBA Eastern Conference.
The only real competition with golf as a sporting event in February is Groundhog Day, which falls on the second day of the month. As tradition has it, if the groundhog see his shadow when he emerges from his burrow there will be six more weeks of winter -- which is still better than having six more weeks of February.
And since the most famous of these furry prognosticators, Punxsutawney, Pa., resides a short distance from Pittsburgh in the Western Pennsylvania hills, I'm guessing the origins of that tradition emerged during a night of beer drinking.
So here's our Six Degrees of Tiger Woods. Bill Murray was in the movie "Groundhog Day." Bill Murray was in the movie "Caddyshack." A groundhog and a gopher look somewhat alike, but are different animals. In "Caddyshack," Bill Murray was supposed to kill all the gophers on the golf course. In "Groundhog Day," Bill Murray would have liked to kill the title character.
In "Groundhog Day," Bill Murray lives the same day over and over again. He can't win. In golf's major championships, Sergio Garcia lives the same day over and over again. He can't win.
And no matter what the venue, Tiger Woods writes the script. Ain't ya just chomping at the bit to see what comes next for him? It'll be better than the Pro Bowl. Guaranteed. And it will star Tiger Woods. Something to think about while the rest of the sports world is being sucked into that Black Hole known as February.