News
Watney's Eight-Under 63 Takes Lead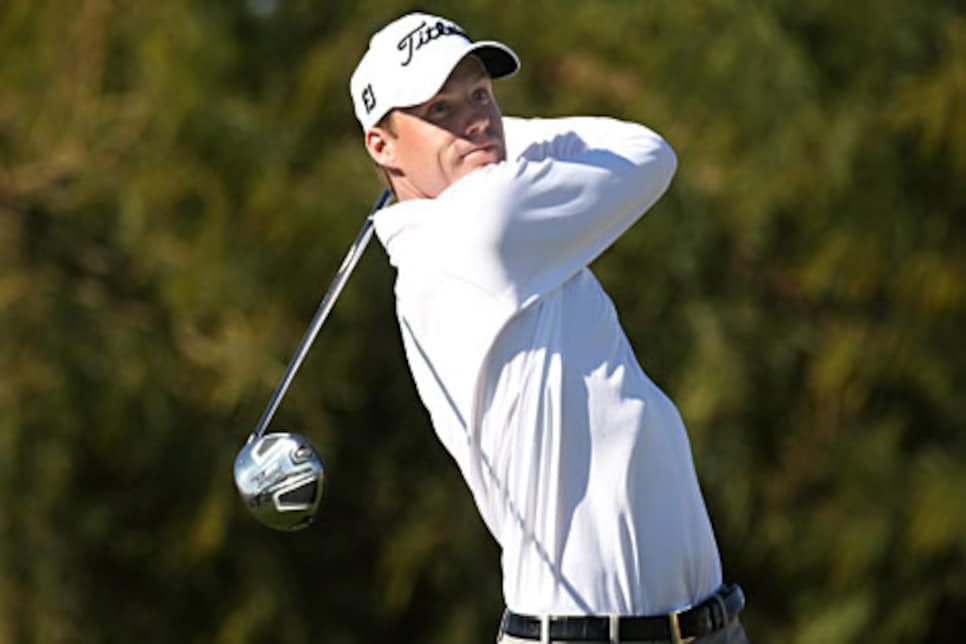 Watney was nearly perfect with four birdies, two eagles and no bogeys.
SCOTTSDALE, Ariz. (AP) -- Phil Mickelson tied for 121st.
Nick Watney was all alone at the top of the crowded leaderboard.
On a day local favorite Mickelson missed the projected cut by seven strokes, Watney shot an 8-under 63 to take the second-round lead at the FBR Open on Friday. Play was called due to darkness with three players, all above the cut line, still on the course.
At 9 under through two rounds, Watney had a one-stroke lead over Charley Hoffman, Matt Kuchar and first-round co-leader James Nitties. Kenny Perry and Cameron Beckman were two shots back.
"I was hitting the ball close, and I kept telling my caddie just to get me on the green any way and I felt like I could hole it," Watney said.
Watney matched his career-low round, a first-round 63 in the 2008 Justin Timberlake Shriners Hospitals for Children Open. He tied for 36th that week.
Watney entered Friday five strokes off the lead but roared into contention with two eagles in a three-hole stretch. The first came on the par-5, 595-yard 13th hole and the second on the par-5, 552-yard 15th.
Watney also had four birdies, including three in a row on the front nine.
He attributed his hot putting to work he did in the offseason, when he tried to simplify his approach and "putt like you did when you were a kid."
"You tell a kid to hit it at that spike mark and he'll do it, so that's what I've been trying to do," Watney said.
Watney is contending for his second tour victory; his first came at the Zurich Classic of New Orleans two years ago.
Mickelson usually fares well in this event, although he has missed the cut here twice in the last three years. Mickelson is the leading money-winner in FBR/Phoenix Open history with $2,452,814 earned in 20 years.
Mickelson never recovered from a disastrous 5-over 76 in the first round. He had five bogeys and three pars in his morning round on Friday.
This is the first time Mickelson has missed the cut in his season debut in a pro career that began in 1992. But Mickelson said rust wasn't a factor.
"I feel I hit the ball fairly solid," Mickelson said. "I just made some errors here and there."
If recent history is any indication, Mickelson may be right where he needs to be.
Two years ago, he missed the cut here and bounced back to win at Pebble Beach one week later. Last year, he missed the cut at Pebble Beach and won the Northern Trust Open the next week.
The tour's next stop is the Buick Invitational at Torrey Pines, near Mickelson's home.
"This will give me a few more days to get my game sharp," Mickelson said. "Again, it didn't feel as far off as the score indicated, obviously. But I'll get some good work done this weekend and hopefully come out sharp and ready to play next Thursday in San Diego."
It's hard to tell whether Mickelson's absence will hurt the FBR Open at the gate, where crowds are down. When he missed the cut two years ago, the event drew 93,475 for the final round, a Super Bowl Sunday record.
The FBR Open is the PGA Tour's most heavily attended event. But attendance dipped has dipped each day compared with last year, when the tournament drew a record 538,356 with the Super Bowl in town.
On Friday, 111,013 attended, down about 9,000 from a year ago.
Mickelson wasn't the only big name to make an early exit. Anthony Kim, the world's No. 9 player, finished at 4 over and 10th-ranked Camilo Villegas was 1 over.
Hoffman was excited about making the cut at the FBR Open for the first time in three tries.
"It's nice," he said. "Instead of flying back home to Vegas, I get to hang out with the crowd here for the Super Bowl in Phoenix this year."
Hoffman opened the day in a tie for third at 5 under. He carried the first-round momentum into Friday, posting back-to-back birdies on the third and fourth holes to take a brief lead at 10 under.
But Hoffman bogeyed two of the last three holes to finish one stroke off the lead.
Hoffman said he was confident heading into the weekend.
"I feel like I'm in a good spot," Hoffman said. "I'm playing the weekend, so that's always a good spot."