News
Glover And Nitties Share Lead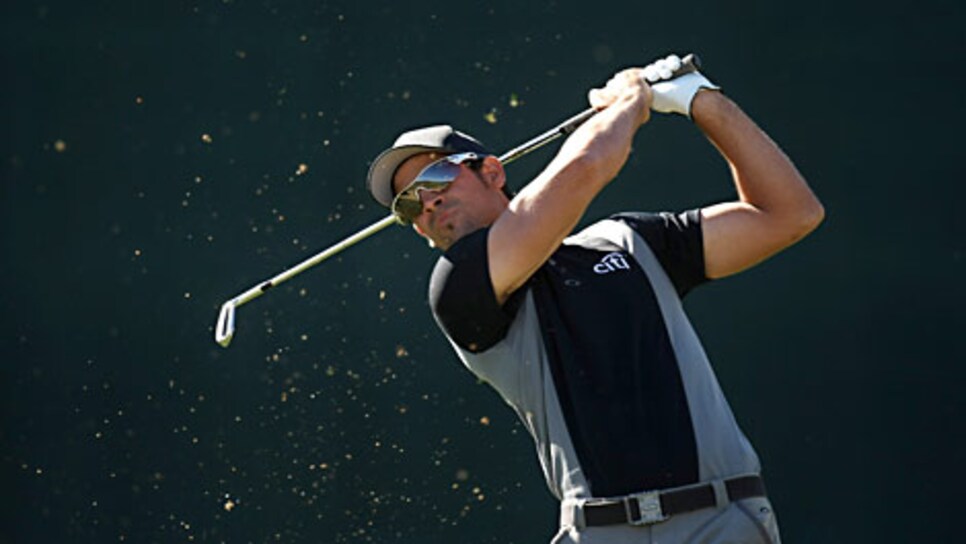 Nitties earned his card by finishing second at last December's Q-school.
SCOTTSDALE, Ariz. (AP) -- In his PGA Tour bio, James Nitties lists his special interests as "clubbing, girls, movies."
He's come to the right place.
Nitties shot a 6-under 65 on Thursday for a share of the first-round lead with Lucas Glover in the FBR Open at TPC Scottsdale, renowned as the most partying stop on the PGA Tour.
The opening round was no party for local favorite Phil Mickelson, tied for 121st after shooting a 5-over 76 in his first round of the year.
Play was called due to darkness with nine players still on the course.
While Mickelson searched for answers, Nitties was reveling in the FBR Open's anything-goes atmosphere.
"This is one of the events I was looking forward to the most," said Nitties, a 26-year-old Australian. "If you knew me, it's tough for me to concentrate out here. But on the flip side, I'm on the PGA Tour and I'm not going to take it for granted, so I know when to put my partying on hold, and I know when to put in hard work. Yeah, there's some good sights out there."
On Thursday, there were also some bad sights -- such as Mickelson digging his drives out of cacti on the 11th and 13th holes.
Mickelson finished with as many double bogeys (2) as birdies, and he also had three bogeys. Only six players posted higher scores on a breezy, sunny day.
Mickelson usually fares well at TPC Scottsdale, winning in 1996 and 2005 and losing in a playoff last year. This was his season debut, but the former Arizona State star said he wasn't rusty and thought his swing was in good shape.
"It doesn't feel as far off as the score indicates," Mickelson said. "I know the score is ridiculous. But it doesn't feel bad."
The highlight of Mickelson's day may have been a brief meeting with former President George H.W. Bush as Mickelson's group approached the 15th green. Bush also shook hands with Mickelson's partners, Justin Leonard and Zach Johnson.
Bush was part of a crowd of 71,907, which fell more than 11,000 short of last year's opening-round record. The FBR Open is the tour's most heavily attended event, but attendance has been down each of the first four days in what might be a sign of the flagging economy.
David Berganio Jr. and Charley Hoffman were tied for third, one stroke off the lead, with Briny Baird, Kevin Na and Matt Kuchar two strokes off the pace.
TPC Scottsdale has a long history of low scores; two years ago, John Rollins shot 20 under and lost by a stroke to Aaron Baddeley.
But players had heard that the course would be tougher this year, and the opening round bore that out.
Asked about a rumor that the fairways had tightened, Baird replied, "I don't think that's a rumor. That's a fact. They've pinched fairways in.
"The rough is definitely up from years past, so they're trying to toughen it up," Baird said. "If that's what they wanted, then success."
The tougher course didn't pose many problems for Nitties, who started fast and kept rolling. Despite hitting only seven of 14 fairways, Nitties posted five birdies in a six-hole stretch on the front nine and finished his round with back-to-back birdies.
"I really didn't get into too much trouble all day, and if I did, I'd sort of make the smart decision and it sort of worked together well," Nitties said.
Nitties is such an unknown that the official pairings sheet had him listed as "Nittles." Nitties contended for a spot on the PGA Tour two years ago, but his arthritis flared up, and he spent nearly a month in a Texas hospital with pain in his right hip and knee. He was diagnosed with reactive arthritis, a chronic condition where fluid builds up in the joints.
Nitties bounced back last year and finished second at Q-school in December.
Nitties came to town with a bit of momentum, having shot a 10-under 62 at the Bob Hope Classic - where he still missed the cut by a stroke.
"Drawing on that, it was good, positive striking and golf to bring me into this week," he said.
This is the fifth time Glover has had at least a share of the first-round lead. He failed to win each of the first four times.
Glover, who is four years removed from his lone PGA Tour victory, closed with a rush, birdieing four of the last six holes. He had only one bogey, on the par-4 17th.
"It was pretty solid," Glover said. "I hit a lot of fairways, a lot of first cuts, actually, and only had a couple in the high stuff. I made a couple nice birdie putts and then made a couple key par putts and played the par 5s good. That usually equals a pretty good score, so I was pretty pleased, obviously."