News
Langer Takes Champions Opener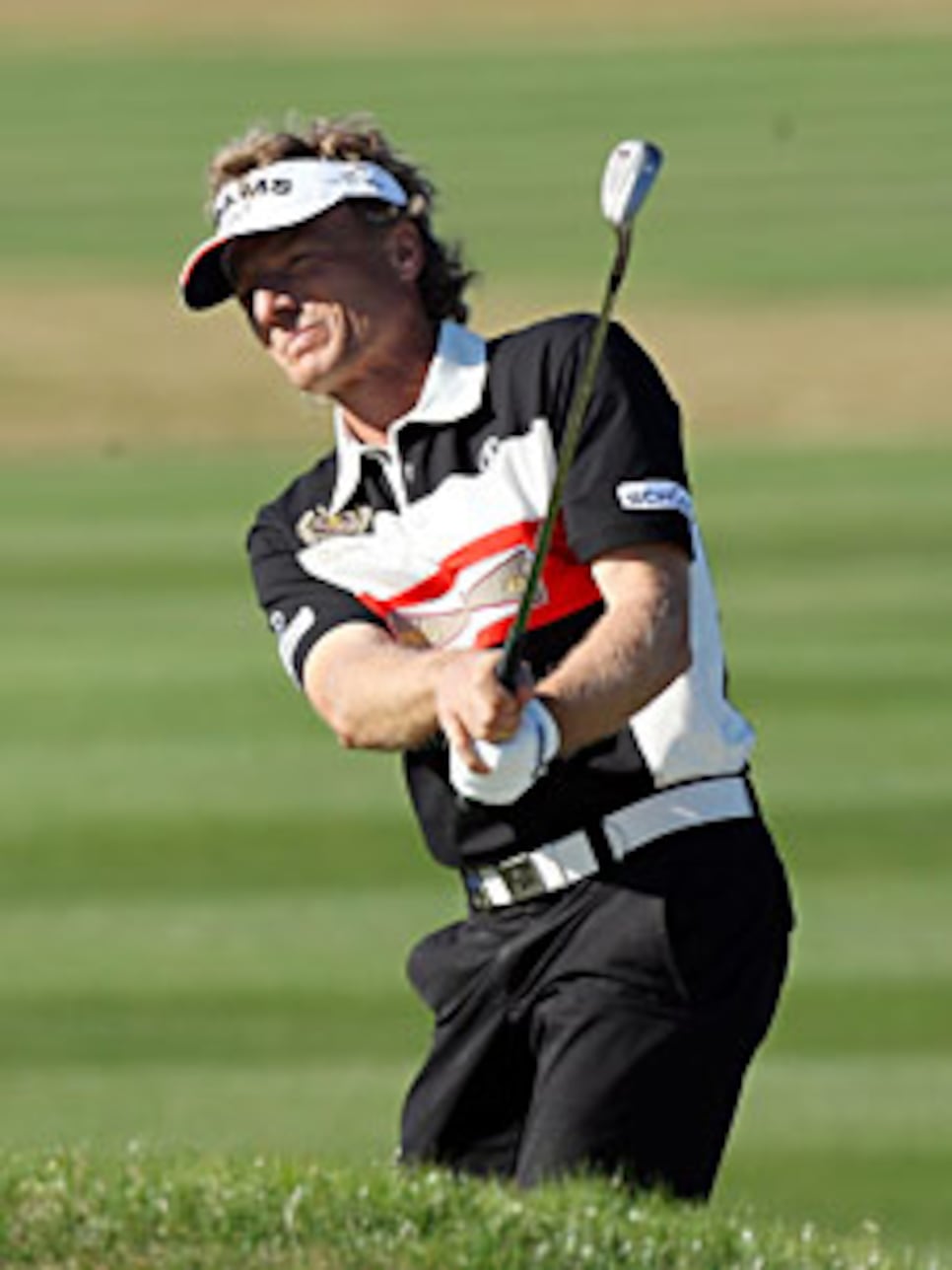 Langer is the only player on the Champions Tour to have won $2 million in a season.
KAUPULEHU-KONA, Hawaii (AP) -- Bernhard Langer spent his 25th wedding anniversary five time zones and nearly 5,000 miles away from his wife Vikki, who stayed at home in Florida to care for their children.
"I haven't done anything special yet," he said.
Langer won the Champions Tour's season-opening Mitsubishi Electric Championship on Sunday, closing with a 4-under 68 for a one-stroke victory over Andy Bean.
The 2008 player and rookie of the year had an 18-under 198 total to get his sophomore campaign off to a strong start and earn his fifth title in his 26th start on the 50-and-over circuit.
The tour's only $2 million man last year is the richest to start 2009, taking home $315,000.
"I came into this tournament setting high goals and having high expectations, so it's good to get off a good start," Langer said. "If you start off struggling three or four weeks, it gets into your head and it could get worse. It's much better this way."
Bean, who had his second straight 66, surged into contention with three birdies on the front nine and an eagle on No. 10, but parred the final four. His 10-foot birdie try on 18, to possibly force a playoff, lipped out.
But the 51-year-old German wasn't flinching, even with the wind kicking up. Langer was patient, focused and a methodical maestro on the greens, just as he has been all week.
He finally eased up a bit and showed some emotion as he walked to the 18th green, where he smiled and doffed his cap to the cheering crowd.
"I am not a machine," Langer said. "Don't say that. I am definitely not a machine."
From 144 yards in the first cut of rough, Langer stuck an iron to 20 feet and two-putted to seal the victory.
The two-time Masters winner owned the back nine at Hualalai, where he claimed 15 of his 23 birdies in the tournament.
He waved his arms as his 20-foot birdie putt crawled in on the 167-yard 12th to reach 18 under for a two-stroke advantage over Bean.
The lead disappeared when Langer's tee shot found the sand on the next hole and Bean, playing one hole ahead, tapped in for birdie.
They were both at 17 under until Langer regained the lead for good by hitting a hybrid and two-putting for birdie from 40 feet on the par-5 14th.
Bean already seemed to have known his fate. Instead of waiting for a possible slip-up by Langer and a playoff, Bean went into the media room for interviews and watched Langer win on TV.
"It was one short of what we wanted, but all in all, it was a good day and a great week," said the 55-year-old Bean, who also is coming off a strong year. He had a nine-stroke win at the season-ending Charles Schwab Cup Championship and won the Regions Charity Classic.
"In some way, I feel a little empty," Bean said. "But the cup is definitely half full and not half empty. And I go away from here with a lot of positive thoughts."
Langer also had several spectacular saves after missing the green. He got up and down on Nos. 8, 9 and 17 to save par.
The wind finally picked up along the Kona coast, which was blanketed by a haze from the volcanic fog spewing from across the island at Kilauea.
And the fog seemed to follow Brad Bryant, who was in command for the first two rounds and closed with a 75 to finish tied for eighth.
After birdies on two of the first three holes to reach 17 under for a two-stroke cushion over Langer with 14 holes remaining, Bryant self-destructed. He had a quadruple-bogey 7 on the 205-yard fifth hole that propelled Langer to the outright lead at 15 under.
"Oh no!" Bryant shouted as his tee shot sailed right, into the pond.
After taking a drop, Bryant chopped it into the water again for a collapse that stunned the gallery, and the players.
"That was really a shock," Langer said.
On the hole, Bryant complained to an official about too many carts being on the course, which may have been a distraction, Langer said.
Bryant has faltered down the stretch before. Of the 10 previous final groups he had been in, Bryant has taken away just one trophy.
Jay Haas, who began the day two strokes behind Bryant, also found trouble in the water on No. 5 for a costly double bogey that he wasn't able to recover from.
Haas (70) finished alone in third place for the third time in four years at the winners-only Hualalai. Mark McNulty (67) and Jeff Sluman (70) tied for fourth, four strokes back.
Gary Player bettered his age of 73 for the third straight day. He shot his second straight 71 after opening with a 70, and tied for 27th.