News
Perez Holds On To His Lead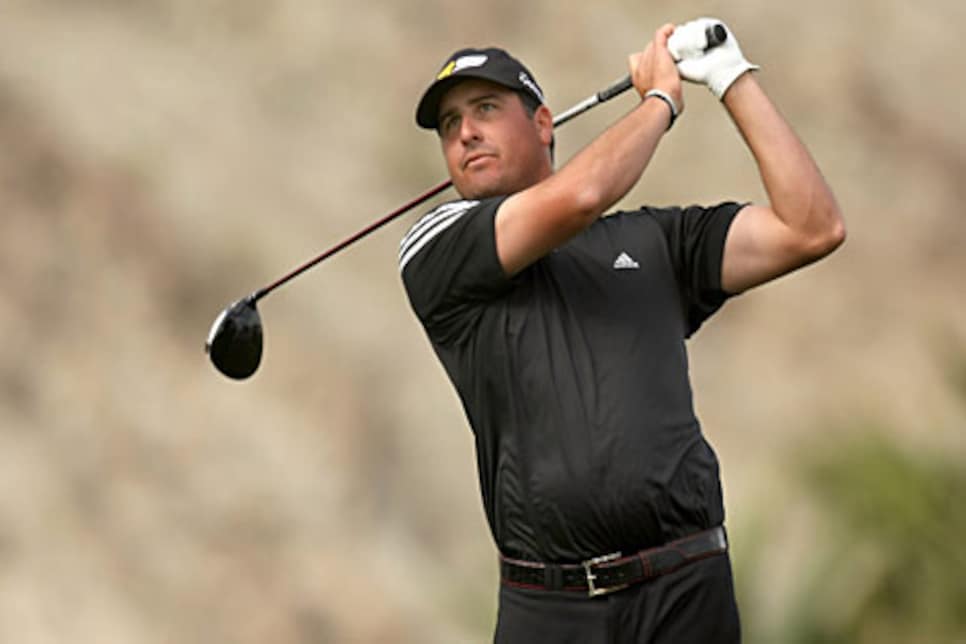 After 36 holes, Perez leads the field in birides and is T-1 in putts per GIR.
LA QUINTA, Calif. (AP) -- Pat Perez, his game steady if not spectacular, shot a 5-under 67 on Friday to remain two shots in front at the Bob Hope Classic.
After opening with rounds of 61 and 63 to complete the first 36 holes at 20 under, unprecedented in PGA Tour history, Perez was at 25-under 191 in the 90-hole tournament.
The tour record for the first 54 holes of a tournament is 189, shared by three players and last accomplished by Tommy Armour on a par-70 course in the 2003 Texas Open. The PGA Tour does not keep a record of lowest 54 holes against par.
Steve Stricker shot an 11-under 61 to move into second at 23 under. Vaughn Taylor's 64 left him another shot back at 194. Jason Dufner, who made it into the tournament when Anthony Kim withdrew Tuesday because of a sore shoulder, stayed in contention with a 67 that left him in a group of four at 195.
Tom Pernice Jr., whose 31 on his first nine at Burmuda Dunes briefly gave him the lead at 21 under before Perez had teed off, had a 37 on the back and was in a group of five at 196.
Defending champion D.J. Trahan shot a 65 to move within striking distance of the lead, six shots off Perez's pace.
Perez played the first two days on the Palmer and Nicklaus courses at PGA West, and moved to SilverRock Resort for the third round. Four courses are used for the first four days, which are a pro-am, and the low-scoring 70 pros and ties go it alone at the Palmer course on Sunday.
Perez's putting, sensational the first 36 holes, deserted him on his first nine at SilverRock and he made just one birdie putt and made the turn at 35, relatively high in the extremely low-scoring Hope. But he recovered on his back nine, sinking five birdie putts and making one bogey.
He said the weather was prefect for the third day in a row, but that he had never played SilverRock before, "So I was kind of worried about some of the holes."
"I knew it was going to be tough over there and I thought I got out with a pretty good score. And I've still got the lead," said Perez, who has never won a PGA Tour title.
He said he didn't get frustrated when he wasn't scoring well on the first nine holes.
"In 90 holes, you're going to go through a stretch like that and you're just not going to be hot," Perez said.
Stricker, who played the Palmer course, wasn't expecting to shoot as low as he did.
"I wasn't thinking 11 under," he said. "But I was thinking about putting up a good solid 8-, 9-under round and fortunately I was able to get back up there. I made up some ground today."
Taylor wasn't surprised that his 22 under was only good enough for third.
"It's the Hope and the weather is good," he said. "Sometimes we play such difficult courses and difficult conditions and it's good to have a change of pace where you feel like you can just go out and aim at flags and make birdies and just have fun."