News
Honda And Dubai Want Compton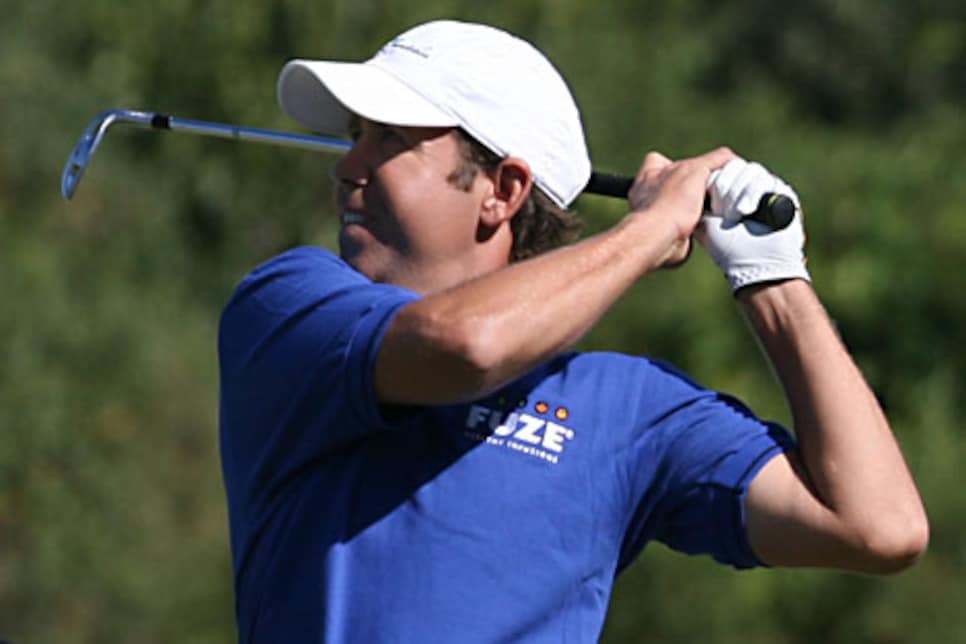 The PGA Tour says walking in Dubai will not interfere with the 6-months of cart privileges he was granted.
A year ago, Erik Compton watched Tiger Woods win the Dubai Desert Classic and attended the Honda Classic at PGA National -- all while awaiting a heart.
The heart came, and so did Compton's second transplant. And now comes the sponsor's exemptions -- two within the same week -- to Dubai and Honda.
"It's been a great day," Compton said almost matter-of-factly Thursday from his home in Miami. "I'll play Dubai, come back, have the baby, and play Honda."
Almost eight months after receiving his second heart, Compton received an invitation to play in Dubai, one of the premier events on the European Tour, on Monday. He took three days to check with his doctors and his pregnant wife about the risk of a 7,800-mile journey and decided on Thursday that the rewards outweighed the risks -- even if it would mean walking in competition, an unknown factor since he was allowed a cart last fall in PGA Tour qualifying and at the Children's Miracle Network Classic, where he made the cut.
European Tour rules would not permit him use of a cart in competition. "I've got an opportunity to play," Compton said. "I should go take it."
Good call. Dubai tournament officials responded by extending him an invitation to play in a Tuesday shootout that features the tournament's stars, including Ernie Els, who won last year's Honda.
Later on Thursday, the news got better when Compton received a call from the Honda Classic as well, giving him a spot in their field. His heart only slightly skipped a beat. "It's just awesome," Compton said. "I'm going to be rubbing elbows with everybody and hopefully I'm going to be sharp and play well. Last year I was following Sergio (Garcia) and (Brad) Adamonis around PGA National and now I'm going to be playing next to them."
Compton was hoping his performance in Dubai would make tournament sponsors back in the United States embrace his story. The fact he won the Golf Writers Association Ben Hogan Award was a key in Dubai tournament officials offering the spot in their field. Honda Classic tournament director Ed McEnroe told him the board decision was unanimous. Compton leaves Saturday from Miami International with Craig Schmidt, a personal friend and caddy through Q School and Disney.
"The main concern is I'm more worried about the actual flight," Compton said. "The golf course is flat, and I've been practicing hard, doing cardio every day, punishing myself to get ready for this season. There are no guarantees about getting exemptions. I didn't get a spot in Panama on the Nationwide Tour. I just don't know what the future of sponsor invites is going to hold. Sure people worried going over there to play, but I feel strong and feel like it's going to be a great opportunity."
Compton's agent, Peter Malik, checked with the PGA Tour, and was told this would not impact the six-month window to use a cart given by the tour. Confirmed by Golf World, that grace period would extend through the end of March, and the Florida swing -- and its an option he may exercise, depending on how his body holds up in Dubai. But Compton's goal is to start walking anyway, and his training intervals have continued to increase since his elimination from second stage of Q School in November. Last week nearly broke down in tears after completing a one-mile run.
"I want to walk, that's what it's all about," he said. "And being healthy is the most important thing. It's going to be a test, it's going to be hard, if I do get myself in a position of playing well, stress is going to be difficult, but at some point or another I'm going to have to gauge how to do that. I think I'm getting to the point where I'm healthier than I have been in years."
Compton, 29, was grateful to the tour for allowing him the cart last fall -- when he needed it. His main challenge will be to regulate his medication and blood pressure, hoping that nothing occurs that far away from home. Walking for four days in competition, plus practice rounds, will also be one of his greatest challenges.
But he flew to Morocco and won the King Hassan Trophy in 2005 -- so that's the thought he's taking to the airport.
"I don't know how I'm going to fare. This is almost a practice test to see how I'll do," he said. "But I never got anywhere without trying. And I've always pushed myself to the limit to do that."