News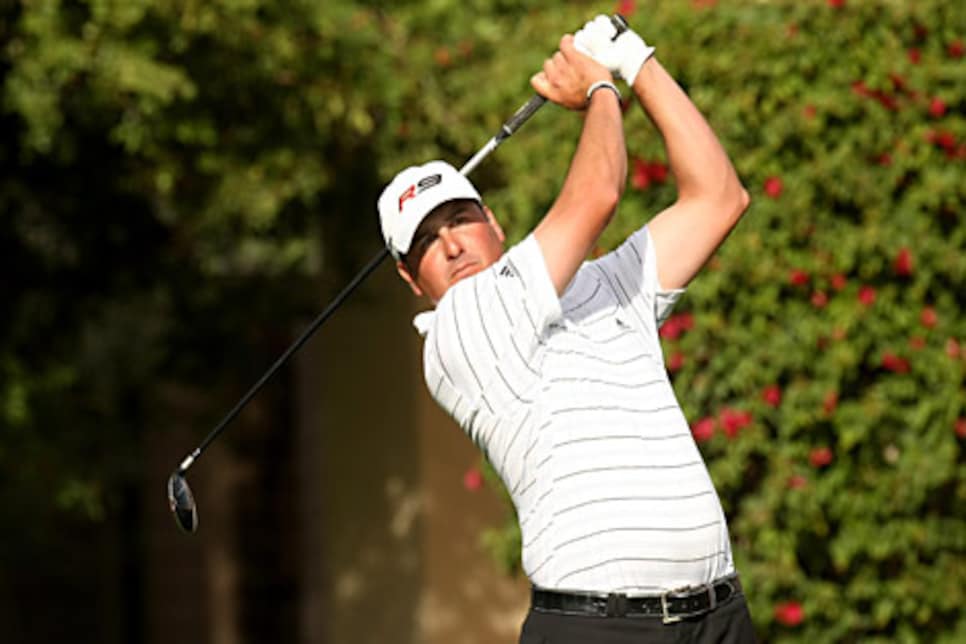 Last season, Perez made 21 of 27 cuts, had 6 Top-10s and earned $1.75 million.
LA QUINTA, Calif. (AP) -- Pat Perez shot a 61 on Wednesday to take the lead in the Bob Hope Chrysler Classic on a warm, still day in the desert resort area when his sparkling 11-under round was only good enough for a one-shot lead.
With playing conditions ideal, 2003 tournament champion Mike Weir and Bubba Watson opened the five-day tournament with 62s, and six players were another shot behind on the jam-packed leaderboard.
Perez, intimately familiar with how things can go in the low-scoring Hope, wasn't exactly doing handsprings over his round that was just two shots off the PGA Tour record of 59, last matched by David Duval in the final round of his 1998 victory on the same Palmer Course at PGA West.
After all, Perez shot a first-round 60 in the tournament three years ago only to wind up 73rd, and had a second-round 61 in 2003, when he tied for sixth.
So he said he can't be too excited about his opening number this time.
"Because the number is 30 under, 30 plus," Perez said, noting what it often takes to win the Hope when conditions are good. "You don't try to get there too fast, you try to get there over five days.
"So yeah, it's nice, it's a good round, the conditions are perfect. That's all."
He acknowledged, though, that after a 28 on his front nine, the record was on his mind.
"I was thinking 58 for sure," Perez said. "I can't believe it. It's the second year now I've been right there and I haven't been able to do it."
Weir and Watson also played the Palmer Course, one of four used for the pro-am portion of the tournament the first four days. The players rotate among the courses, and the low-scoring 70 pros and ties play Sunday's final round on the Palmer Course.
Briny Baird, Ben Crane, Jason Dufner, Richard Johnson, Taylor Vaughn and David Berganio Jr. shot 63s. Chris DiMarco was in a three-way tie for 10th at 8 under. Defending champion D.J. Trahan and Steve Stricker, whose No. 16 world ranking makes him the highest-ranked player in the field, were in a group tied for 13th at 7 under.
The 32-year-old Perez, still looking for his first PGA Tour win, has a spotty history at the Hope, with the tie for sixth his best showing in five previous appearances. He missed the cut in 2002 and 2004, and skipped the event the past two years.
He said he was back because The Classic Club, a course a few miles from La Quinta in an area where the wind can be brutal, was dropped from the Hope rotation after being used for three years.
In 2006, Perez followed his first-round 60 at Bermuda Dunes with a wind-swept 73 at The Classic Club, then shot a 78 on a chilly, gusty day there in the final round.
"I shot 60 that year and I had the first tee time the next morning and it was blowing a hundred," Perez said. "I said, 'How the heck can you put a golf course where a thousand windmills are?' I hit the first ball in the water and almost got in the car and drove home."
He said he wasn't even trying to score well during the final round at the Classic Club that year.
"I actually was going to try and be the first guy ever in a tournament to shoot 60, 70 and 80, right on the button," Perez quipped. "(But) I actually hit a good shot finally in the middle of the green and made a birdie and shot 78.
"I just wanted to get out of there."