News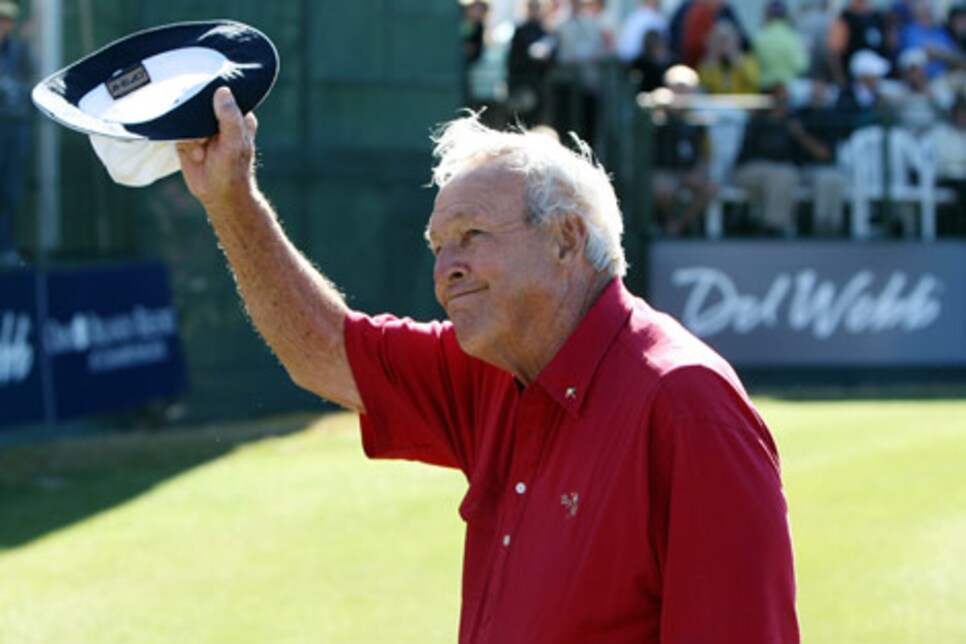 As the Hope celebrates its 50th anniversary, the King takes over as host.
LA QUINTA, CA. -- Arnold Palmer spoke softly, listing his ailments as if he were reading them off a medical chart. His hips hurt, his back hurts, and sometimes his shoulder hurts. He played Monday here at the Palmer Course at PGA West and quit after 12 holes because of a soreness in his back that he said he just can't seem to shake.
Playing golf is no longer what it used to be, and it hasn't been for awhile.
"My golf game is not good," he said. "Occasionally I hit a good shot. I'm like the everyday golfer that goes out and walks up to the 18th hole and all of a sudden he hits a shot or makes a putt and can't wait to get back the next day. But it is not competitive for any more for me."
Arnold Palmer is getting old, he turns 80 in September. Of course, it's the natural progression of life, and Palmer has faced the inevitability of advancing age with grace and style for a long time now, probably since 2002 when he played in the Bob Hope for the last time.
He's all right with most of it, just not the part about what growing older does to his golf game.
It's been going that way for awhile. It was at the 2001 Hope where Palmer shot his age for the last time, a fourth-round 71. He played his last competitive round in 2006. His still plays from time to time in the shootout at his tournament at Bay Hill, and also with his friends, but the first champion of the Bob Hope is a half century removed from that victory.
This week, Palmer is the official host of the 50th Bob Hope Chrysler Classic, known as the Palm Springs Desert Golf Classic when Palmer won it for the first time in 1960 over at Thunderbird Country Club. He won it four more times, the last one in 1973, which was also his 62nd and final PGA Tour victory.
It's a busy week for Palmer, who already has made appearances for the prostate cancer center in his name at Eisenhower Hospital, the pairings party, the formal Classic Ball, a dinner at Eldorado Country Club and a private dinner at his restaurant. He is seeing over the ceremonial first tee shot at SilverRock, visiting Bermuda Dunes for photos and another private luncheon, attending the player appreciation party, posing for photos at La Quinta resort and attending the amateur awards dinner, and then passing out the trophy to the tournament winner on Sunday.
Playing the role of ceremonial golfer and tournament host is something that falls easily in place for Palmer. He is a natural as an ambassador of golf, the same title that two of his peers -- Jack Nicklaus and Gary Player -- have also assumed. We occasionally still see Nicklaus and Player on the course, but not Palmer, not really, not anymore.
And even if he is nearly 80, and 36 years since his last PGA Tour victory, Palmer has difficulty coming to terms with the point in golf where advancing age intersects declining skills.
"It makes me sad that I can't hit the golf ball the way I once did. That is a very sad situation mentally for me."
He made up for it, at least a little, when he substituted some sessions with the media. He stood before the television cameras that had assembled in front of him and talked about how much he enjoyed the Hope in the old days. He said the crowds were often sparse and that he knew everyone in the gallery.
Palmer held a pair of reading glasses in his left hand as he spoke, a concession to age. That's one of the few he's willing to make right now. He just wishes he didn't have to make any about golf.
Thomas Bonk writes regularly for Golf Digest Digital.