News
Northern Trust Establishes 'Sifford Exemption'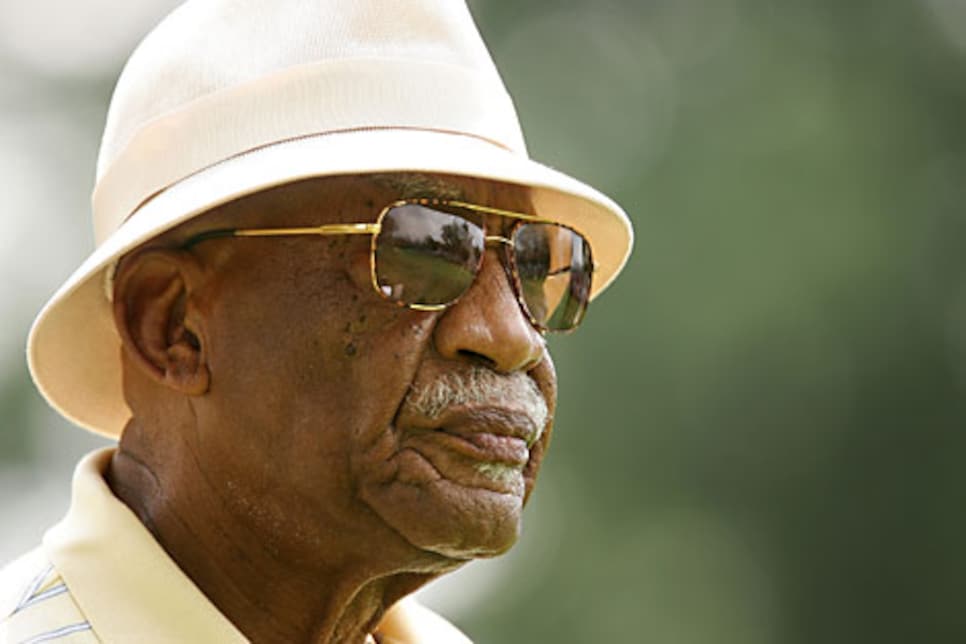 Sifford was the first black man inducted into the World Golf Hall of Fame.
Nearly 50 years after Charlie Sifford became the first black to join the PGA Tour, the Northern Trust Open announced Monday an exemption in his name for a player who represents the advancement of diversity in golf.
The annual "Charlie Sifford Exemption" will be recognized Feb. 18, the day before the tournament begins at Riviera.
"It's something that should have been done a long time ago," Sifford said in a telephone interview. "This is a wonderful thing. It will give someone a chance."
The exemption coincides with the 40-year anniversary of Sifford winning the Los Angeles Open for his second and final PGA Tour victory. He spent the prime of his career simply trying to play, for the PGA had a Caucasian-only clause. Sifford led the effort to have that clause rescinded in 1961, but he still faced ridicule and death threats.
Sifford became the first black inducted into the World Golf Hall of Fame in 2004.
"Our hope is that the Charlie Sifford Exemption will raise awareness of Mr. Sifford's achievements while continuing to broaden the game's appeal," said Rick Waddell, president and CEO of Northern Trust.
Tournament director Tom Pulchinski, with help from Northern Trust and PGA Tour officials, will determine which player will get the exemption. Such groups as the tour, PGA Minority Collegiate Golf Championship, The First Tee and the USGA will help identify the candidates.
While the PGA Tour this year features players from 19 countries, it has taken a step backward with U.S. minorities, particularly blacks. Tiger Woods is the only member with African-American heritage, but he joined the tour years after the success of black players such as Lee Elder, Calvin Peete, Jim Dent and Jim Thorpe.
Tim O'Neal from Savannah, Ga., has made it as far as the Nationwide Tour, while Kevin Hall, a black golfer from Cincinnati who is also deaf, has played the PGA Tour on an occasional sponsor's exemption. Hall won a Hooters Tour event last year.
Sifford attributed the lack of black PGA Tour members in part on the high cost to play, and the need for corporate support. Even so, he said the exemption for the Northern Trust Open can only help.
The Sony Open has a yearlong competition that awards an unrestricted exemption to Hawaii's top amateur to play in the event.
"It's a good idea, and I'm glad somebody is doing it," Sifford said. "Something might come of it. But it's an opportunity. And all you need is an opportunity."