News
Zoeller, Crenshaw Win Champions Skins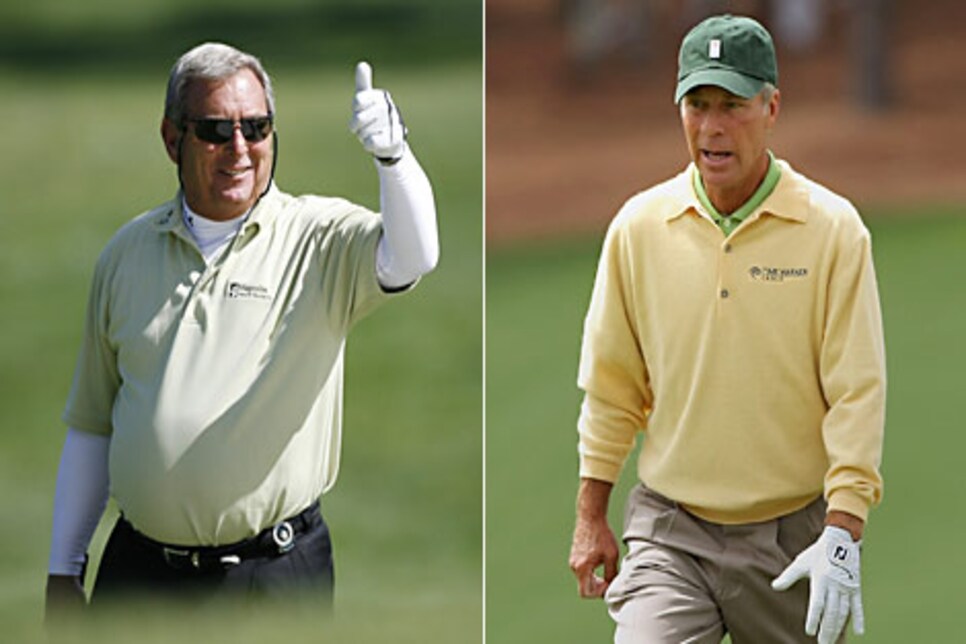 Zoeller's regular partner, Peter Jacobsen, was injured. Luckily for Crenshaw, he got the call to fill in.
KAANAPALI, Hawaii (AP) -- Ben Crenshaw set them up and Fuzzy Zoeller knocked them down.
Zoeller defended his Champions Skins Game title with his new partner by taking a dozen skins and $500,000 on the back nine Sunday to beat first-day leaders Greg Norman and Jay Haas.
Zoeller-Crenshaw finished the alternate-shot, made-for-TV event with 13 skins worth a record $530,000, surpassing the $510,000 earned by Raymond Floyd and Dana Quigley three years ago at Wailea. Norman and Haas, who began the day with three skins and $90,000, added to their total with a par on the second playoff hole for the 18th-hole "superskin" worth $100,000.
The international duo of 73-year-old Gary Player and Champions Tour player and rookie of the year Bernhard Langer finished with one skin worth $50,000, while teammates Jack Nicklaus and Tom Watson were shutout.
It was the first time Nicklaus, making his 19th appearance, was blanked since 1998. Watson is going home empty handed for the first time in seven trips.
On a postcard, 82-degree day on Maui, no one was hotter than Zoeller and Crenshaw, a late replacement for injured Peter Jacobsen.
"It's an honor to be picked with the defending champion," Crenshaw said. "I feel like I owe quite a lot to Peter Jacobsen."
"And he'll get nothing," Zoeller added.
The 57-year-old Zoeller, who won the Masters 30 years ago, made two birdie putts within 5 feet on Nos. 12 and 17 to win a half-million dollars in a span of six holes.
The big-money hole was the 421-yard 12th, where Crenshaw hit a gap wedge from 94 yards to 5 feet. After the other three teams missed their birdie tries, Zoeller calmly walked up and eyed his try with eight skins -- five carried over from the first day -- worth $300,000 on the line.
Zoeller, cracking one-liners all day, dropped the putt and raised his arms in the air, as a gallery packed four deep around the green roared. The clutch putt even drew hugs and handshakes from his opponents.
"We were the last to putt. We had already dodged the three bullets," Zoeller said. "It was just a matter of me executing."
Zoeller said he had no idea how much they were playing for on that hole.
"Hell, if I had known that putt was worth $300,000, I would still be wiping myself right now," he said. "I didn't have a clue how much that putt was worth. ... We were just concentrating on getting a skin."
Crenshaw said that with a field that has combined to win 43 majors and features six Hall of Famers, there was no time to keep tabs on the money.
"You've got your hands full. We're just trying to play them," he said.
Besides the huge paycheck, the winners and their caddies earn a year's worth of hamburgers from the tournament's sponsor.
"What probably means more to me (than the money) are those free damn hamburgers from Wendy's," Zoeller said. "But they'll probably charge me for the cheese."
The players only had to contend with a gentle breeze, a dramatic change compared to Saturday's wind-swept front nine at the scenic Royal Kaanapali Golf Course.
Crenshaw, a two-time Masters champion and 1999 Ryder Cup captain, hit a 7-iron over the water and stuck it to about 4½ feet on the 144-yard 17th.
With four skins and $200,000 at stake, Nicklaus nearly holed a bunker shot for birdie, Langer missed a 15-footer and Haas couldn't roll in a putt from 12 feet. Zoeller smiled and dropped his birdie try, which he said was in his "comfort zone."
The cigarette-puffing pair of Crenshaw and Zoeller, and Player-Langer were eliminated after the first playoff hole for the final $100,000. Nicklaus's tee shot sailed into the water on the next playoff hole, essentially handing the check to Haas and Norman.
Just like he did so many times in years past, Player shook his fist after holing a 12-foot birdie putt on the par-4 13th, pleasing the photo-snapping, fairway-walking gallery.
"How much was that, $50,000?" Player asked after the putt. "My father never made that in his life, working down 12,000 feet in a gold mine. So, I say 'thank you.'"
Nicklaus, making a rare competitive start, couldn't get much going and missed several putts by a hair. On the 14th, Nicklaus looked dejected with his hands on his knees after barely missing a long putt from the fringe.