News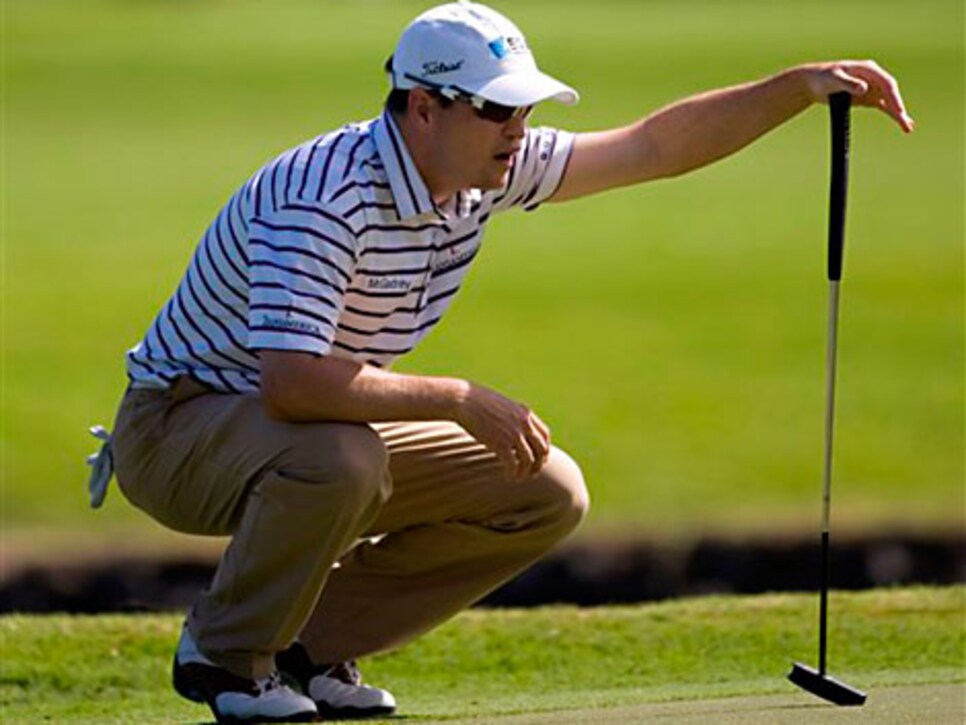 Johnson has two wins and five Top-10s in his last seven tournaments.
HONOLULU (AP) -- Zach Johnson's three-shot lead was gone in four holes, and he headed to the back nine at the Sony Open in a tie for the lead with David Toms knowing exactly what to expect.
Johnson got his first close look at Toms when they were partners in the Presidents Cup at Royal Montreal, when Toms chipped in for a pivotal birdie that led to a foursomes victory. A year later, Toms beat him in the first round of the Accenture Match Play Championship, despite a back injury that caused Toms to withdraw the next day.
"I expect him to make every putt and I expect him to hit every fairway because quite frankly, he typically does that," Johnson said.
Only this time, Johnson did it even better.
He made it three straight years with a PGA Tour victory -- and the season is only two weeks old -- by closing with a 5-under 65 on Sunday at Waialae for a two-shot victory over Toms and late-charging Adam Scott.
Johnson pulled ahead with a 5-iron to 4 feet on the 11th, built the margin to two shots with a 7-iron to 8 feet on the 14th hole, then put him away with a 5-wood onto the par-5 18th green for a two-putt birdie and a stylish end to his two weeks in Hawaii.
Toms ultimately needed an eagle to force a playoff, but he drove into a bunker, advanced the next shot only 70 yards and had no realistic chance of getting it close. He shot a 66.
"He didn't let down," Johnson said. "He hit a lot of good shots. I just evidently made one or two more putts over the week. I don't think he lost it. I think that I won it. He played really solid."
Both of them did, leading to a well-played duel on the shores near Waikiki Beach.
Johnson might trace his solid play to last week at Kapalua, when he went 64-67 on the weekend and tied for sixth. He leaves Hawaii having played his last six rounds in 30-under par.
"I'm just riding that wave, I guess," he said, turning to look out at the Pacific. "That's really corny, isn't it? But we'll go with it."
Johnson finished at 15-under 265 and earned $972,000 for his fifth career victory, and second in his last six starts.
Also playing well was Scott, who is still regaining strength from a knee injury. He shot a 30 on the back nine, missing out on a chance to make it interesting when he left a 10-foot birdie putt into the grain short on the 17th.
Ditto for Charles Howell III, coming off his worst year on the PGA Tour and looking to regain confidence. He had a share of the lead at one point on the back nine and was still in the picture until his 15-foot birdie putt -- from about the same spot that he missed when he finished one shot behind Paul Goydos two years ago -- slid by the hole.
Howell missed the next one and shot 66, but all that cost him was $143,933.
The same could not be said for Tadd Fujikawa, the 18-year-old high school senior who was trying to become the youngest winner in PGA Tour history. Coming off a career-best 62 that left him only two shots off the lead, Fujikawa didn't make a birdie until the par-5 ninth and finished with a 73 to tie for 32nd.
"I just couldn't get anything going," he said.
The kid carried the weight of an island, with fans filling every inch of grass around the tee box and stretching 486 yards down the first fairway. He opened with three straight pars, but missing a par putt from 5 feet on the fourth and failing to save par on the seventh put him too far behind. By then, everyone else was pulling away.
Howell birdied three straight around the turn for a brief share of the lead, then resumed his charge by chipping in for birdie and holing an 18-foot birdie on the 17th. But his second shot to the 18th headed for the tents, and Howell had to settle for fourth place.
"This is the first week of school," Howell said. "It was nice to get the nerves back and get in a position to win."
Scott felt lost most of last year, partly from splitting with his longtime girlfriend, but felt energized upon leaving Honolulu for a trip halfway around the world to the Qatar Masters, where he is the defending champion.
"I'm really motivated, and I feel like the drive is back," Scott said.
Johnson feels like he is on overdrive at the moment. He had such a poor season in 2008 that he failed to get out of the first round of the FedEx Cup playoffs, and took advantage of his forced break by preparing early for the new season.
Then he won the Valero Texas Open in October to qualify for the winners-only Mercedes-Benz Championship, getting him into Hawaii. And the best part of winning the Sony Open is he can count on a two-week stay next year.
Johnson, though, was ready to get home.
He left his new home at Sea Island on Dec. 18 for Christmas with his parents in Iowa, then took his family skiing in Colorado, then flew straight to Hawaii for two weeks. He's not sure when he'll return, but he'll be better off than he usually is.
"My performance on the West Coast, the start of the year, has not been great," he said. "So I'm very pleased with this win."
Toms was quick to leave Waialae and catch his flight to the California desert for the Bob Hope Chrysler Classic, disappointed not to start his season with a victory but knowing as well as Johnson did what he was up against.
"He's a good player," Toms said, "and tough to beat."