News
18-Year Old Fujikawa Shoots 62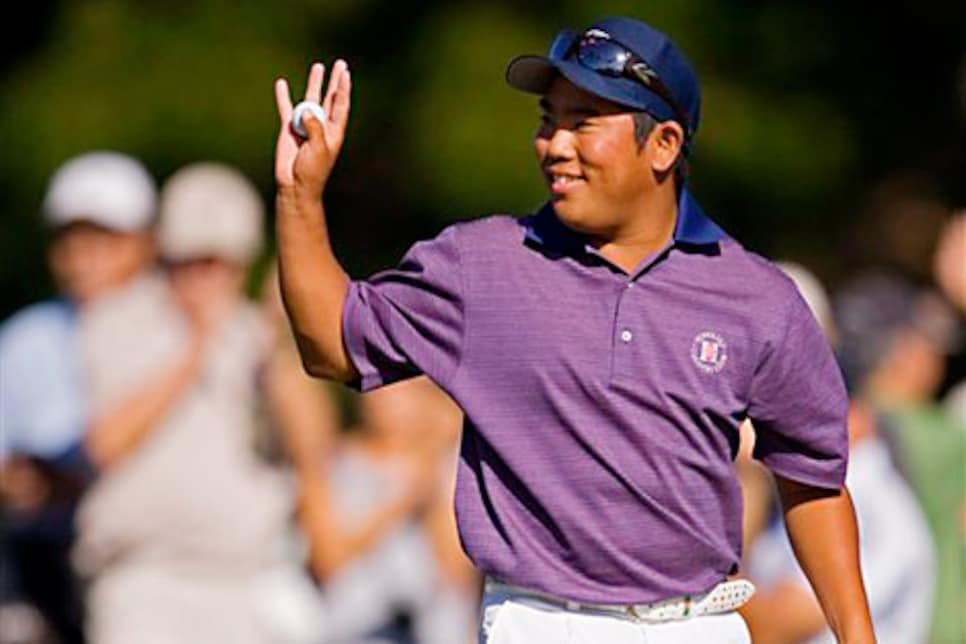 After failing to get a sponsor's exemption Fujikawa won his spot in a Monday qualifier.
HONOLULU (AP) -- Tadd Fujikawa kept saying his goal was to win the Sony Open. Maybe it's time to believe him.
With a round as brilliant as the sunshine over Waikiki Beach, the 18-year-old high school senior rode enormous support from a hometown crowd to nine birdies in a round of 8-under 62, moving from the bottom of the pack to the top of the leaderboard.
"It was my lowest round so far, and it couldn't have come at a better time," said Fujikawa, who was at 8-under 202.
When he tapped in for his final birdie of the third round, he was tied for the lead with Nathan Green and Tom Pernice Jr., who were just beginning to warm up on the practice range.
With only a gentle trade wind, the easier direction for Waialae, it was doubtful Fujikawa would stay there.
Two years ago, he shot 66 at age 16 to become the youngest player in 50 years to make the cut on the PGA Tour. Fujikawa turned pro that summer and failed to make a cut in all six of his PGA Tour starts until this week.
A large and delirious crowd from 2007 was even rowdier on Saturday, with fans crammed four-deep behind the green and stretched some 200 yards down the fairway. And the kid sure put on a show.
"Two years ago, I just went out there to have fun," Fujikawa said. "This year, I'm out there to win, and I know I can do it."
Posting a 62 made a convincing argument.
"It helps," Fujikawa said with a smile. "I think yesterday and the day before, I was playing it safe and trying to make the cut. Today I went out and attacked."
He came out firing, opening his third round with three straight birdies, then pouring it on around the turn. He narrowly missed an eagle putt on the ninth, holed an 8-foot birdie putt on the 10th and then chipped in for birdie on the par-3 11th, charging to the cup with a fist pump when the ball disappeared and the fans basking in glorious weather leapt to their feet.
Not even Michelle Wie had this large of a crowd when she was putting her name in the record books at age 14 with the lowest score (68) of any female competing on the PGA Tour.
In the clubhouse at Waialae, three waiters gathered around a television and groaned when a birdie putt burned the edge of the cup. On the course, even scorers from other groups stopped to ask how Fujikawa was playing.
Even his playing partner, rookie Matthew Borchert, got in on the act. Walking off the 13th green, where Fujikawa had a 12-foot birdie putt, he said to the gallery, "I got $50 this goes in. Who wants it?"
The kid kept his composure to the very end, with help from caddie Shakil Ahmed.
During a brief delay on the 17th, Ahmed instructed him, "Don't get too excited. Two more holes." Fujikawa walked to the edge of the course and gazed into the Pacific, then returned to the tee and belted a 4-iron to 6 feet for another birdie.
He had a brief scare on the 18th when his tee shot hit a palm front, but it had enough power to get into a bunker. From there, Fujikawa lashed his second shot to the left front of the green, leaving him a 55-foot eagle putt that he lagged to 2 feet.
Walking off the green, he turned and waved to a crowd that refused to sit down.
Fujikawa was mildly concerned when he opened with three straight birdies, saying he often loses focus. But not on Saturday.
"The putts were falling today," he said. "I hit a lot of good putts and honestly it could have been a 59. I had three lip-outs, but I'll take 62 any day. I'm going to go out there the same way tomorrow, and it should be a fun day."
The only change Saturday was his golf bag.
Fujikawa showed up with a green-and-island bag from Sea Island, where swing coach Todd Anderson lives. That was the bag he carried last weekend, when he had to go through two days of qualifying to get into the Sony Open.
"I had good vibes with that bag," he said. "I needed that going into today, and I guess I got it."
There was a subtle message with that golf bag. It reminded him of how he earned this spot in the Sony Open, something he felt gave him a little more respect with the other PGA Tour players.
He was an amateur qualifier for the Sony Open in 2007, when he made the cut and tied for 20th. He has received seven exemptions since then, plus three on the European Tour and two on the Japan Golf Tour.
This was the first time he qualified for a big event since he was 15 and earned a spot in the U.S. Open at Winged Foot.
"The exemptions are good, and it's an easy way to get in for me," he said. "But the respect that I get from the other players, it's a little different when you Monday qualify. That's kind of the vibe that I've gotten from the players. It's a good vibe. I really like it. It was an awesome feeling. Earning my way in and then making the cut is even better."
And with a 62 in the third round, he put himself in position to make this week beyond everyone's expectations but his own.