News
"Little Captain America" Is Ready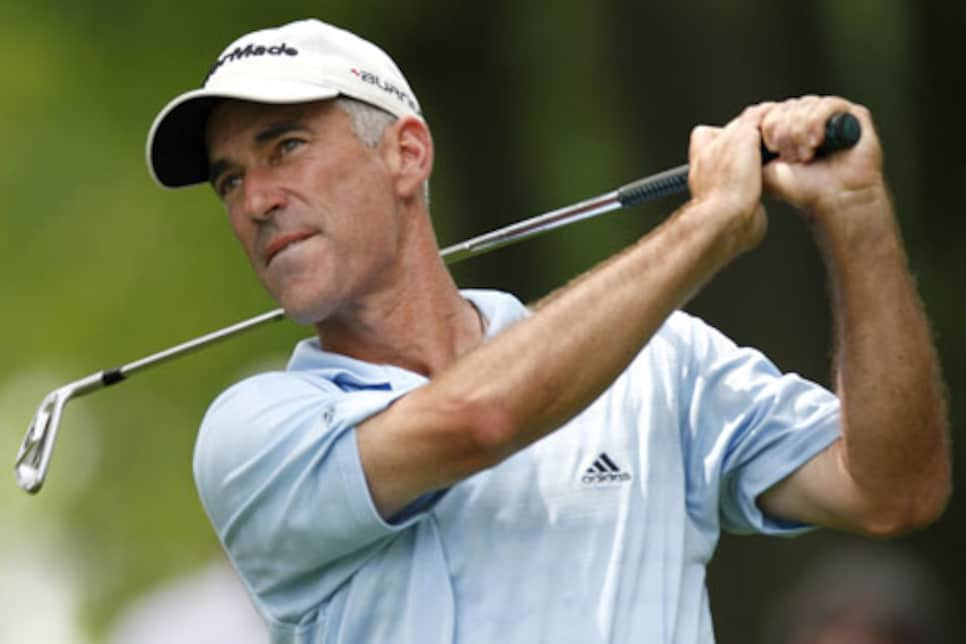 Pavin is one of only three men to have won consecutive titles at Waialae CC.
HONOLULU -- The Ryder Cup is nearly two years away, but Corey Pavin already is feeling like a man under a microscope. He says he doesn't mind. He says 2009 will be more about his golf than about his role as American Ryder Cup captain, though he expects to be plenty busy fulfilling his duties in the latter capacity. He says he doesn't notice if players are pointing or nodding in his direction as he steps on the practice tee at Waialae CC.
"I'm not built that way," said Pavin, whose slight build, 5 feet 9, never goes unmentioned because it's his diminutive dimensions that become an oversized part of his career storyline, one that includes the 1995 U.S. Open title among 15 PGA Tour victories.
He can't get away from this even with a new set of responsibilities. Paul Azinger became known as "Captain America" in leading the U.S. over Europe in last year's 37th Ryder Cup at Valhalla GC. A couple of players have taken to referring to Pavin, who like Azinger was a passionate Ryder Cup competitor, as "Little Captain America."
Pavin might not look around or over his shoulder, but he does read and he does listen, and acknowledgement of this produces a huge grin. "OK, I have been asked a couple of times if it's too early to suck up," admitted Pavin, "and I say, 'No, it's not too early to suck up.' "
It's not too early, either, for Pavin to delve into the finer points of preparation for the 2010 matches at Celtic Manor in Wales. He already has rummaged through the attic of Dave Stockton's cranium, and he hopes to do so again Tuesday at a reception at El Dorado CC in Palm Desert, Calif., which is celebrating the 50th anniversary of its hosting of the 13th Ryder Cup.
But this week at the Sony Open, the season's first full-field event, and most of this year, for that matter, is about trying to stay competitive amid a deepening contingent of younger, stronger and, yes, bigger players. Pavin on Nov. 16 celebrates his 50th birthday, having been born, interestingly, 10 days after captain Sam Snead's U.S. squad dispatched Great Britain 8½ to 3½ at El Dorado. This will most likely be his last full year on the PGA Tour.
"I'd like to play well, for sure, but I'll have to see how I do juggling things," said Pavin, cooling his heels in the locker room at Waialae CC while waiting to get treatment in the physical therapy room. "This week, it's more or less about knocking the rust off the game. I haven't done much for about three months. It was mostly daddy duty, which was great; my daughter [Alexis] turned one, so that was all good. It's been a nice time, but I'm eager to get back out there and play and see what I still have."
The Californian is starting in a good place. Pavin is one of just three men to win consecutive titles at Waialae CC. The bad news is that the second of the two came 22 years ago. Among the 26 PGA Tour rookies in the 132-player Sony Open field is 22-year-old Derek Fathauer.
Eleven players on Tour this year are under the age of 25.
"I'm certainly not thinking this is going to be easy," Pavin said, grinning. "I haven't played since Boston [Deutsche Bank Championship]. I am going to try to enjoy my golf as much as I can while getting ready for next year.
"I am very honored to be captain of the U.S. Ryder Cup team," he added. "It's something I've wanted to do for a long time. It was a personal goal, but not something you can achieve, per se. It's up to the PGA of America to select me, and I feel very lucky and very honored that they chose to give me this opportunity. I'm going to do the best job I know how to do. I have a lot of ideas, and I hope to come up with a good plan."
Asked about some of those ideas, Pavin nodded inside the door of the physical therapy room, toward the tall figure prone on a table getting worked on. It was Nick Faldo, last year's European Ryder Cup captain. In other words, he didn't care to say at the moment.
"Little Captain America" already was taking his job plenty seriously.