News
Long Awaited Ticket To The Big Show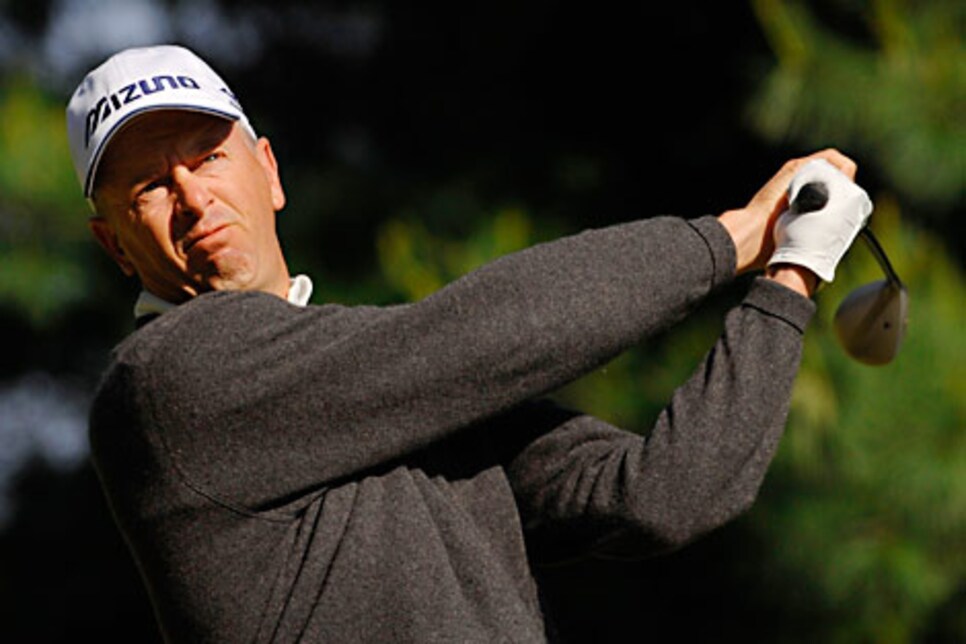 Price paid his dues: 19 visits to Q-school, missing by only two strokes in 2007.
Sitting at the counter of the Einstein Bagels overlooking Indiantown Road in Jupiter, Fla., 40-year-old Rick Price in his Titleist hat and 4-year-old son Cody shared an early morning breakfast. It was late December and they were getting ready for a road trip that would take them from the East Coast to the California desert and eventually the island of Oahu in the middle of the Pacific Ocean where Price would make his official debut as the PGA Tour's oldest rookie of 2009.
Price has played in two tour events -- including a missed cut at the 1991 U.S. Open -- but the guy who spent 10 years on the Nationwide Tour, and 10 years on the mini tours finally has a tour card. Also making the travel squad for the Sony Open is wife Melinda and 2 1/2-year-old daughter, Taylor. As Cody ate his bagel with peanut butter, pop talked about throwing him in the pool with the dolphins at the Kahala Mandarin Hotel, just off the golf course at Waialae CC.
"It has been a long time," Price said, thinking back on his life in golf -- the 19 tries at Qualifying School, the two strokes that separated him from his card in 2007, the 20 mini-tour wins. "Just being able to hang in there this long and finally get through is persistence."
Price met Melinda Daniels at Pop's Driving Range in West Palm Beach, Fla. She was playing the women's division of the old Golden Bear Tour, making an attempt to play the LPGA Tour; he was just out on the Nationwide Tour. "I've been very fortunate," he says. "My wife has a grasp on what it takes to play." So does Price. After years of scratching and clawing he won the Nationwide Tour Players Cup last summer, and at the end of 2008, earned his PGA Tour card by finishing 12th on the tour money list with $284,922.
By the measure of Obamanomics, that puts him above the tax-break level of small-business owner, but Price really does know about running a small business, as he and Melinda, along with close friends Jeff and Belinda Leishman, own a Tropical Smoothie in Abacoa, Fla., centrally located next to the Scripps Research Campus being built on Donald Ross Road. Jeff and Rick met while playing the mini tours and Jeff doubles as Price's instructor when he's not working with the juniors at Jupiter Dunes, the local par-3 course. Melinda managed the store until the Prices started having children in their mid 30s.
"Obviously the times have hurt us a little bit there, but we've been very fortunate," Price says, "We invested at a good time, and fortunately we paid off the store quick. We've been profitable since Day One."
The same could not be said of Price's golf career, but he always has loved pursuing a place on tour. After one year at Methodist College and a stint at Medinah CC in Chicago, Price started an odyssey that included the Hooters, Teardrop, Tommy Armour, New England, Canadian and South African circuits. He's old enough to have played the J.C. Goosie Mini Tour in Orlando. In 1991, he finished second behind Chris DiMarco on the South African Tour money list.
But while DiMarco went on to challenge Tiger Woods at the Masters and represent his country on Ryder and Presidents Cup teams, Price never made it. Did he ever want to pack it up and buy another Tropical Smoothie?
"Not really," he says. "This is always what I wanted to do. There are times when you say, 'Wait a second, am I doing the right thing here?' I never had that. I've always been able to make enough financially to keep my dream going. I'd save up enough money to get back at it. I never had that moment when I said, 'I'm done.' I loved [playing golf], loved getting up and doing it. I've been fortunate enough to make enough to keep doing it."
Cody was getting a little impatient, but Price's career has been built on patience. He is using Mark Wilson as a role model. Wilson is a former mini-tour rat who won the 2007 Honda Classic and made more than $1.5 million in 2008. Price feels as if he's going out to play in a league where it isn't necessary to shoot 65 every time out.
This winter, he worked on his game at the Dye Preserve with Richard S. Johnson, Will MacKenzie, Mark Calcavecchia, Jesper Parnevik and some of the other pros who call that club their home. Price could be seen jogging along Juno Beach, or past the Starbucks early in the morning at Plum Plaza.
His goal it to play the tour for 10 years, the Champions Tour for 10 years, and move up into higher tax brackets. On his way to Hawaii, he stopped off in the desert to play the Bob Hope courses. In December, after the Callaway Invitational, he flew to San Diego for practice rounds at Torrey Pines in anticipation of getting in the Buick Invitational. He is no longer chasing the dream, but living it. "Actually, I have quite a bit of calm about the whole thing," he says. "I'm in a winning situation going out there. I'm going to make money this year no matter what."