News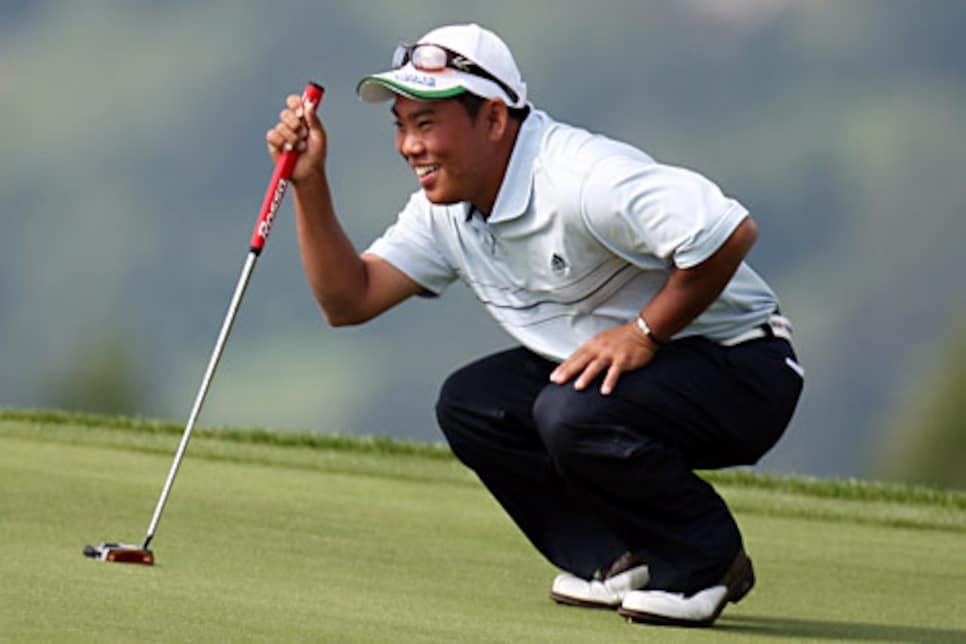 Fujikawa's birdie on 18 let him share medalist honors in the qualifier.
Tadd Fujikawa is all grown up now, chronologically, at least. The calendar says he's 18, though the tape measure argues otherwise. "I'm still 5-1," Fujikawa said Tuesday. "I haven't grown any. Unfortunately."
Tiny Tadd, he was called two years ago, when he made his wondrous run in the Sony Open in Hawaii, a 16-year-old local amateur wresting headlines from the tour pros, including the winner, Paul Goydos. Fujikawa tied for 20th that week, piquing widespread interest in his future.
Six months later and still only 16, he turned professional, eliciting groans from the same interest group all too familiar with golf's tendency to repel ambition that has yielded to youthful indiscretion. See Ty Tryon and Michelle Wie.
Now he's an adult, celebrating his milestone birthday last week, and the fact that the home tournament, the Sony Open, declined to part with a sponsor's exemption suggests that the novelty has worn off and that he is now adrift in the shark-infested waters of the real world.
Bring it on, Fujikawa apparently says. Uninvited to Sony's seaside fete at Waialae CC in Honolulu, he crashed the gates. He passed through two stages of qualifying, shooting a 67 in Monday's open qualifying to earn one of four berths in the tournament.
Fujikawa shared medalist honors with Alex Aragon and Jumpei Takayama with a birdie on the par-5 18th hole. After a short drive, Fujikawa laid up with his second shot, then hit his wedge two feet from the hole. Had he made par on 18, Fujikawa would have had to battle through a four-man sudden-death playoff for two spots.
Qualifying for the Sony is a step in the right direction. Not all of them have been.
Fujikawa has not made the cut in a PGA, Nationwide or European PGA tour event since turning pro in July of '07. He's 0-for-4 on the PGA Tour, 0-for-2 on the Nationwide Tour and 0-for-3 on the European PGA Tour. He did make the cut twice in four starts on the Japan Golf Tour in '08 and he won the local Mid-Pacific Open last April, defeating former Hawaiian Open champion David Ishii by seven strokes. More small steps.
"I'm trying to be patient," Fujikawa said. "I've been improving. That's the main thing. I've worked really hard in the past year, though I haven't seen the results yet. Hopefully soon."
There are dues to be paid, foremost among them adding experience to an otherwise thin resume. Once summer comes and he's no longer tethered to high school (he graduates from Moanalua High in a few months), he intends to play wherever he can, even mini-tour events, to prepare for his first run at PGA Tour Qualifying in the fall.
"I may play some in Europe, some in Japan," he said. "I may try to Monday qualify when I'm in the States. My coach wants me to play as much as I can, to get into the mode of playing week after week. Right now, I play one or two tournaments and I have a month break.
"It's frustrating. I really like school, but I don't like it as much as golf," Fujikawa added. "It's frustrating not to be able to pursue it full time yet."
It is reasonable to measure his progress (or lack thereof), but to use it to stitch together a conclusion about his decision to abandon amateur golf (and even junior golf) at 16 is premature. For now, it's still a part-time job, though one that has served its purpose, giving him seed money that has allowed him to get off the island to play. Last week, Aloha Petroleum Ltd., his first corporate sponsor, announced that it had renewed its contract with Fujikawa for 2009.
In the meantime, there's a new kid on the block. Lorens Chan, 14, won the amateur qualifier for the Sony. A high school freshman from Honolulu, he'll be teeing it up on the PGA Tour before he ever plays a high school match.
"I know him very well, known him since he was 11," Fujikawa said. "We've practiced together. I'd tell him, 'just go out there and have fun.' That's what it's all about. Don't put any pressure on yourself. For me, I was just out there riding the crowd."
It was a good ride, too, but it could only carry him so far. The rest is up to him and his diligence. Fujikawa seems to understand this. That, too, is a small step in the right direction.