Ogilvy Stays On Course, Keeps Lead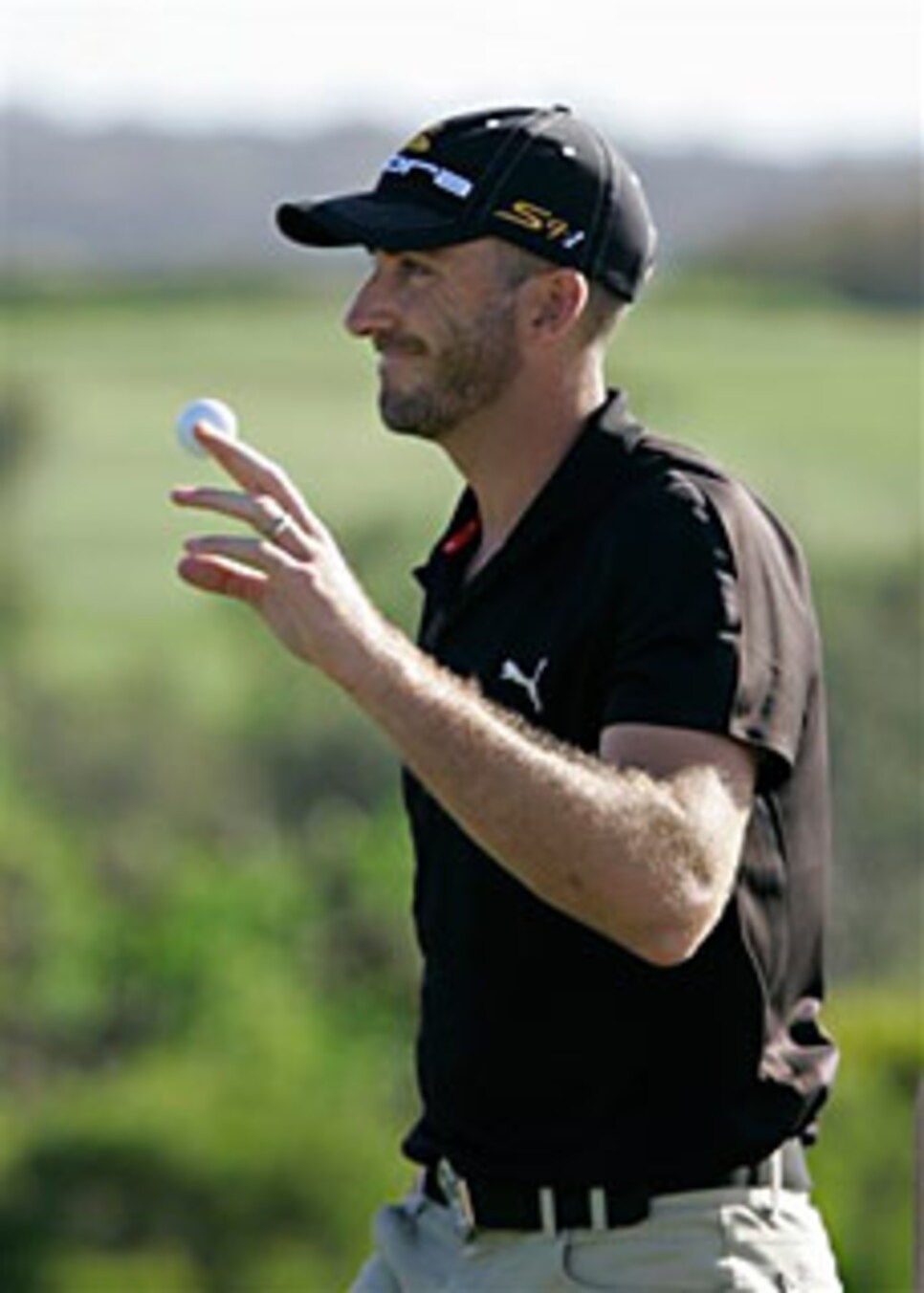 With one bogey in 36 holes, Ogilvy is averaging 30.5 putts per round.
KAPALUA, Hawaii (AP) -- Geoff Ogilvy three-putted his last two holes Friday, which ended his impressive streak without a bogey, but didn't cost him the lead in the Mercedes-Benz Championship.
Flawless over the first 34 holes, Ogilvy stumbled home to a 5-under 68 on a gorgeous and generous day for scoring, giving him a one-shot lead over D.J. Trahan going into the weekend of the PGA Tour's season-opener at Kapalua.
Ogilvy was at 11-under 135, still in the lead but losing a chance to separate himself from the field.
Trahan holed a 40-foot eagle putt on the 15th and closed with a birdie for a 66. Ernie Els, despite missing a short par putt and dumping a chip into the bunker, did enough things right for a 69 that left him only two shots behind.
Davis Love III birdied the last two holes for a 70 and was among five players at 7-under 139. Another stroke back was Boo Weekley, who might have been a little closer except for a four-putt double bogey from 12 feet on the final hole.
"I pulled the first one, pulled the next one, then I done blew my top," said Weekley, who had to settle for a 70.
Ogilvy was frustrated, too, and a little perplexed by a sudden shift in the wind off the west coast of Maui that could make playing the Plantation course even trickier on the weekend.
After a 415-yard drive to the bottom of the hill on the 17th, he hit a wedge toward the green and knew something was wrong when it shot up into the air. Instead of landing in the middle of the green and rolling toward the hole, it stopped 85 feet short.
"The wind changed sometime between the tee shot on the 17th and the second shot on the 17th, and we couldn't really feel it where we were standing," Ogilvy said.
His par putt from 5 feet spun 360 degrees out of the hole for his first bogey of the tournament.
Stranger still was the Kona wind coming off the left on the par-5 18th, a direction Ogilvy never experienced in his previous two trips to Kapalua. He still reached the green in two, but his 70-foot eagle putt ran 6 feet by the hole, and he missed that one to settle for par.
"I played really, really well on the front nine," he said. "The finish was a bit rough."
The rest of the day was anything but that as the 33-man field found conditions about as perfect as can be, for golf and the spectacular scenery. From the high points of the Plantation course, humpback whales were breeching and flipping their tails in the Pacific below, which is not unusual. On the golf course, the flags barely made a ripple, which is rare.
"If there's ever a day to be disappointed with 6 under, this was it," Stewart Cink said after his 67.
Camilo Villegas finished his round of 67 and asked his caddie for a felt pen. "I'm in a better mood to sign today," he said, walking over to a group of fans wanting his autographs. Despite the relative calm, there's still the matter of maneuvering around the mountain course, taking the right angles to hit slopes that lead to some 400-yard drives that already have been recorded. And of course, the greens aren't easy to master in any condition. Weekley found that out on his closing hole.
He had a 12-foot birdie putt to get to 9 under when it missed badly on the low side. His 30-inch par putt caught the lip, and as Weekley scooted around the hole to tap that one in, he missed again. Four putts from 12 feet gave him a double bogey and spoiled an otherwise decent ground, giving him a second straight 70 for 6-under 140.
"The whole back side, I was playing either too much break or not enough break, and it started wearing on me," Weekley said.
Adam Scott knows the feeling, even though he didn't four-putt. He figured a 67 was about as well as he played, but laments not making more chances. Of greater concern was staying within range of his fellow Aussie and good friend, Ogilvy, who was 11 under and on the back nine when Scott finished his round. Scott was asked if he could catch Ogilvy. "No," Scott said, laughing. "Not if he keeps playing like this."
Ogilvy was headed that direction until a few blips that finally caught up to him, and brought him back to the rest of the field.
Divots:@ Weekley was being interviewed by Golf Channel when he was asked to analyze Els' swing on the 18th hole. "That right there was hammered," Weekley said. ... Love continued to struggle with the 13th hole. He had to take a penalty shot out of the deep grass right of the fairway on Thursday, leading to bogey, and he pulled it left into the native grass on Friday and made a double bogey. ... Cink and Trevor Immelman, both representing Nike, wore the same shirt Friday.