News
Ogilvy Opens Steady And Mistake Free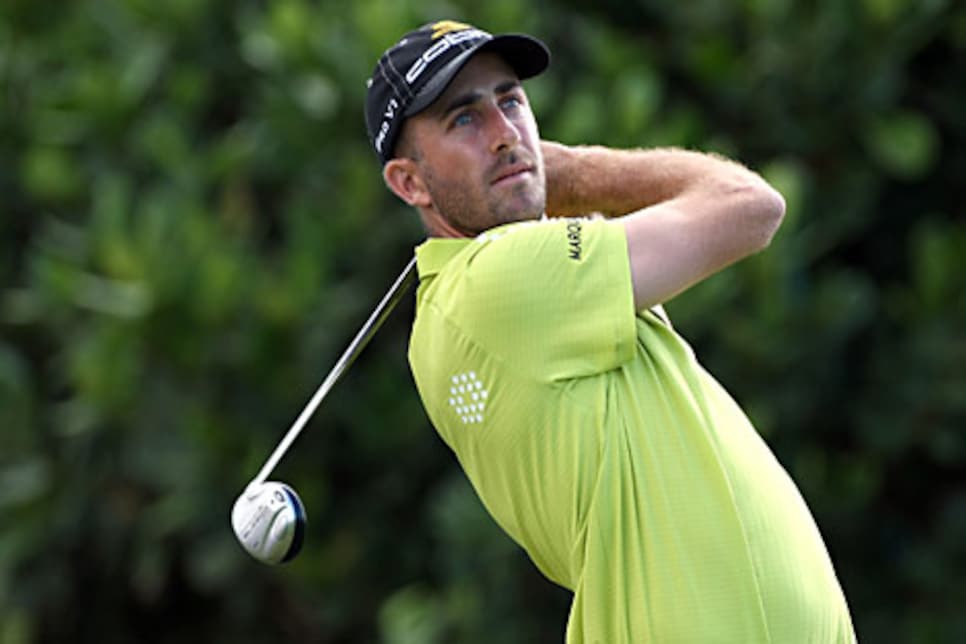 Ogilvy's 67 was his best round ever at Kapalua. His previous best was a 72.
KAPALUA, Hawaii (AP) -- Geoff Ogilvy opened the PGA Tour season Thursday without making bogey on his way to a 6-under 67 and a one-shot lead in the Mercedes-Benz Championship, a score that only surprised him because of the location. In his eight previous rounds on the Plantation course at Kapalua, he had never shot better than 72.
But the former U.S. Open champion is coming off a victory in the Australian PGA Championship and a tie for sixth in the Australian Open last month, and he was just as sharp in taking the first-round lead over Ernie Els, Kenny Perry and fast-closing Johnson Wagner.
"We only finished Australian Open three week ago," Ogilvy said. "And three weeks isn't enough to get rusty."
Els arrived in Maui having played only once in the last six weeks, and that worked well for him. In his first time to Kapalua in four years, he made only one blunder - a tee shot into the hazard on the par-5 15th - to get his season off to a solid start.
Wagner, one of a dozen newcomers to the winners-only Mercedes with his victory in the Shell Houston Open, wasn't even in the picture until a birdie-birdie-eagle finish. Perry joined the group at 68 with a birdie on the last hole.
Davis Love III, who won the final event of 2008 at Disney, and Ryuji Imada were in the group at 69. Imada ran off seven straight birdies starting at No. 6 - one short of the PGA Tour record - but followed that streak with consecutive bogeys.
As for all the hype over the youngsters?
Anthony Kim wore an Oklahoma hat on the first hole while playing with Florida alum Camilo Villegas before taking it off, and it took awhile for his game to arrive. Kim had a 71, while Villegas had to rally for a 74.
It was an idyllic start, as often is the case at Kapalua, with moderate wind, occasional light showers, sunshine, rainbows and plenty of optimism about the new season. "I want to have a good season, like everybody," Els said.
The Big Easy was off to a phenomenal start with an eagle on the par-5 fifth hole and a 31 on the front nine. He was 6 under through 11 holes, but played the rest of the way at 1 over - despite playing two par 5s - and had to settle for a 5-under 68.
"I would have taken it before I teed off," Els said. "But I'm a little hot under the collar right now."
He hooked his tee shot into the hazard on the 15th, had to take a penalty drop and hit out sideways, and he did well to make bogey. Els had a 4-iron into the green on the par-5 18th, but left it out to the right to avoid trouble on the left, and missed a 10-foot birdie.
Ogilvy also finished with a par, but was all smiles.
He was rarely in trouble, and the only time he had to get up-and-down was on the par 5s. But with a 3-iron to the 18th green, he pulled it into the hazard, and after a lengthy discussion where to drop, he was faced with a 50-yard pitch, which he hit to 4 feet for par.
"I haven't shot very many good rounds around this course, so maybe that's a surprising thing," said Ogilvy, whose average score was 73.875 in his previous two trips. "But the fact that I'm playing OK is not surprising."
Hall of Fame quarterback John Elway hit the ceremonial tee shot to begin the season, a 350-yard drive that speaks to the elevation, wind and the grain in the grass that makes the Plantation course unlike any other they will play all year.
Wagner is among a dozen newcomers to Kapalua, but he arrived last Friday and quickly became acquainted.
"I've played Saturday and Sunday, every day I've been here, and fell in love with the golf course," Wagner said. "It's early, but I feel really comfortable out here."
He didn't look terribly comfortable on the greens, which can takes years of experience to figure out the slope and grain. But it all came together at the end, with a 10-foot birdie down the slope on the 16th, a 25-foot birdie across the grain on the 17th and his 18-foot eagle on the final hole.
"It was a great finish, and turned a 71 into 68 real quick," Johnson said.