News
Faldo: Garcia's Whine Is Sour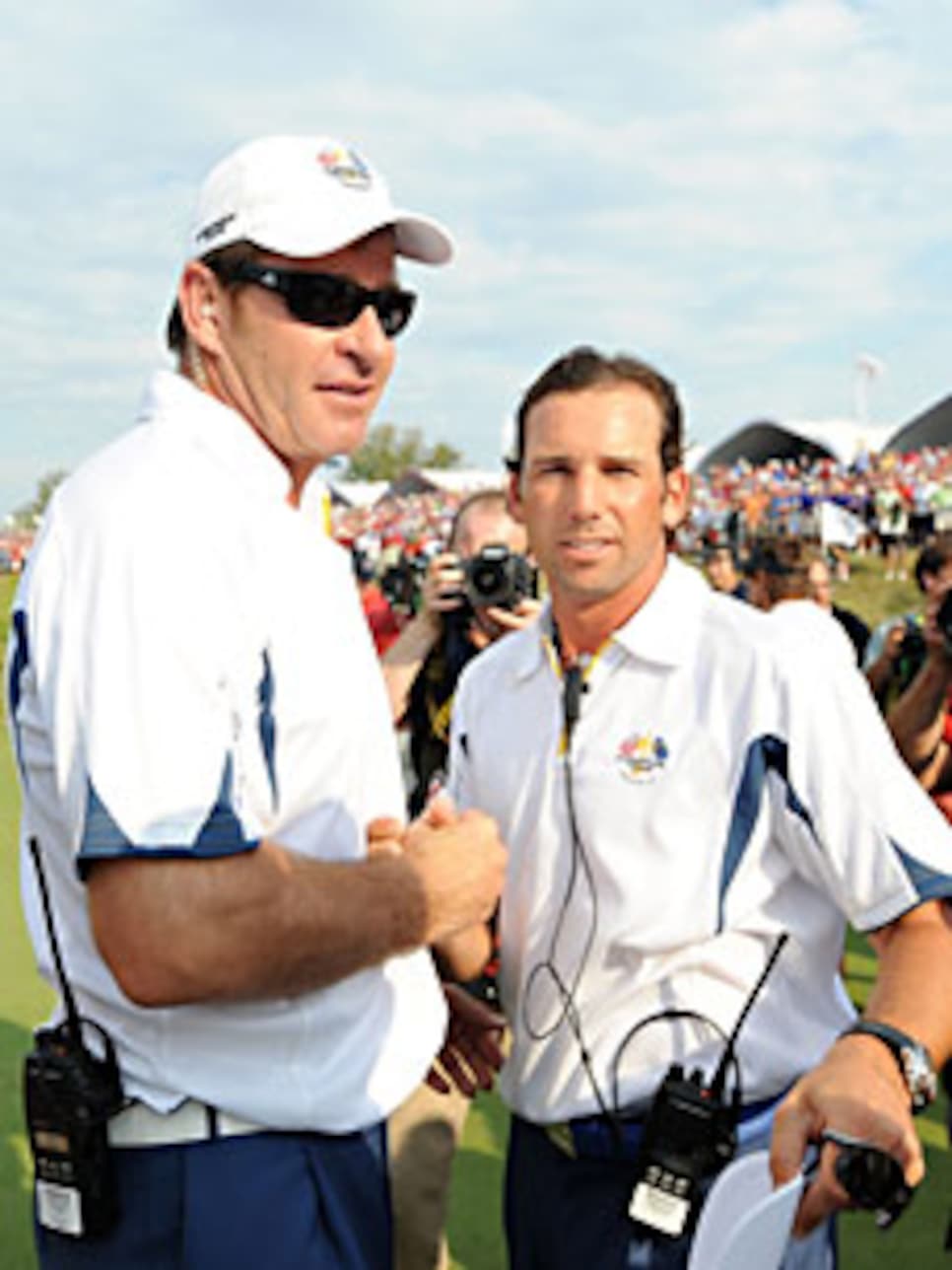 KAPALUA, Hawaii -- Nick Faldo remembers how cramped were the quarters for the visiting European team at the 1993 Ryder Cup at Kiawah Island, S.C.
"We couldn't even get all 12 players in the team room," Faldo said with a chuckle.
Relevancy of this recollection would appear suspect but for the recent observations of Spain's Sergio Garcia, who couldn't help but think that the Europeans might have avoided their upset loss to the Americans last September at Valhalla GC in Louisville if, among other things, their temporary quarters had been adequate.
Apparently, there is a correlation between bathrooms and birdies.
"The U.S. team played their cards well," Garcia, the No. 2 player in the world, said in the December 30 issue of The Mirror. "They knew where the pins were going to be and the tees, and we didn't. The locker room we had was really, really small and uncomfortable. I wish it had been even half the size of theirs. We had two showers, one next to a toilet."
If this were a, ahem, drain on the visitors' fortunes, Faldo, the European captain, wasn't seeing it.
"I knew what we had [as far as facilities]," Faldo said at Kapalua Resort's Plantation Course, where he is part of Golf Channel's broadcast team for the PGA Tour's season-opening Mercedes-Benz Championship. "That's why we had the pro shop ... the main lounge, our team room, was fine. The locker room was only used for changing shoes; two minutes and you're out of there."
Golf Channel producer Brandt Packer, who was a special assistant to Azinger at the Ryder Cup and is close friends with both U.S. captain Paul Azinger and Faldo from their days together at ABC Sports, validated Faldo's assessment of hospitality arrangements.
In fact, Packer said, Azinger checked out the team rooms prior to the Europeans' Monday arrival and was envious of it. It was bigger and better decorated than the American team room. Azinger quickly directed the PGA of America to make alterations to the U.S. room. It needed it. Among the everyday fixtures still hanging on the wall was a picture of Jose Maria Olazabal, Faldo's assistant captain, who holds the Valhalla course record of 63, shot in the third round of the 2000 PGA Championship.
"The first thing Paul said was, 'Man, I like their room better,' " Packer said. "We had a bigger locker room but a smaller area for the team room."
"Square footage was equal," Faldo interjected wryly.
El Nino, it should be noted, has a reputation for picking nits as proficiently as he wields a wedge. If you recall, Garcia posited that an over-diligent maintenance worker taking much too long to rake a greenside bunker contributed to his closing bogey at the 2007 British Open at Carnoustie. The Spaniard subsequently lost in a four-hole playoff to Padraig Harrington.
Harrington and Garcia in recent weeks have expressed roughly equal sentiment toward each other, acknowledging that their relationship is cordial at best. Harrington, who also bested Garcia at the '08 PGA Championship at Oakland Hills CC, observed that the two men have little in common aside from their profession.
Countered Garcia in The Mirror: "He is not my best friend. It'd probably not be good for us to be paired together [in future Ryder Cup matches]."
Faldo said he understood how there could be tension between the two but dismissed there being outright acrimony.
"You missed the bit on Sunday night," Faldo said. "Eventually we ended up with just the 13 of us sat and chatted, which was great. Lee Westwood said, 'Wow this is great. We've never done this before.' We just sat around for a half-hour just gassing. Westwood said, 'We're all going to stay friends for this,' because of the experience we just had. And they [Harrington and Garcia] jokingly got up and hugged and said, 'Even we'll be friends.' So I take that as witnessing something for real instead of reading about it."