News
The Winds Of Change Are Blowing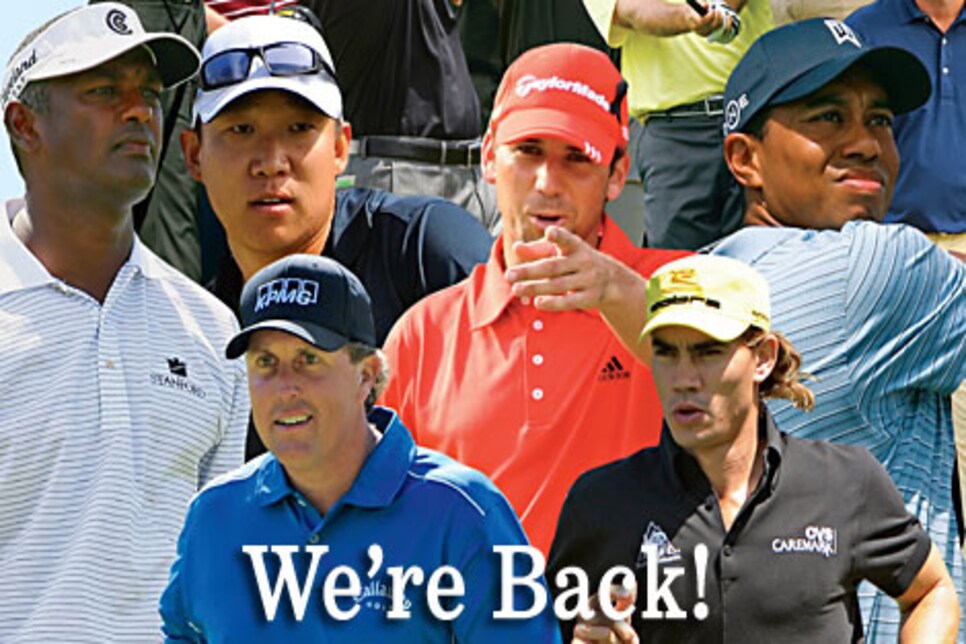 Soon now, Tiger Woods is going to knock the dust off all his clubs, take a look around the golf business he has run for years and probably have a simple reaction.
My, what have they done to the old place?
Numbers really are sort of like lampposts. You can lean up against them, dogs usually take an interest in them, and sometimes they're used in the manner for which they are intended . . . to shed light. It's probably not a bad idea to keep that in mind if you're checking out the Official World Golf Ranking that's going to end 2008, because it looks a lot different than it did one year ago -- and chances are it's going to see even more changes once the 2009 season gets going.
Get ready, because it's going to be a rollicking year, with new groove rules and new Tiger Rules.
Meanwhile, the rankings. There's nothing new at the top, of course, with Woods at No. 1, a position he's held for 528 weeks. But when Woods does return from the reconstructive ACL knee surgery he had six months ago, he's going to take notice of some fairly abrupt alterations.
One of the biggest is that his lead is narrower than a U.S. Open fairway. It's only 3.8 points over Sergio Garcia, and there are two surprising factors at work here. Woods is still ahead even though he hasn't played since mid-June; and two, Garcia is No. 2?
Woods led Phil Mickelson by a mile, or more than 11 points, after Tiger's victory at Torrey Pines in the U.S. Open more than six months ago. That's almost exactly the same advantage Woods had over No. 2 Mickelson in the final official ranking of 2007. Mickelson dipped just one spot, to No. 3, behind Garcia, who jumped all the way from 12th place a year ago.
Garcia wasn't the only one who made a move, most of it while Woods was sidelined. Robert Karlsson was 41st and a tall, Swedish afterthought a year ago, but he's sixth now. The Youth Movement was led by Camilo Villegas, the 26-year-old with the Spiderman-style putting preparation who moved from 56th to seventh, and 23-year-old Anthony Kim, who charmed and bashed his way from 56th to 11th.
Then there are the members of Woods' former peer group in the top 10 that dropped out -- Jim Furyk, Steve Stricker, Justin Rose, Adam Scott and K.J. Choi. But they all remain in the top 20 to begin the New Year, so they're still in radar contact.
Woods knows all about subtractions. He has been shedding rankings points because he hasn't played, simple as that, but he's coming back, and it sounds as if he's got a plan. A big plan.
There's an easy way to picture it all. Sure, pro golf's TV ratings are in the tank, joined by the economy, sponsors are in the hurt mode, and tournaments are wondering if they can sell out their tickets and continue to mine corporate interest. And how does all this get turned around? Enter Tiger.
Feel free to speculate that he's already got this figured out. There is a commonly shared thought process circulating throughout the Woods' camp about his return, whether that occurs at Torrey Pines, the Match Play at Tucson or at Doral.
Tiger doesn't want to make a big splash, he wants to empty the pool.
In other words, Woods doesn't just want to play four rounds and get through them when he comes back, he wants to dominate, to send a message that would rattle around in everyone's heads for the rest of the year. To accomplish such a feat, Woods would show up on a track with which he has Karmic history (Torrey? Match Play?), to improve his chances of winning.
How can he win the U.S. Open with a torn knee ligament and two stress fractures, after not playing since the Masters?
How can he win the Buick Invitational at Torrey Pines by a tournament record eight shots, in his first PGA Tour event of 2008?
We know the questions and we also know the answers. If we've been paying attention, it's the Tiger way. There's a chance this sort of scenario won't pan out, but shouldn't you have a plan, a goal, a mission? Allow yourself to speculate, to engage in the assumption that Woods is a lot farther along in his rehabilitation than he hints he is, and that he really is hoping he can pull all the pieces together at the right moment. And while the rankings are a good barometer of the status quo, someone out there is plotting to throw the whole thing on its ear, so be ready.
Thomas Bonk writes regularly for Golf Digest Digital.