News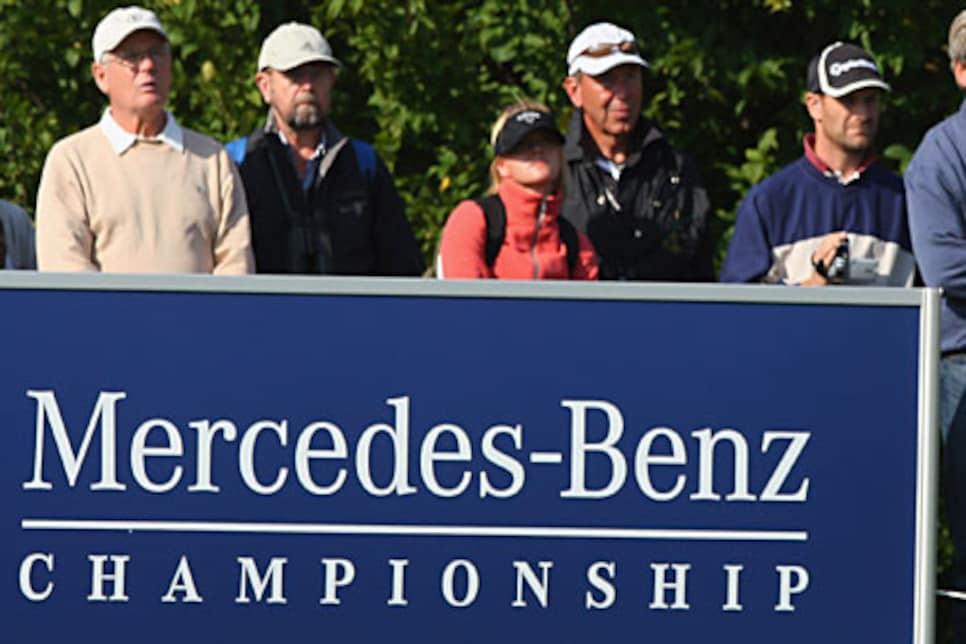 The Mercedes-Benz Championship, the season-opening event on the PGA Tour, is sort of like the Bowl Championship Series, the curtain-closer in college football. People end up focusing more on who isn't there than on who is. Forget that January 1 hangover, the real signal the New Year has arrived is the head-thumping complaints of those who love to bash the BCS and the Mercedes-Benz.
While it's true Southern Cal, which will be watching Florida take on Oklahoma for the national championship, has a case to be in the title game it could have solved that little problem by not losing to Oregon State. And while it is true the top four players in the world -- Tiger Woods, Sergio Garcia, Phil Mickelson and Padraig Harrington -- were eligible for the Mercedes-Benz but won't be playing, maybe the focus should be on who is in the field.
Let's face it; Woods is the best player currently walking the plant, whether it is on one leg or two. And let's face this also: In his 13 seasons on the PGA Tour he has never really had a rival. The best that has been managed against him has been a rivalry by committee: Mickelson, Ernie Els, Vijay Singh, David Duval, Retief Goosen and Padraig Harrington have all taken shots at him at times, but not one of them was anywhere near his match.
And that's not to disparage any of those guys. Mickelson, Els, Singh and Harrington have all won three major championships, Goosen two and Duval one. Singh is already in the World Golf Hall of Fame, Mickelson and Els will be and Harrington and Goosen are likely. Duval will be buying a ticket to get into the Hall, but at one time he seemed like a sure thing.
As the PGA Tour likes to say, "These guys are good." It's just that they are not Tiger. But that's sort of like saying Lou Gehrig was not Babe Ruth. If Mickelson had played in that era right after Jack Nicklaus and Tom Watson and before Woods he'd be nudging his way into the conversation about the top-10 golfers ever. But timing, as they say, is everything.
And timing is exactly why we should embrace the positives of this year's Mercedes-Benz Championship. The most-compelling rivalry in golf is not for No. 1 -- we know who that is -- but for No. 2. And the most compelling rivalry within the rivalry involves Anthony Kim and Camilo Villegas. They alone make the Mercedes-Benz interesting. But there's more.
Kim, 23, and Villegas, 27, are among a handful of young talent in the 33-player field. Rookie of the Year Andres Romero is 27 while D.J. Trahan and Adam Scott are 28. What we want to see is a couple of these young studs get off to a fast start so they can be prepared for The Return of You Know Who with enough cocky swagger to make it interesting.
Remember when Woods was the kid? Well, as Chrissie Hynde of the Pretenders says in the song Middle of the Road: "I'm not the cat I used to be, I've got a kid, I'm 33 baby." Well, Tiger does Chrissie one better. He's 33 and by the time he returns to competitive golf he will have two kids. That's not to say he won't rule the roost for years to come, but he could very well see some serious attitude combined with major talent thrown his way this year.
And Woods has never really had a challenger with both talent and attitude. The guys who have mouthed off in his direction were mostly second-rate player and the really talented guys who've gone up against him have been too smart to mouth off -- with the notable exception of Garcia, who was scratched off Tiger's Christmas card list a long time ago and except for a made-for-TV gig when Tiger was sick has never beaten the guy.
So here's what we have this week: The top four players in the world aren't at the Mercedes-Benz Championship but No. 5 (Singh), No. 7 (Villegas) and No. 9 (Els) are. In fact, seven of the top 15 in the world will be competing on The Plantation Course at Kapalua, which televises better than just about any other non-major venue with its majestic vistas, devious wind, dramatic elevation changes and fairways that roll forever.
K.J. Choi, who's going to win a major someday, is also there. And so is Davis Love III, who is serious about his bid to make the 2010 U.S. Ryder Cup team. Boo Weekley and J.B. Holmes are also worth the price of admission, as they proved at the Ryder Cup.
And then there is the Kim-Villegas rivalry. If this tournament has any flair for the dramatic, that's the showdown it will give up come Sunday evening. And, oh yeah, it will be Sunday evening, airing on Golf Channel from 6 to 10 p.m. on the East Coast of the United States, which is where I live so that's the only time zone that matters. Prime-time golf is a good thing. Remember Saturday night at Torrey Pines in the U.S. Open last year?
Doesn't matter who's not at the Mercedes-Benz Championship, it sets up to be a pretty entertaining even with the folks it has. Why worry about who's not there, unless you are talking about college football's BCS. They really blew it by leaving out USC.