News
Why They Play The Chevron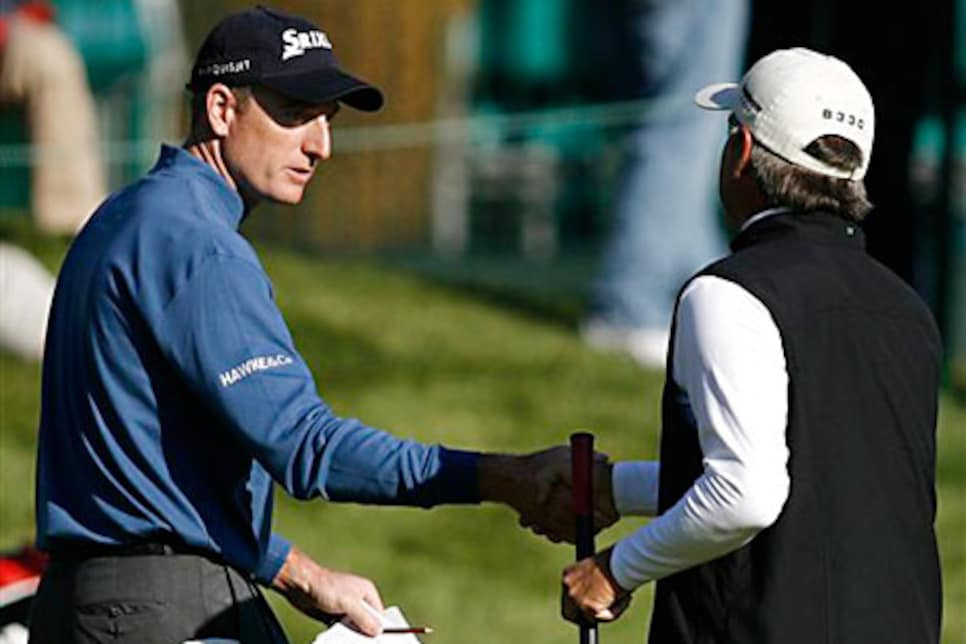 Jim Furyk (first-round leader) shakes hands with Fred Couples after finishing their opening round.
THOUSAND OAKS, Calif. -- It started January 3 in Hawaii and it doesn't end until Sunday here in Southern California, a mere 354 days, which means the PGA Tour season is almost too big to fit into a calendar. But no matter how you judge it, the unofficial Chevron World Challenge is the official end of the year . . . or is it really the start of the new one, since the off-season is crammed into an entire two weeks?
From behind his jewel-encrusted AK belt buckle, only slightly smaller than the grill of a Hummer, Anthony Kim thought hard about it and came up empty.
"To be honest, I don't know what it is. End of the year, beginning of the year, I have no clue. All I know is that next year is almost here."
Whatever it is, the money is real, all $5.75 million of it, and it's going to be a nice payday all around since the prize money is split just 16 ways. As far as motivation, large stacks of cash would seem to be a pretty formidable factor, especially since last place in the 16-player field is exactly $170,000, but these players are moved to play for different reasons than what fills a cash register.
Two words explain it all: Tiger Woods. The preeminent player in the game serves as the host of the tournament -- this year a non-playing host because of his knee surgery. But it is a testament to Woods' clout that he can convince a group of established millionaires to cut back on their holiday preparations to play a few days of golf, with one season just about in the rear view mirror and another one just around the corner and so little time between.
"I'm lucky to be in it," Fred Couples said. "So that's why I'm here. I think it's a great event, Tiger does an unbelievable job, and he's got a great charity. And I think all the players enjoy it."
This is the 10th version of the 72-hole stroke play event, which benefits the Tiger Woods Foundation. Woods, a four-time champion of his own tournament, turned over his $1.35 million winner's check to his charity after winning last year.
Kim said he's grown closer to Woods and they did a commercial photo shoot together Wednesday. His association with Woods is something Kim does not take lightly.
"Obviously, when Tiger is involved with anything, you want to be involved in that same event or whatever he's into," he said. "For me, going out and watching him and getting to try to emulate what he's done in a different way, it's special for me."
Hunter Mahan, a Ryder Cup teammate of Kim, said the fact that Woods' foundation benefits from the tournament touched him in ways he didn't expect.
"It's a special event for a special cause.
"[Woods] is an incredible athlete who's doing incredible things for charity, and to be part of that this week and to help out any way I can is great."
Besides helping out Woods, and also showing him respect, Mahan said he can spend the week gauging the merits of his game, try to discover where he wants to go with it and also jump-start the whole process for 2009.
The money isn't bad either, Mahan admitted.
"That helps. That's kind of a reward. That doesn't hurt."
It's a tight little group that is convening all week at tony Sherwood Country Club, a Jack Nicklaus-designed layout nestled in a canyon, with multi-million dollar homes perched on perfect-looking bluffs overlooking the fairways and greens. Most of these guys are regulars, including Couples, Luke Donald and Jim Furyk. Vijay Singh is also a regular. But there are some on the outside, such as Rory Sabbatini, who withdrew from the tournament without finishing last year, then took his courtesy car and left it at the airport. He didn't tell anyone where it was, although the car was eventually found.
Sabbatini, however, will not be found at Sherwood again. There's a signed pin flag posted in the stately brick clubhouse and all the players who were here last year signed it, including Sabbatini. Included in the presentation is a plaque that lists every player who took part, except one. Yes, Sabbatini's name is missing.
As Couples said, it's always best to remain on Woods' good side. And that's true whether it's the end of the year, the start of the year, or any part in-between.