News
Furyk Jumps In Front By Two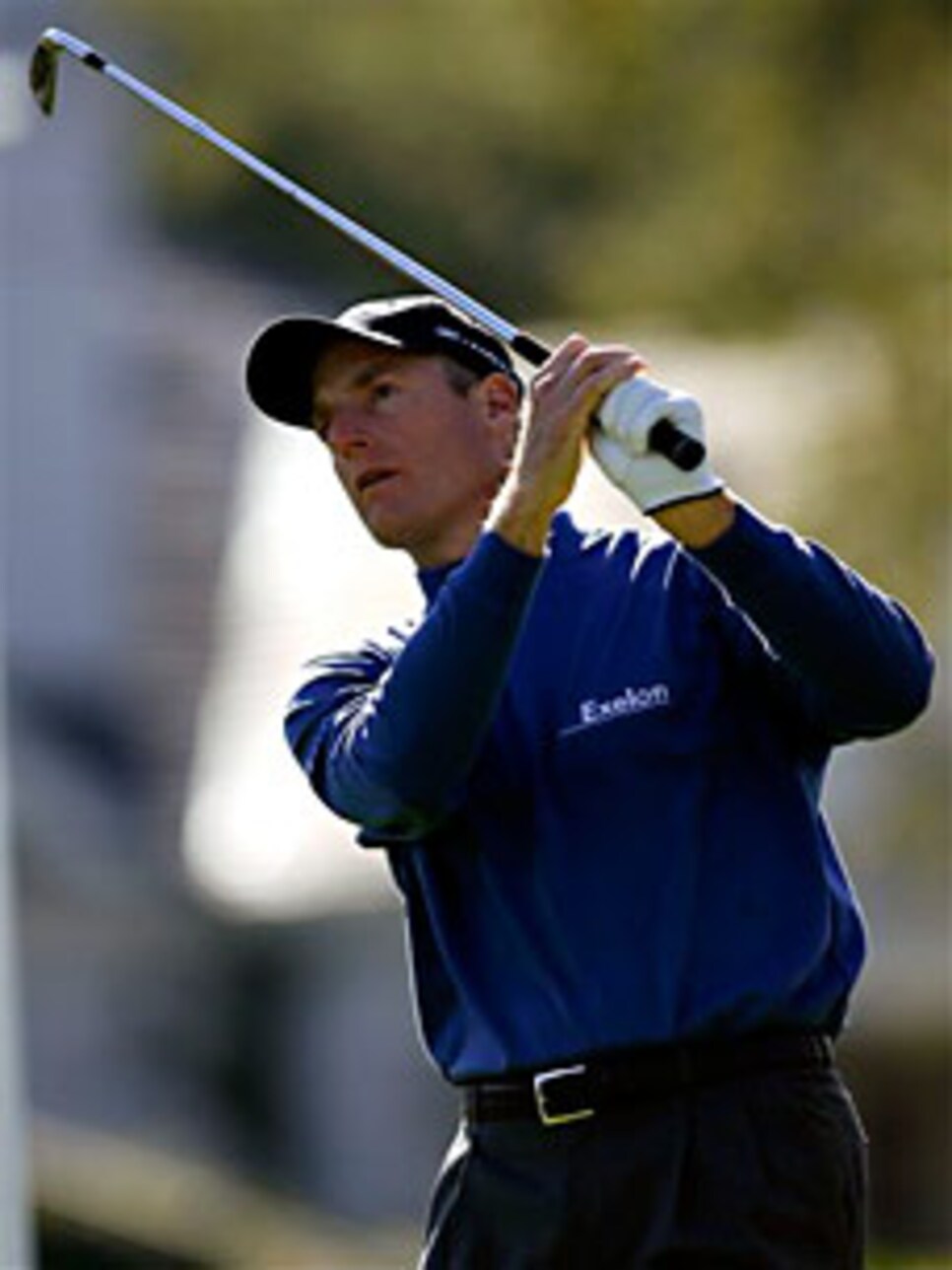 The Chevron event is the only competitive golf Furyk will be playing during a self-imposed four month layoff.
THOUSAND OAKS, Calif. (AP) -- In what amounts to a one-week break from his four-month vacation, Jim Furyk surprised himself Thursday with a 4-under 68 that gave him a two-shot lead after the first round of the Chevron World Challenge.
Furyk has not played a competitive round since winning the PGA Grand Slam of Golf in Bermuda on Oct. 15. After this week, he won't play again until beginning his 2009 season at the AT&T Pebble Beach Pro-Am.
"The goal was obviously to come in and play well and try to win the golf tournament," Furyk said, "but as little as I've been playing, I wanted to just kind of get my feet wet and little by little, chip away and try to put a good round together."
The entire 16-man field got its feet wet at Sherwood Country Club, which was soggy from a week of cold rain.
Furyk was the only player to break 70 in the opening round, and stranger still was that he failed to birdie any of the five par-5s. But he was the only player to birdie the tough 18th, giving him a two-shot lead over Boo Weekley and K.J. Choi.
Tiger Woods was reduced to his role as tournament host, tucked away in the Sherwood clubhouse in meetings as his guests tried to keep mud off the ball and navigate their way around canyons and creeks in chilly temperatures.
Weekley was walking up the 11th fairway when he pulled up the bottom of his rain pants to reveal camouflage thermals to keep warm. He was heating up nicely until running into trouble on the par-5 16th, where he hit a fairway metal for his fourth shot and escaped with bogey.
Choi was flawless on the greens while working with a new caddie -- Michael "Sponge" Waite, who worked for Michael Campbell when he won the U.S. Open at Pinehurst No. 2. Choi plans to use two caddies next year as his regular looper, Andy Prodger, takes time off.
The bizarre round belonged to Mike Weir, who offset his lone bogey with an eagle on the par-5 13th. It was a solid round of golf over 16 holes, but it was the two at the turn that sent him to the bottom of the pack -- a triple bogey on the par-3 eighth hole, followed by a quadruple-bogey 8 on the next hole. He wound up with a 78, tied for last with fellow Canadian Stephen Ames.
Ryder Cup teammates Steve Stricker, Anthony Kim and Hunter Mahan were among those at 71, with Kim the most thrilled. He hasn't played since he was disqualified from the second round of the HSBC Champions in China in early November.
"It was all rust," he said. "I hit two shots that I've never hit in my life on 16 and 18. My go-to shot is a cut -- the ball would not go right when I was setting up to the left."
One of them was left of the bunkers on the par-5 16th, going into the hazard and leading to a bogey. The other tee shot on the closing hole was so far off that it landed between generators.
"I'm very happy to break 80 today," Kim said. "I told a couple of my buddies that breaking 80 was the goal today. So even though I bogeyed the 18th, I'm pretty happy."
Furyk was pleased, no doubt, but also wary.
Most players arrived at Sherwood with a fair amount of rust, and the scores tend to get better as the week goes on.
"I think I see more 64s and 65s in this tournament probably in the second, third and fourth rounds than you do the first round," Furyk said. "That being said, my best round is always in the first round."
Furyk didn't play golf for six weeks except for the odd corporate outing, spending most of his time going to Ohio State and Pittsburgh Steelers football games and coaching his 5-year-old son's basketball team.
He tried to work in shape for this tournament, even with another big break on the other side.
"I felt like I needed to bridge the gap -- play here and then take another seven weeks or so off," he said. "I just felt like the longer you wait, the more time it's going to take to get back. I also have pride. To just come out here and slap it around and shoot 78 every day and collect a check isn't fair to the sponsor and it's not fair to the tournament."
In what could be his final appearance at Sherwood, Fred Couples opened with a 73. In exchange for awarding world ranking points next year, the tournament cannot offer exemptions to any player outside the top 50 in the world. ... Mahan will be playing in the AT&T Pebble Beach National Pro-Am, and he already knows his amateur partner -- PGA Tour commissioner Tim Finchem. "I want to be part of this tour for a long time," Mahan said.