News
Monke wins, Sorenstam Finishes Career With Birdie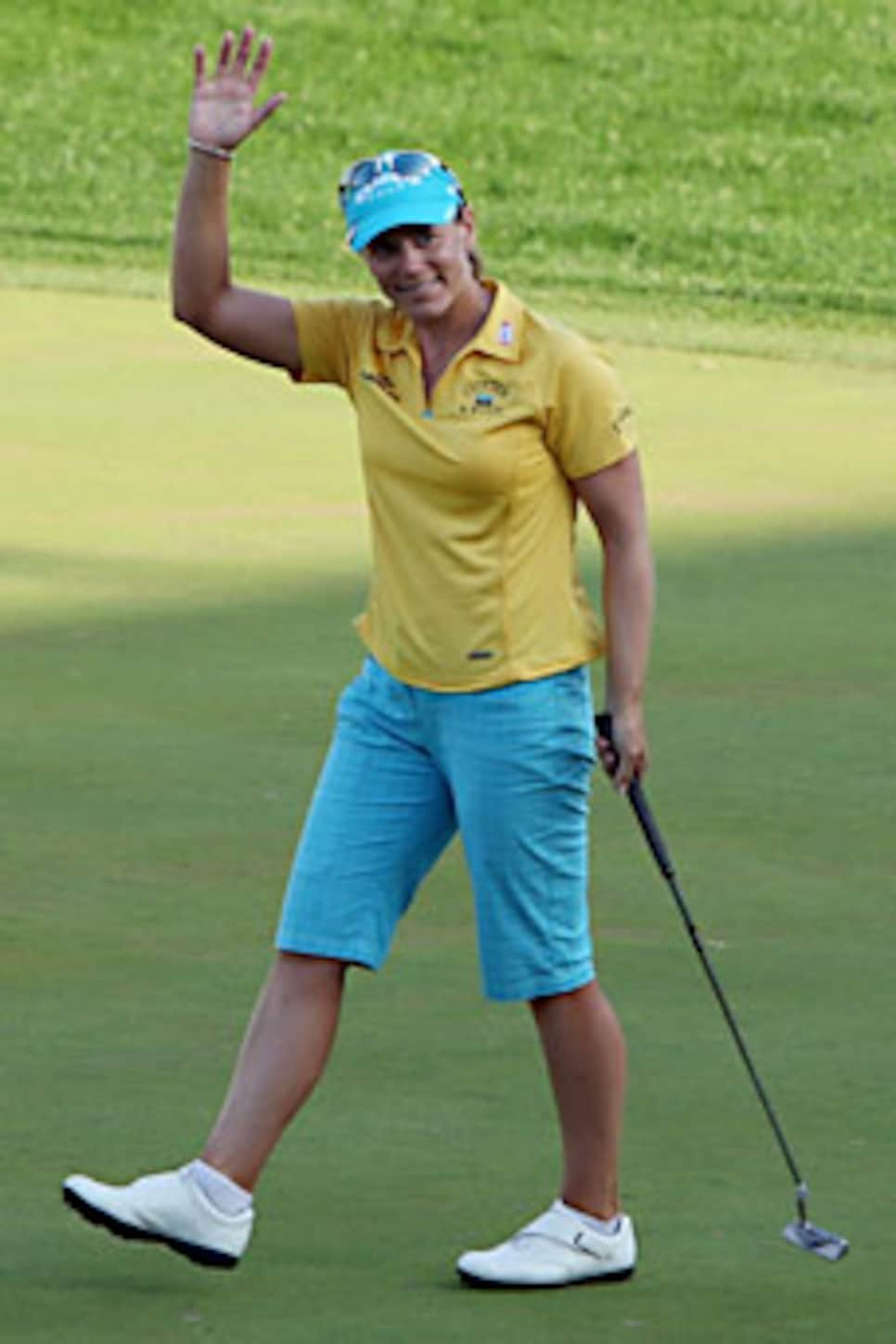 Annika acknowledges the cheers of the crowd as she walks off the 18th green after dropping her birdie putt.
DUBAI, United Arab Emirates (AP) -- Annika Sorenstam ended her Hall of Fame career with an eight-foot birdie on the 18th hole of the Dubai Ladies Masters on Sunday, completing a 1-under 71 that left her in seventh place, six shots behind winner Anja Monke.
Sorenstam, who is retiring to focus on her family and business interests, led the tournament after the second round but shot a 75 on Saturday that torpedoed her hopes for a third straight title at the season-ending tournament on the Ladies European Tour.
Still, the Swede managed to end on a positive note with her final birdie drawing a standing ovation from a packed gallery. She raised her putter to acknowledge the crowd before hugging caddie Terry McNamara.
"I have had many farewells since I announced my decision some five months back, but this one was special," Sorenstam said. "I started my career with LET, and it is fitting to end it with an LET event.
"I felt at peace. I really felt very content. I walked up to hit my third shot on the 18th, and I felt the breeze coming in, and it was just a really comfortable feeling. I saw some players standing behind the 18th green, that gave me a tear. I saw my parents and my family and that give me a tear."
Monke shot a 68 to protect her overnight lead, finishing at 13-under 275. Veronica Zorzi of Italy was second, three strokes behind the German, with British veteran Laura Davies another shot back in third.
"I'm feeling very happy," Monke said, adding that it was tough to focus on her game and not Sorenstam. "Of course I heard the big applause when she was hitting her shot into the 18th green. I was on the 16th green at the time. And then we saw her actually finishing it off on 18. We hit our tee shots by that time and so I could at least see a little bit."
Sorenstam said she was a little nervous Sunday morning and came to the course a bit earlier to stretch and reflect on the day. But once she hit her first shot, she said it was "automatic."
"I know the time is right, and therefore I feel very happy," Sorenstam said. "If you think about 15 years and all of the things I've achieved, it's sad. But you close one door and you open another one. I'm glad I have a chance to do that."