News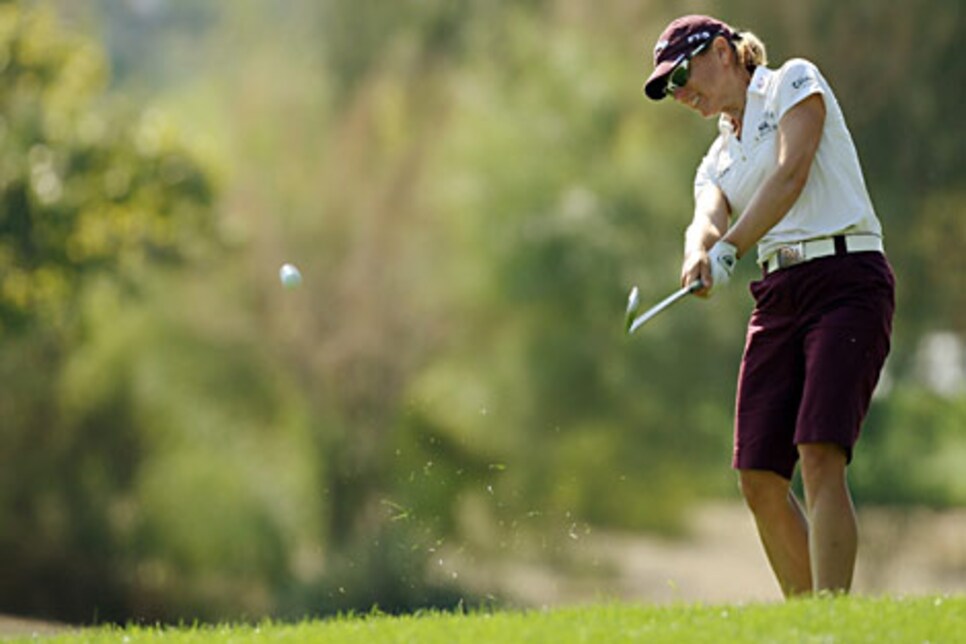 A bogey-free front nine in five-under par pushed Annika into the lead.
DUBAI, United Arab Emirates (AP) -- Annika Sorenstam had an eagle and four birdies in a 6-under 66 Friday that gave her a one-shot lead after the second round of the Dubai Ladies Masters, her last tournament before retiring.
After dropping two shots on her final two holes on Thursday, Sorenstam managed a bogey-free second round to sit at 8-under 136, one shot ahead of Nikki Garrett of Australia.
First-round leader Johanna Head of England was among three players tied for third, another shot back.
"I was very pleased with the front nine today," said Sorenstam, who is aiming to win the tournament for the third straight year. "A nice eagle on the third hole where I hit a 5-iron to 10 feet and rolled that in. That kick-started my day right there."
Head looked likely to keep a share of the lead before a late double bogey pushed her back.
Laura Davies of England was among three players tied for sixth at 5 under.
Sorenstam started with a couple of pars before her eagle on the par-5 third. She then picked up three more shots in the front nine, before adding another birdie on the 13th.
"My goal was to clean up the round that I had yesterday with no bogeys and I was able to do that," Sorenstam said. "So, I am very pleased about that. We have a long way to go but I am very happy with the round and where I am."
Garrett, who won twice in 2007, said it would be challenging to spoil Sorenstam's farewell party.
"It's been a while since I won my last tournament, and it would be great if I win here," she said. "But with Annika there, and so determined to do well in her final tournament, I know it won't be easy. However, I am quite excited about the weekend."