News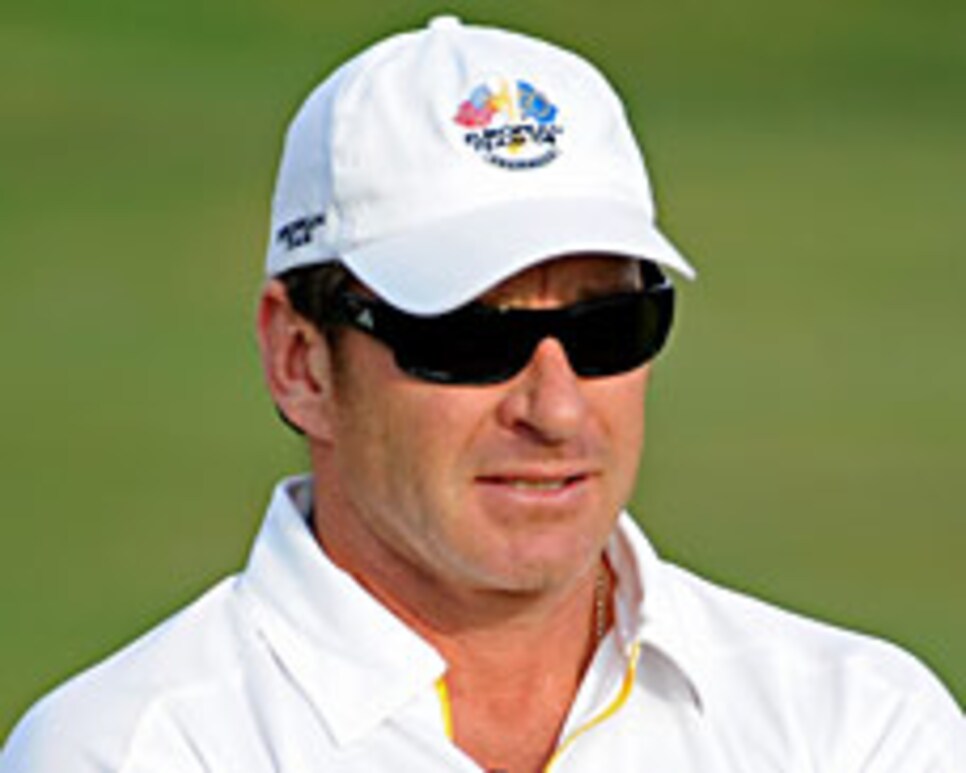 Three-time champion Nick Faldo stopped playing THE MASTERS when he took over as lead golf analyst for CBS Sports. After watching the last two from the booth, he doesn't have any doubt he made the right choice.
"It's a fear factor, that place," Faldo said.
In comments that probably won't be repeated from the CBS tower during the Masters, Faldo lamented how difficult Augusta National has become, suggesting that it has caused even the most skilled players to become conservative with a smaller chance of being rewarded.
"If you don't have an opportunity to reward yourself, it switches off the best players," he said last week at the Father-Son Championship in Orlando, Fla. "They've got the flair and the skills to go for it, but going for it is suicide."
Faldo won in consecutive playoffs in 1989 and 1990, but his third green jacket was the most memorable. Trailing by six shots to Greg Norman, he closed with a 5-under 67 and won by five shots when Norman shot 78.
"That was the best of the weekend," Faldo said of his 67. "Yeah, that's what you really are looking for. Augusta was always the one where ... you can shoot your 65. If you play really well, you're shooting 3 and 4 under. You get rewarded. That's what you got to be careful of. Bottom line is you got to reward the guys. You've got to be given the opportunity to hit career shots."
The Masters record book shows Faldo withdrew in his final Masters in 2006, although he recalls a second-round score of about 77. What he remembers most is standing on the ninth fairway and trying to figure out how to land it on the green with a 3-iron.
"When you're standing there thinking, 'I can't hit that green. Where do I now look?' ... That's when I thought, 'I'm more than happy now to be a CBS man,'" he said.
[Ljava.lang.String;@33a71fa6
KRAFT RETURN: Stacy Lewis tied for fifth at the Kraft Nabisco Championship, two shots behind winner Morgan Pressel, when she played in 2007 as an amateur. That earned her a trip back to the LPGA's first major, but she turned it down because she didn't want it to count against her six exemptions if she turned pro this summer.
Turns out she still gets to go back.
The__LPGA TOUR__ confirmed to Lewis after she won Q-school that she is eligible for the Kraft Nabisco because she finished in the top five at a major this year. Lewis tied for third at the U.S. Women's Open.
Michelle Wie missed a 10-foot birdie putt to force a playoff in her last Kraft appearance in 2006. She will have a couple of options to get into the field next year.
She would qualify by winning a tournament or ranking among the top 30 on the money list after the Phoenix LPGA International. If that doesn't work, the Kraft Nabisco hands out four sponsor exemptions.
[Ljava.lang.String;@49c4251f
EUROPEAN TOUR: Padraig Harrington is the European tour's golfer of the year, an award that comes with far less suspense than the one for the U.S. tour. Harrington became the first European in more than a century to win back-to-back in the British Open, and his PGA Championship victory made him the first European to win successive majors in the same season.
Harrington and Tiger Woods are the favorites for the PGA Tour award. Woods played only six times because of knee surgery, but won four times and finished second and first in the two majors he played.
The winner is expected to be announced next week.
The European award is a vote by a panel of golf writers, broadcasters and golf dignitaries. Since it began in 1985, Harrington is the fourth player to win in consecutive years. The others were Faldo (1989-90), Ernie Els (2002-03), and Colin Montgomerie, the only European to win it three straight times.
"It is very pleasing to be considered alongside these great players and also a great honor to have been voted ahead of some very fine contenders, not just this year, but last year as well," Harrington said. "It has been a very strong couple of years for European golf, which makes this achievement all the more memorable."
ROOKIE RACE: During the final few holes of LPGA Tour qualifying, one observer noted that the final group -- Stacy Lewis, Michelle Wie and Amy Yang -- would be considered marquee if this had been a regular LPGA Tour event.
It was evidence that the LPGA's rookie class next year might be the strongest in decades.
Lewis is a rarity in women's golf, having not only gone to college but earned a degree from Arkansas (along with an NCAA title). She was good enough to be the 54-hole leader at the U.S. Women's Open, where she tied for third. Yang has won on four tours, including a victory in the Australian Ladies Masters when she was 16. Wie already has seven top 10s in the majors.
Yang was listed as a rookie in this year's media guide, although she played only seven times.
And that final group might not have included the front-runners. Joining the rookie class will be Ji-Yai Shin, whose three victories this year include the Ricoh Women's British Open and the ADT Championship; and__Vicky Hurst__, the 18-year-old who won the Duramed Futures Tour money title by winning five times.
Along with contending for rookie of the year, three of them are Americans, which could put a young face on the Solheim Cup team if they live up to the expectations.
NATIONWIDE: The Nationwide Tour will celebrate its 20th anniversary next year by playing for a record $19 million in prize money.
Four of the original tournaments are still on the schedule and also will enjoy a 20th anniversary -- Knoxville, Tenn., Springfield, Mo., Wichita, Kan., and Boise, Idaho.
It was called the Ben Hogan Tour in 1990, a 30-tournament schedule with total prize money of $3.05 million. Jeff Maggert was the player of the year. Among the winners that inaugural season were a pair of future British Open champions -- Tom Lehman and John Daly.
DIVOTS: Over the last five years, 20 different Americans and 20 different South Koreans have won on the LPGA Tour. ... Rod Pampling won the Australian Masters and tied for third in the Australian PGA Championship the last two weeks, moving him from No. 71 to No. 56. ... Jimmy Walker was the only player with all six rounds in the 60s at Q-school. ... Three players who earned their LPGA cards at Q-school already are among the top 100 in the world ranking, led by Shiho Oyama at No. 41.
STAT OF THE WEEK: Seven of the 21 rookies on the LPGA Tour for the 2009 season are Americans.
FINAL WORD: "It is a lot easier to go into these things with a little less profile and stay patient for two or three days under the radar, and finish it off on Sunday. But I won't have that luxury at Augusta." -- Harrington, who will be going for his third straight major at the Masters.