News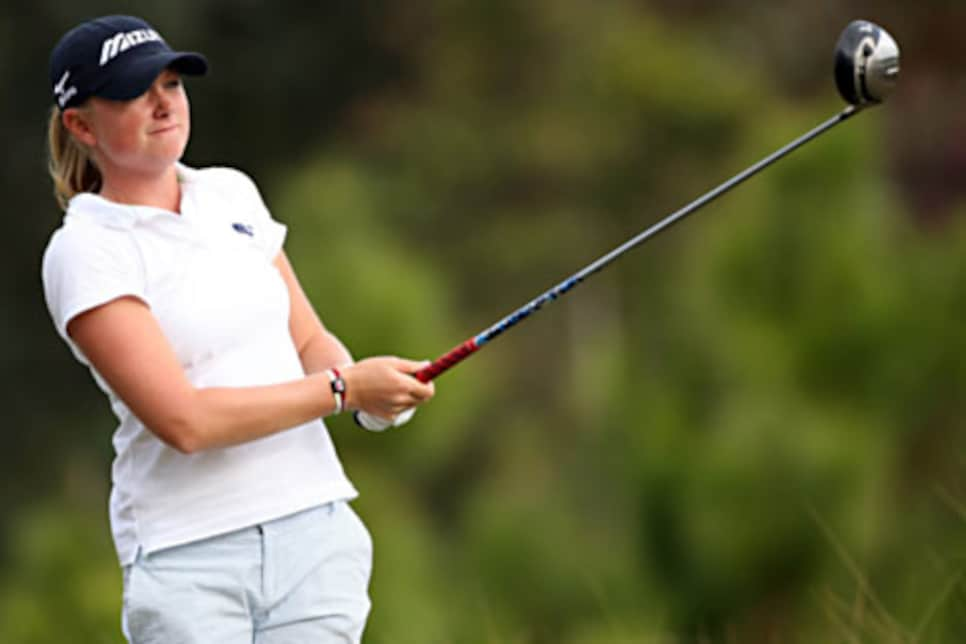 With her T-3 finish at the 2008 U.S. Women's Open and the meadalist title at Q-school, Stacy Lewis has proven she can handle the pressure of big-time golf.
DAYTONA BEACH, Fla. -- Dale Lewis is far from an objective observer -- fathers never are -- but as he walked atop the man-made dunes that define the fairways as LPGA International he could not help but be impressed with has daughter. Stacy Lewis had come to LPGA Q-school finals with a simple goal -- to win -- and on Sunday she completed her task in manner that has marked her life: It wasn't always easy and at times far from pretty but she got the job done.
"From the moment we got here she was clear that her goal was not just to get a card but to win the tournament," said Dale, who no longer caddies for Stacey, as he did when she finished T-3 in this year's U.S. Women's Open. "I'm amazed by her resolve, but I guess I shouldn't be. I have seen it so often."
In a typically gritty effort, Lewis went head-to-head with Michelle Wie and Amy Yang in Sunday's final group on the Champions Course, stared down early adversity, ignored the large pro-Wie gallery and laid down a tidy little 69 that won Q school at 18-under-par 342, three strokes better than runner-up Yang and six clear of Wie, who finished T-7 and easily got one of the 20 fully exempt cards awarded for next year.
"I felt confident coming here, so it wasn't like I was scared or anything to come," Lewis said when asked about the challenge of playing with Wie and facing the pressure of the 90-hole Q school ordeal. Lewis, who began the final round with a one-stroke lead over Wie and two better than Yang, started slow, with bogeys on two of the first six holes. Then it was hammer time.
She ran off three birdies in a row beginning on No. 7 and then closed like a champ with birdies on the final two holes of the day.
"I hit it close a few times," she said about the birdies from four feet, five feet, seven feet and eight feet. "Then the last one was just icing," she said about the 25-foot snake on No. 18.
Lewis certainly is familiar with adversity. From the age of 11, when she was diagnosed with scoliosis, a curvature of the spine, she spent 18 hours a day for seven and a half years in a corset-like brace from the armpits to the hips, usually only removing it to play golf. It was anything but comfortable.
Still, at the end of her senior year in high school at The Woodlands, Texas, she found out the procedure did not work and that she would need surgery. Lewis had a rod and five screws placed in her back to straighten the spine. Following surgery, she was in a brace for another three months and then endured six more months during which she couldn't bend over or lift anything weighing more than five pounds.
After red-shirting her freshman year at the University of Arkansas, Lewis joined the Razorbacks golf team in the fall of 2004 and won the 2007 NCAA individual title. In May, she became the first player to go 5-0 in the Curtis Cup and on June 9 turned pro won the U.S. Women's Open qualifier at Eastern Hills CC in Garland, Texas, by four strokes.
Lewis has also faced some frustrations playing LPGA events. She has the odd distinction of winning an LPGA event the record book says never was played.
"It was wiped off the books," she said good-naturedly, referring to the NW Arkansas Championship last year that she led after a first-round 65, but was declared unofficial when the rest of the tournament was rained out.
"That was hard to take at first because it was the round of my life," she said. "But I just look at it that I beat 143 of the best players in the world on that one day."
Then Lewis won $247,464 in seven LPGA events this year, easily more than the $137,542 needed to finish No. 80 on the money list and earn fully exempt status for 2009. So what was she doing at Q school finals? That's what she would like to know, not entirely buying the LPGA explanation that U.S. Open money shouldn't count because that purse is so much larger than an average LPGA purse.
Because of an oddity of LPGA mathematics, money won in the U.S. Women's Open counts in terms of the money list, but does not count as far as keeping your card. Sound absurd? Well, yeah.
After her impressive performance in the Open, Lewis, made the cut in five of the six sponsor exemptions she was allowed, finishing T-6 at the Kapalua LPGA Classic in October. But that wasn't good enough. Deduct the $162,487 she walked away from at Interlachen Country Club in the Open and she earned $84,977.
But do the math: even if Lewis were given credit for only half of what she won at the Open -- which seems like a reasonable compromise, she would have earned her 2009 tour card easily. But she walked away from those events with something more valuable than money -- experience.
"I know playing in those six tournaments, and in the last round of the (U.S. Women's Open) Open, definitely had me ready for this week," she said after her Q school triumph. "I didn't feel nervous this week, or anything, so I was just really comfortable where I was. I played my way into the tournaments, and I belong. I didn't have anything given to me."
Now she swings into her rookie year on the LPGA dreaming big. "The main goal I want to accomplish is to get on the Solheim Cup," she said about 2009. "I know Paula (Creamer) did it coming out her first year, so I think I have a pretty good shot at it."
The way she handled the pressure at Q school, and the way she has made solid contact every time life as thrown her a curveball, certainly gives you every reason to believe she'll be seen at Rich Harvest Farms near Chicago next August when the United States takes on Europe. Perhaps with Michelle Wie as a teammate.