News
Williamson Survives Q-School... Again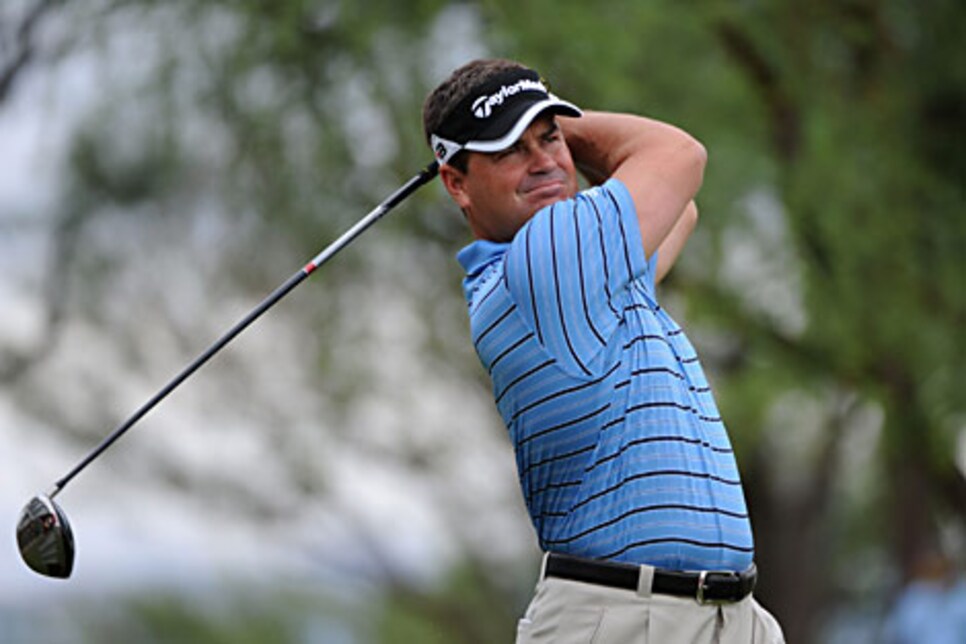 After losing a playoff early this year and six straight missed cuts to end the season, Williamson found himself fighting for his career.
Jay Williamson didn't want to be a poster child for PGA Tour Qualifying School, or be part of a Golf Channel loop showing his frustration at PGA West in La Quinta, Calif. A potential YouTube moment is not the type of attention a PGA Tour refugee seeks during exam time.
But the former Trinity (Conn.) College hockey and baseball player, who matched Hunter Mahan shot-for-shot in the 2007 Travelers Championship and lost a playoff in this year's John Deere Classic, had one of those classic meltdowns that are excused during the annual six-day, 108-hole examination when careers are on the line.
In good shape at 19 under par through 87 holes, Williamson went through a stretch that mirrored his last six tournaments of the year -- all missed cuts -- at the end of his fifth round. Coming off a birdie at the par-3 sixth, one little misstruck wedge into the seventh green sent Williamson's ball, and his emotions, literally over the edge. When his chip shot from just off the green to save par ran past the hole, Williamson lost it.
He kicked his bag. He threw his wedge into the ground, butt end first. It was a sequence of photos that will forever be etched in Q-school lore; luckily, he only had two holes to play. Tied for ninth after 90 holes, he was reached after a cooling-off period and didn't remember throwing the club.
"I just remember kicking my bag," Williamson said. "That's all I remember. I must have blacked out I was so mad. I freaked out. I'm lucky I didn't hurt myself."
Williamson was lucky not to hurt himself too badly on the scorecard either, his closing bogey adding up to 73 blows and a 17-under total of 343. He had only lost six places on the leaderboard. But the reality was, the number was now just three strokes away -- and gaining on the 41-year-old Williamson.
"I am right there," he said, contemplating his position going into the final round. "I just can't seem to get off the bubble. Part of me feels as though I've done too much in my career to be in this position [and] part of me feels as though I deserve what I get. That's how it is."
Williamson was due to play the more forgiving Nicklaus Tournament Course in the final round. He talked about shooting 60 and saying goodbye to everybody. He also talked about the fine line between nearly winning the Hartford and Quad Cities events, then missing those nine straight cuts to finish 137th on the 2008 money list.
"That's why this is so difficult," he said. "I got to get myself together and get some sleep and get out there tomorrow. I'm glad that Stadium Course is behind me."
Williamson's ride had really only just begun. Monday he bogeyed the second hole but fought back with back-to-back birdies at Nos. 4 and 5. Making the turn he was in good shape again, and a birdie at No. 11 put him inside the cut line, which had moved lower and lower throughout the afternoon, because of the low scores being shot by a host of players off the Hooters, Gateway, Golden Gate, Canadian and Tarheel Tours -- unfamiliar names such as James Oh, Matthew Borchert, Brian Vranesh, Leif Olsen and Wil Collins.
The race was on to make birdies, with the line moving a record five strokes, from 14 under at the start of the day to 19 under.
So when Williamson suffered a double bogey at 13, visions of the Nationwide Tour popped into his head. "I thought I was done," he said of the miscue, but again he roared back, with birdies on Nos. 14, 15 and 17 giving him a cushion going to 18.
Turns out he needed it. He closed the topsy-turvy day with a final bogey, for a for a final-round 70 which earned him the next-to-last card of the 28 that were dealt. "There are so many emotions that go through you," Williamson said after the round. "I don't compare it to a tour event. This is all about survival, and trying to get to a number. Unfortunately, I'm right on that number."
He was enjoying a Dos Equis or two with Matt Gogel, the Golf Channel foot soldier. In 1998, Williamson lost to Gogel in a four-hole playoff for the Omaha Classic, back on what was then known as the Nike Tour. A decade later, they enjoyed those memories, and looked back on the week that had just passed.
Throughout his entire career, Williamson has been on the bubble. He missed a large part of the 2006 season while on a major medical extension for knee surgery in 2006, and only his second-place finish to Mahan at Hartford in 2007 saved him from a return trip to Q school in 2007. Since 1999, Williamson has never finished higher than 101st on the money list.
Yet he continues to survive, almost like no other of his age and pedigree. "I can't believe this is what I have to do to play golf for a living, to endure this stuff," Williamson said. "But to play for the money we play for, you have to put yourself through this grindstone for six days. It's the most emotional … I can't even tell you … thank God it's over … The good news is I got in."
He would head back home to St. Louis for Christmas with a tour card, knowing 2009 will probably be like 2008: another grind. With his status, Williamson likely won't get in to many West Coast events, so when he does, whether it's the AT&T or at Mayakoba, he knows the pressure will be on to make the most of the opportunity.
"I've learned it's not ever as good as you think it's going to be, and nothing is ever as bad as you think its going to be," he said. " I take [that] to heart. I'm happy that I came back today, happy to overcome this week. This is no fun."