News
Daly's Got A Lot To Be Thankful For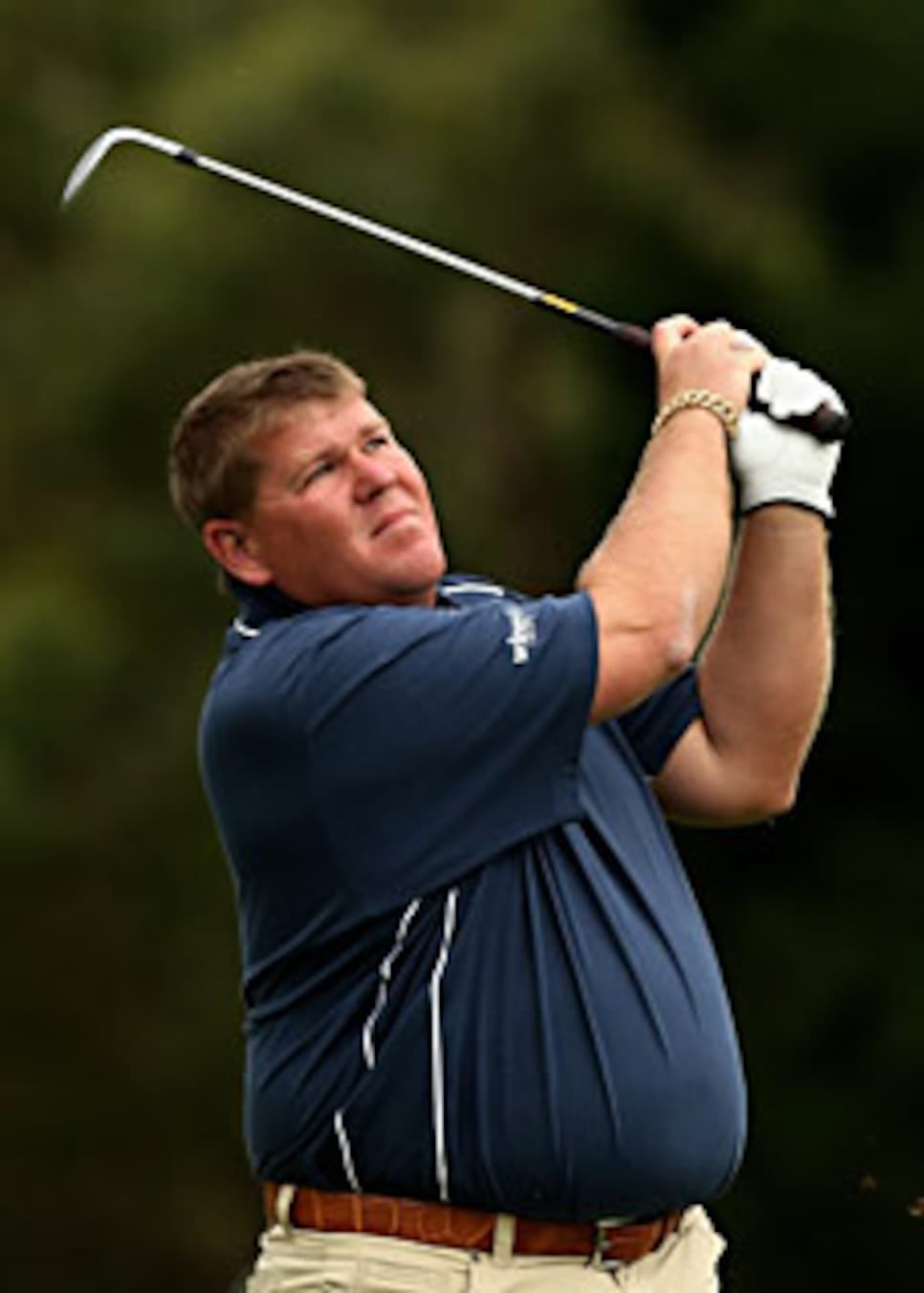 Daly is making the global tour in an effort to resurrect his career.
With the international economy crumbling and the world of golf already feeling the effects of a recession, John Daly's stock -- while seemingly worthless in the United States -- still has some value in the global marketplace. CNBC's Jim Cramer would say U.S. tournament directors investing in Daly is mad money, but that hasn't deterred investors on the European and Australasian Tours.
Seemingly out of mulligans in the United States, where he hasn't had a PGA Tour card since 2006, Daly has gone global in a last-ditch effort to bail out a career that has been on life support. In late November, J.D. was in Hong Kong, where a final-round 62 was similar to one-day rally on Wall Street. A week later he was in Melbourne, where he missed the cut at the Australian Masters. He appeared humble as he spoke with writers to address his weight, his smoking, his troubles and how people relate to those fluctuations worldwide. (Another crash.) Last week he was in Coolum for the Australian PGA Championship, a place Daly last played in 2002, where he threw his putter in a lake after missing the cut and taking the $200,000 appearance fee. (Another drop in stock.)
This week it's on to Sydney for the Australian Open, where Daly continues to charm reporters with his interaction, if not his golf. Told Adam Scott had to withdraw after a surfing accident, Daly said, "Hell, there's enough whales in the ocean that I don't need to be there."
Self-deprecation has always been one of Daly's calling cards. He plays the poor-poor-pitiful-me act, and there always seems to be an appreciative audience. The Aussies were just desperate enough to throw him a XXXL lifeline. "Perception in our world today seems to be more reality than it really is," Daly said in a news conference before the Australian Masters. "My life is fine. It's not as bad as people think it is. Hell, if I'm a train wreck, I'm doing pretty good."
The "train wreck" reference was Daly's way of deflecting what had become golf's quote of the week and was a subject of mainstream sports talk shows in the United States. Stuart Appleby made those comments as part of a bigger-picture interview focused on golf's insatiable need for Daly at the gate. Contrite and taking the high road, Daly said he had nothing against Appleby.
Ely Callaway and Butch Harmon have seen that big-heart side of Daly, opening their wallets and datebooks the same way Peter Senior and Rick Smith are today. They have also seen the side we witnessed last month, when Daly's mug shot appeared online. He was dressed in an orange jump suit, face sunken. It was a night the Daly Express went off the tracks at a Hooters in Winston-Salem, N.C. If Daly wasn't persona non grata in Ponte Vedra Beach before that photo from the Forsythe County Jail, he never will be.
One source told Golf World he knows 22 tournament directors who will no longer give Daly an exemption. Yet, some will.
The day after that incident, Daly showed up in the office of Gerald Goodman, tourament director of the tournament in Tampa Bay, wondering if he still had a spot in the 2009 field. This was the tournament where Daly spent more than two hours in a Hooters hospitality tent during a rain delay, emerging with Buccaneers coach Jon Gruden as his caddie when the round resumed. This was the final straw in Butch Harmon's relationship with Daly. "I thought he made a circus of the whole event," Harmon said.
But because Hooters was founded in the area, and since Daly is an ambassador for Hooters, what was Goodman going to tell him? "John Daly, whether purists like it or not, still sells tickets on the PGA Tour," Goodman said. "Our phone rings and people say, 'Is John Daly in the field?' And that's no lie."
Appleby's take on Daly is similar to what several players are thinking: Sponsors and tournament organizers, such as Goodman and those at the Australian Masters, aren't doing the game a service by granting Daly exemptions. Yet they keep doing so.
Senior, the former player turned chairman of the Australasian PGA, spoke of the dual edge tournament organizers face when inviting Daly to play. They hope Daly does what he did at the UBS Hong Kong Open, shooting 62 Sunday to finish T-17. "Unfortunately he gets into trouble now and then," Senior said, "but you can't help but like the guy."
Daly hasn't won since the 2004 Buick Invitational, and other than that 62 in Hong Kong, hasn't made any news for his golf this year. He's 42 years old, bloated like a whale (his words), and unable to quit smoking because his weight would soar even more. The PGA he won at Crooked Stick happened 17 years ago. The British Open win at St. Andrews was 13 years ago. "As players, we wish he'd put a little more time into his game instead of ruining his personal life," Appleby said. "He would be a drawing card, not just a freak show."
Freak show. If you've seen the YouTube videos of Daly hitting golf balls sans shoes ands shirt at a course he designed, or heard Daly explain what happened in Winston-Salem (He sleeps with his eyes open.) you know what Appleby means.
Those in his camp predict Daly has not won his last tournament. They believe he will climb from outside the top 600 in the World Ranking to a respectable standing. They believe that once he gets through his latest divorce and a child-custody battle, he'll be the John Daly of the early 1990s again.
Smith started working with Daly at the PGA Championship -- after Long John failed to live up to his agreement with Harmon -- and made a trip to the Viking Classic in September, where Daly finished T-40. Smith has encouraged Daly to take as many exemptions as possible, with the theory that good play will turn his life around.
This is opposite of the approach Harmon took earlier in the year. "I've told him, I'm not here to be your dad. I'm here for your golf swing." Smith said in an interview with Golf World On-Air. "He needs to be busy playing, and I told him, 'you've got to get out of here. The rest of your world will correct itself if you get exemptions, get on a plane, and play good golf.' He's going through a tough time with his son, and another very difficult divorce. You can't believe some of the stories."
That was Appleby's point: There's always a story. There's always a sponsor's exemption. When will it end? An old blues singer like Daly has sung the lyric before: When the train runs out of tracks.