News
John Daly Says, "I'm A Survivor..."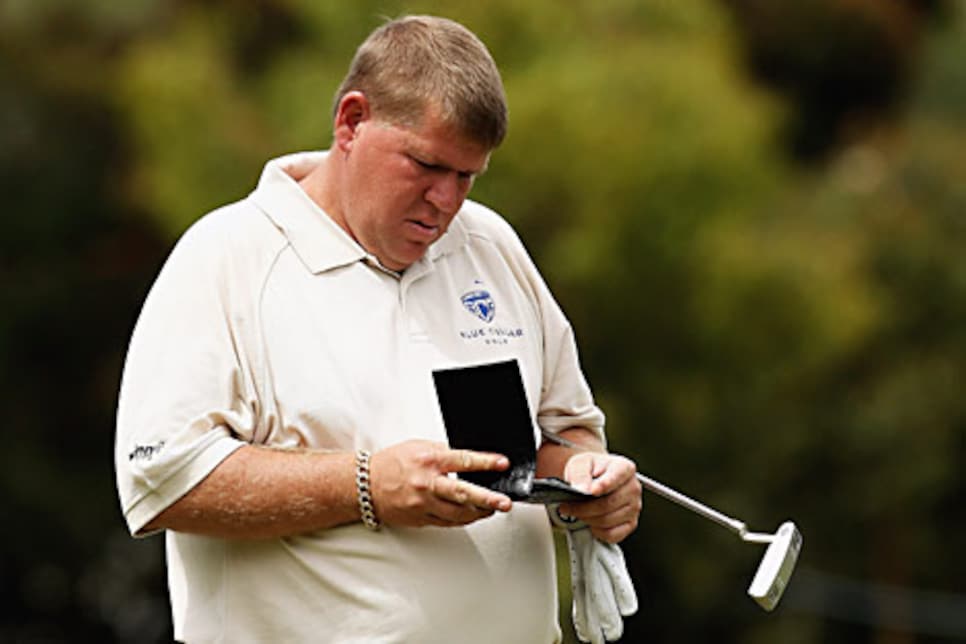 Daly hopes to build on his good play at the Hong Kong Open last week.
MELBOURNE, Australia (AP) -- All the focus in the lead up to John Daly's first tournament in Australia in six years has surrounded his controversial departure in his last trip Down Under and his slide down the rankings amid personal turmoil.
The wayward American wants people to pay attention to his golf.
"I'm just trying to do the best I can, trying to get my golf game back," Daly said Wednesday on the eve of the Australian Masters at Huntingdale. "Everybody goes through ups and downs in life, unfortunately mine are more publicized than most."
Daly, who won the 1991 U.S. PGA Championship and 1995 British Open, said fans tend to put high-profile athletes on a "big pedestal" and are surprised when those athletes failed or had personal problems.
"Well, everybody has problems and I'm a fighter. I'm a survivor and I'll get through anything people can throw at me," he said. "I've done a lot of stupid things I take responsibility for but a lot of it came upon me.
"It's just life. We've got to live it and get through it."
Earlier in the week, Australian golfer Stuart Appleby compared Daly's natural ability with Tiger Woods but described the big American's life as a "train wreck."
Daly's reaction: "Did anybody survive? I'm still surviving the train wreck."
Daly said most of his trouble in the past two years could be contributed to a rib injury and that stem cell therapy in August had led to a significant improvement.
He comes to Melbourne on an incline after a final round 62 on Sunday at the Hong Kong Open moved him into a tie for 17th, his best result of the year.
"I like the way I'm hitting the ball, I'm trying to feed off last week, I hit the ball really well," he said. "I'm playing again and getting my swing back.
"Here if you just hit the fairways and putt well you can play good, if I keep working hard at it hopefully something good might happen."
Daly is also playing at the Dec. 4-7 Australian PGA in Coolum, the site of his stormy exit here in November 2002.
Playing a week after his mother died, the two-time major winner threw his putter and ball into the lake on the 18th green after a 78 in the Australian PGA, where he received a $200,000 appearance fee.
He was disqualified for failing to sign his card, fined $5,600 and ordered to write an apology to a tour official he verbally abused.
He'd had trouble earlier in Australia.
In February, 1997 at the Heineken Classic, Daly shot a third-round 83 and then played the final round in just 2 hours, 10 minutes, angering tournament officials who had paid him a large appearance fee.
Daly has also had his problems off the course in the U.S. this year, spending a night in jail on Oct. 27 after being found "extremely intoxicated and uncooperative," police said, outside a Hooters restaurant in Winston-Salem, N.C.
He has not had a PGA Tour card since 2006, when his two-year exemption expired from his last victory at the Buick Invitational in 2004. He made only five cuts in 17 starts on the PGA Tour this year and earned $56,000.
Michael Campbell, the 2005 U.S. Open champion, withdrew because of a shoulder injury, leaving a predominantly Australian field for the $975,000 tournament on the par 72, 6,980-yard course at Huntingdale Golf Club.
Robert Allenby, who was 11th on the U.S. PGA tour in 2008 with $3.6 million in prize money but didn't win a tournament, is the favorite. The 37-year-old Australian has been consistent, but hasn't won anywhere in the world since victories at the Australian Masters and Australian Open and Australian PGA in 2005.
"I'm here to try and win all three again," Allenby said.
Among the other leading contenders are South Africa's Tim Clark, Sweden's Daniel Chopra -- a two-time winner on the PGA Tour this season -- Appleby, Peter Lonard, Tim Clark, Rod Pampling and John Senden.