News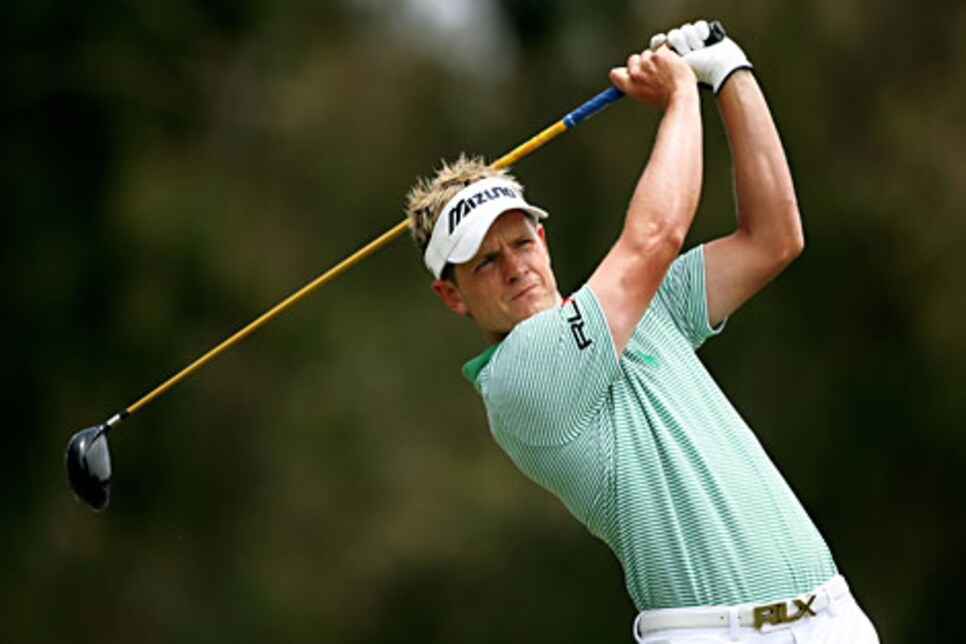 Idle since August 11th surgery, Luke Donald expects to return in early December.
JUPITER, Fla. -- The fireplace was burning at The Bears Club, and enjoying the warmth was a young and fit looking 30-year-old after a brisk morning on the practice ground. Next would come a hearty lunch and then, for Luke Donald, an afternoon game with Ian Baker-Finch and two of the club's professionals, all part of his re-entry into the world of competitive golf.
Having not struck a shot in competition since pulling out of the U.S. Open in June, Donald has scheduled his return for the Nedbank Golf Challenge, Dec. 4-7 in South Africa. The Englishman had the same wrist operation performed by the same doctor (Dr. Andrew Weiland) at the same hospital (Hospital for Special Surgery) in New York as New York Yankee Jason Giambi and fellow PGA Tour player Jim Furyk. Both have successfully returned from their injuries.
"I talked to Furyk quite a bit," Donald said, a sweatband protecting his left wrist from the sun. "He was a big help, actually."
Donald had his surgery Aug. 11 and after six weeks of rest followed by six weeks of rehabilitation, began the process of rebuilding his game from the ground up. During this time away from the game, he suffered through the Chicago Cubs' early exit from the baseball playoffs and the European loss in the Ryder Cup. He watched from his apartment in Evanston, Ill., exchanging text messages with foursomes partner Sergio Garcia, and his friend from Chicago and now the Bears Club, Michael Jordan.
In fact, when NBC caught Jordan texting on the course, it wasn't to Tiger Woods, it was to Donald, watching on his plasma TV, as the United States team thrashed the Europeans. "It was hard, watching stuff like the Ryder Cup and not being part of some of the majors and the big events," Donald said. "That was hard, missing my friends who hang out on tour, and missing the competition, but I tried to look at it as positively as possible. This was a time where I could kind of step back away from golf, spend more time with my wife at home, but also think about what I needed to do to be prepared better for when I came back on tour."
Working with coach Pat Goss, his teacher since winning the NCAAs for Northwestern in 1999, Donald began hitting full shots Nov. 3, played his first round of golf Nov. 14, and moved up his return date to the Nedbank Challenge, replacing Anthony Kim, who withdrew. Once ranked as high as seventh in the world, Donald has not dropped out of the top 30 during his recuperation, which means he earned an exemption to Tiger Woods' tournament, the Chevron World Challenge, which he won in 2005 thanks to a final-round 64.
While friends like Garcia and Camilo Villegas have achieved success and gained confidence during the last five months, Donald used the time to up his training program as well as his mental approach to the game, building piece by piece from the ground up. "Before it happened you think it's not going to happen to me," Donald said before heading to the tee, "so [the time off] gives you more of an appreciation for the game."