News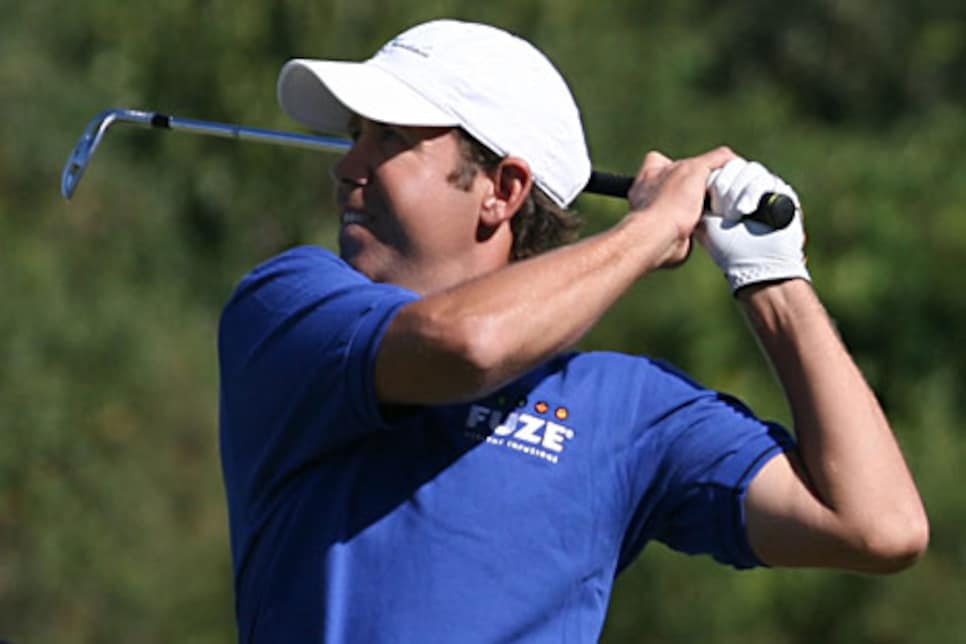 After missing the Stage 2 Q-school cut by a stroke, sponsor's exemptions will likely provide Compton an opportunity to play some Tour events.
BROOKSVILLE, Fla. -- He sounded destroyed, as most men do when they exit the second stage of PGA Tour Qualifying School on the wrong side of the number. This was not Erik Compton, medical marvel, six months after his second heart transplant. This was Erik Compton, golfer, after missing the cut by one stroke on Saturday at Southern Hills Plantation.
To say it was heartbreaking is to trivialize not only what Compton went through in May at Miami Jackson Memorial Hospital, but also the pain of his personal disappointment. Second stage is notoriously the toughest of the Q school process, for there is nowhere to go if you don't go beyond this fork -- unless it's to the mini-tours. That's why Compton took the result so hard, why the ride home with the pregnant wife and the coach from childhood was still so bleak.
"I don't know what I'll do, where I'll go, when I'll play," Compton said.
The options? Well, there were no options, driving home to Miami. It is safe to assume PGA Tour sponsors will be looking his way when handing out sponsor's exemptions in 2009. There is already a lobbying effort to get him into the Honda Classic, and while spots in tour fields are precious, there are going to be tournament officials looking to use their event to tell his story. But Compton was still too disappointed in his finish at Southern Hills to care about that: still too upset about the rough start, the patchy short game, the eagle attempt he turned into a three-putt par after reaching the 16th green, downwind from 604 yards, with a drive and a 4-iron.
In retrospect, all he needed was a safe, two-putt birdie from 22 feet, but there are no scoreboards at second stage; communication comes from word-of-mouth. With two tough closing holes, Compton thought he needed to make eagle. He was too aggressive with the eagle putt, and he missed the comebacker for birdie.
"I putted awful," he said. "My short game was atrocious."
Tied for 13th, two strokes inside the number, after 54 holes, Compton closed with a one-over 73. He posted a 72-hole score of 282. He needed 281. Now he returns to his job giving lessons at Mel Reese Park in Miami instead of heading to La Quinta, Calif. for the Q school final.
"This was just a dagger, even though it's a massive accomplishment," said Jim McLean, the teaching pro who has been spot-checking Compton out of his golf school at Doral since just after the first transplant. McLean's son, John, was Compton's caddy.
"I think he felt a lot of pressure today." McLean said.
And there was a lot of it to feel. Besides the money-making potential of playing the PGA Tour, there was the chance for health insurance and corporate deals hanging in the balance of that one stroke.
On Oct. 24, Compton shot 68 in the final round of first stage on a blustery day at Key Biscayne GL. Last week he made the cut in the Children's Miracle Network Classic. McLean wondered if that was too much for Compton, speculating that he may have run out of gas.
Each day before he started his round, Compton would gobble a handful of pills -- including beta-blockers that are on the PGA Tour's banned substance list -- wash them down with a swig of water, and head to the tee. Because of the surgery, he had no control of his adrenaline and his heart would race to 120 beats per minute, even riding in a cart -- another accommodation made by the tour because of his medical condition.
But his fate -- as many tour golfers will tell you when they come up one stroke short in Q school -- was in those shaky hands. This was not a heart-transplant patient talking. This was just a bummed-out golfer.
"Call me when they change the scores and I make it,' he said, signing off.