News
Angela Stanford Holds Off Annika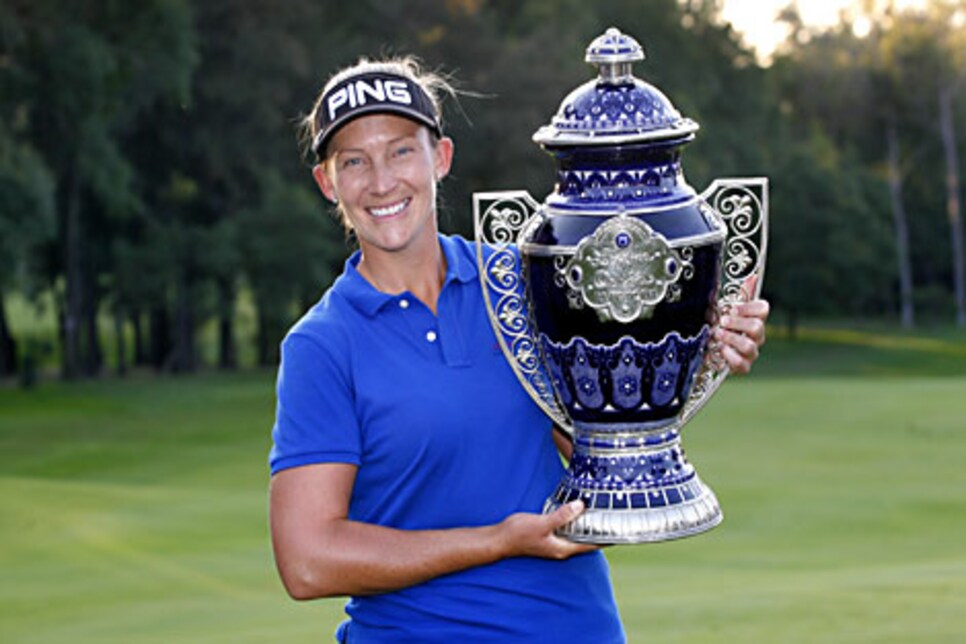 The win was Stanford's second of the year giving her nine top 10s in 2008.
The Lorena Ochoa Foundation, known in Mexico as Fundacion Lorena Ochoa, has become the hallmark of Lorena's personal life. The foundation is the funding source for something that is dear to her heart: the Barranca Educational Center.
This school for underprivileged children in Guadalajara uses a novel concept to develop kids' self-esteem and teach them academics through the use of movement, art/music, sports and nature.
Using the philosophical model developed by the Mexican educator Juan Jose Barreiro, the school teaches 242 Primary school students and 22 junior high students. The school was founded 10 years ago by the Sahagun family, who became friends with Lorena. When she saw the school and its young students four years ago, she immediately fell in love and decided to devote all the proceeds of her foundation to it.
The classrooms have a beautiful view of a canyon in Guadalajara, and the students all come from the neighborhood. The students' families are required to pay something toward the tuition, but if they can't do that, they are asked to work in some way in the school. Some of the mothers, for example, work in the school's kitchen making breakfast and lunch. They also learn by receiving information about human values and participate in sewing classes and computer workshops.
The main principle of the school, according to its director, Carmen Bolio, is to start every day with movement exercises, because that gets the blood moving to the brain so kids can focus better in the classroom. The next thing on the agenda is a good breakfast so the kids have enough fuel to stay focused during the day. The results are striking: the kids are upbeat, confident and happy.
Depending on how funding goes, there are plans to expand the model into other schools in Mexico. --Roger Schiffman
GUADALAJARA, Mexico (AP) -- Annika Sorenstam nearly holed her third shot on the par-5 18th, then lipped out a 9-foot birdie try to give Angela Stanford a one-stroke victory Sunday in the inaugural Lorena Ochoa Invitational.
Sorenstam, making her second-to-last start before she leaves the LPGA Tour, holed out from a bunker for birdie on the par-3 16th to get to 12 under - a stroke behind Stanford - but settled for pars on the final two holes. On the 18th, her wedge shot rolled just by the side of the cup as it spun back down the green.
"I certainly had a chance today, but Angela played very well," Sorenstam said. "As you know, she really didn't make too many mistakes and made a few birdies there both on 10 and what was it, 11. I was tracing her all day, but I never gave up, kept on fighting and I had a chance to force a playoff. ... Obviously, I was disappointed with that, but overall I thought it was a great tournament and I really tried."
Stanford two-putted for par on 18 before Sorenstam missed her birdie try.
"I had done such a good job all day of staying in the moment and kind of prepared myself for the playoff," Stanford said. "I would have been a little nervous in that playoff just because it's Annika. ... There was a moment there where I thought, 'Hmmm, I'd rather not have a playoff.'"
Stanford, the Bell Micro LPGA Classic winner in September, closed with a 3-under 69. She had a 13-under 275 total on the Guadalajara Country Club course and earned $200,000 for her third LPGA Tour title.
"I couldn't control what she was doing and I couldn't control what anybody else was doing. So really felt like I had kind of grew up out there a little bit today, again, and really just stayed in the moment the best I could and hit some quality shots." The Texan has five straight top-five finishes.
"It just continues to give me confidence and give me the belief in what I'm doing and how I'm playing right now," Stanford said. "And going into next year, hopefully this will push me into the top 10 in the world. I hope."
She saved par with a 10-foot putt on No. 17.
"That putt, now that I won at 13 under, that putt won the tournament," Stanford said. "Because, I think if I would have missed there, the momentum would have shifted a little bit to Annika, and Brittany was already in at 12, I believe. So that would have put three of us at 12."
Sorenstam, the 72-time LPGA Tour winner coming off a playoff victory two weeks ago in China in a Ladies European Tour event, also finished with a 69. She tied for second with Brittany Lang, the former Duke star who shot a course-record 65.
"I had some really good shots coming in," Sorenstam said. "The bunker shot on 15, I thought, was very good, a nice save and then, of course, the hole out on 16 was a magical shot. I always collect shots and I call them my library shots, and that's the shot I'm going to keep in my library for bunker shots, that was one of my all-times." She didn't see her near-miss on her third shot on 18.
"I heard the crowd and I hit it exactly where I wanted it hit it a little to the right," Sorenstam said. "I heard the crowd, but I just didn't know how close or where it was and tried to look at the screen but that wasn't quick enough."
Ochoa shot a 70 to tie for 14th at 4 under.
"I want to congratulate Angela on her victory," Ochoa said. "She has been playing very well this year. We have been good friends for some time and I'm very happy that she won this event."
She had a busy week on and off the course.
"Wish I'd been in contention to win the tournament, but this has been a week where I've learned a lot, both as a player and a tournament hostess," Ochoa said. "I think that the upcoming events will be easier. This week was a bit complicated, too many emotions going on, but I'm sure this will make me a better player.