News
The Maestro Behind Lorena's Success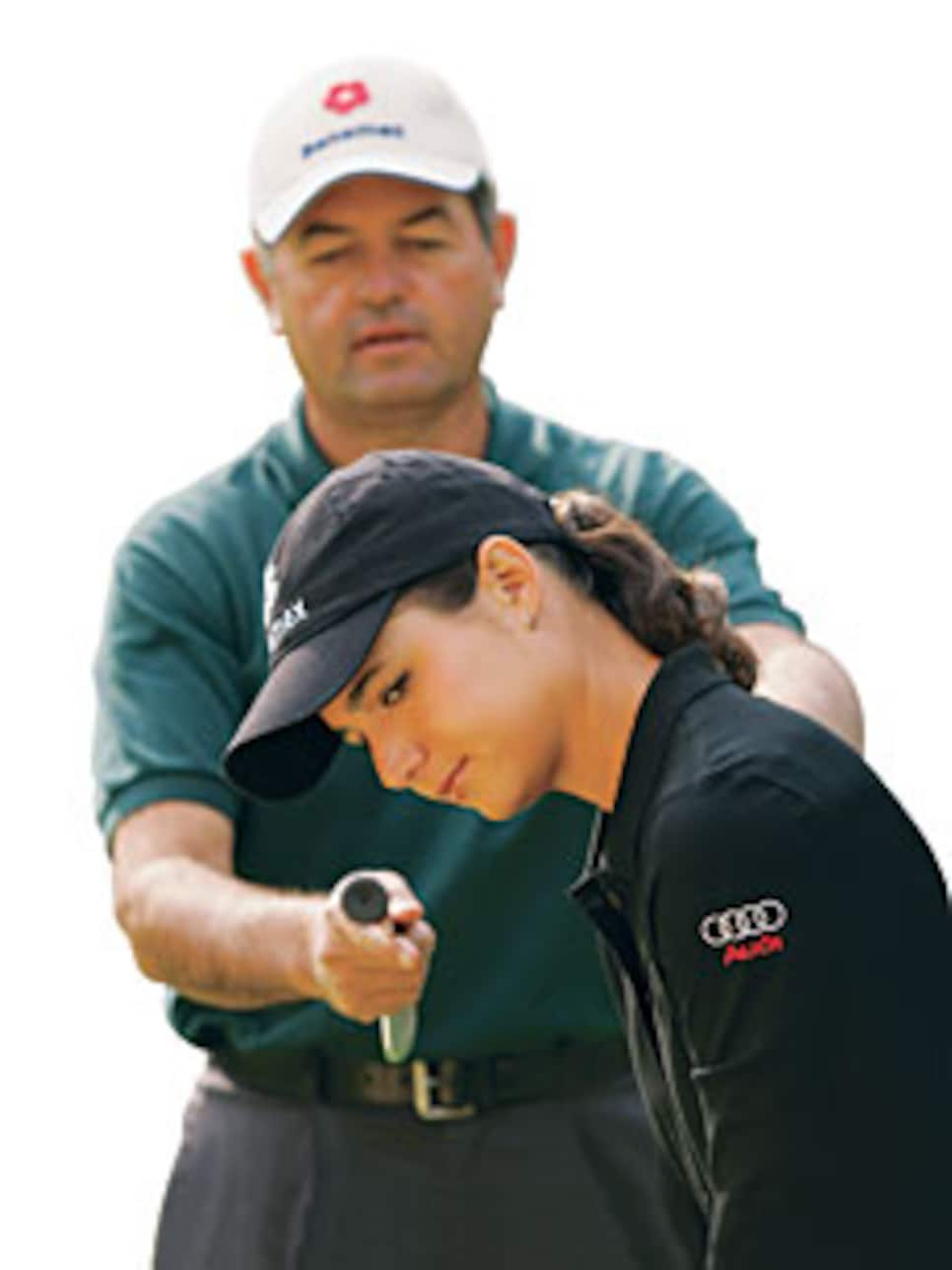 Alarcon's calculated way of approaching change has paid off.
An eye-opening treat is following Lorena Ochoa, in the company of her longtime teacher Rafael Alarcon, during a tournament round at the Guadalajara Country Club. This is the same course that Lorena has been playing since she was shorter than a 3-iron, and of course she knows it better than anyone else in the field, even better than her fellow competitor from Guadalajara, Sophia Sheridan, who is two years younger at age 24. Make that three years younger -- today is Lorena's 27th birthday.
Alarcon, who was a strong junior player, collegian and European Tour veteran, has never forgotten that the city of Guadalajara is his home--he grew up on the Guadalajara Country Club course himself, and is still a dues-paying member--you would think the membership would give him an honorary membership.
It's impossible to walk even nine holes with Rafael without countless interruptions, because almost everyone knows him personally. He has two beautiful daughters and a son (who is in France at the moment), and countless cousins, nieces, nephews and friends, all of whom seem to be watching the tournament this week.
Alarcon described how he nurtured a young Lorena, helping her to develop her natural talent for hitting a golf ball prodigious distances and then getting it into the hole most efficiently. The Guadalajara Country Club course was a perfect playground for learning to hit all kinds of shots, due to the relatively tight fairways, strategically placed ponds, and numerous overhanging trees guarding the undulating greens.
Lorena came up as one of many kids in the club's junior program. She was shy but an exceptional athlete, playing other sports, climbing and falling out of trees (she once broke both wrists after an especially bad accident) and riding horses--the club has an equestrian center as well. But Rafael could tell there was something different about her. She had an inquisitive mind. He started asking her to play a couple of holes with him, and let her imitate his swing. He would take her to the white tees so she was forced to try for more distance. "The first time we did this," Rafael remembers, "she hit driver, 3-wood, 7-iron and made the putt on a par-4 whose second shot was over water. The next time we played, she hit the green with her 3-wood second shot." Then he took her to the back tees. Alarcon, without telling her, was forcing Lorena to generate more clubhead speed.
Lorena was good at imitating his swing, and she wore him out asking questions. Rafael's rhythmic action includes the same delayed-hands down-cock that is Lorena's trademark move. He would take her to different parts of the course, say 75 yards from the green with an overhanging tree branch, throw down three balls, and tell her to hit the green with a 9-iron, then a pitching wedge, then a sand wedge. Honing her natural skills, he was teaching her how to play shots and learn to control her ball flight.
They often played games on the course or on the range. "You always have to keep it fun," Alarcon says. Calling out distances then hitting shots with your eyes closed is not only fun (and difficult), but is a great way to develop feel. Rafael has been playing such games with Lorena her entire life. And now we are witnessing one of the all-time great feel players.
How long does it take Rafael and Lorena to put a new shot or a new technique into tournament play? Six weeks, according to the maestro (which means teacher in Spanish). "It takes three weeks to learn the mechanics of the shot, then three weeks using it in practice rounds. Only then will I let her try it in a tournament." Lately, they have been working on taking spin out of her short-iron shots. Alarcon says all good players do three things with their short irons and wedges: (1) Control distance, (2) control trajectory and (3) control spin. This is something they have been working on for the past year. Now it is starting to pay off. Today, if you notice the way her short irons land on the green, they rarely spin back. They land softly and maybe roll a couple of feet toward the hole.
"You have to be careful when working with a player of Lorena's talent," Alarcon says. "You don't want to change too much. Just refine things here and there, because you don't want to destroy their confidence."
It's hard to believe Lorena's confidence will be destroyed. Her work ethic is simply too strong. Alarcon revealed that each year they work together for the first seven weeks, before the LPGA schedule gets underway. They start each day at 7 am, take a 15-minute break at 10, then go to 2:15 before having lunch. Then Lorena does her intensive body workout program until 7 pm. There's no fitter player on the LPGA Tour, not even Annika. This is their routine five and half days a week.
No wonder Lorena has become the world's No. 1 player.