News
Annika One Back Of Angela Stanford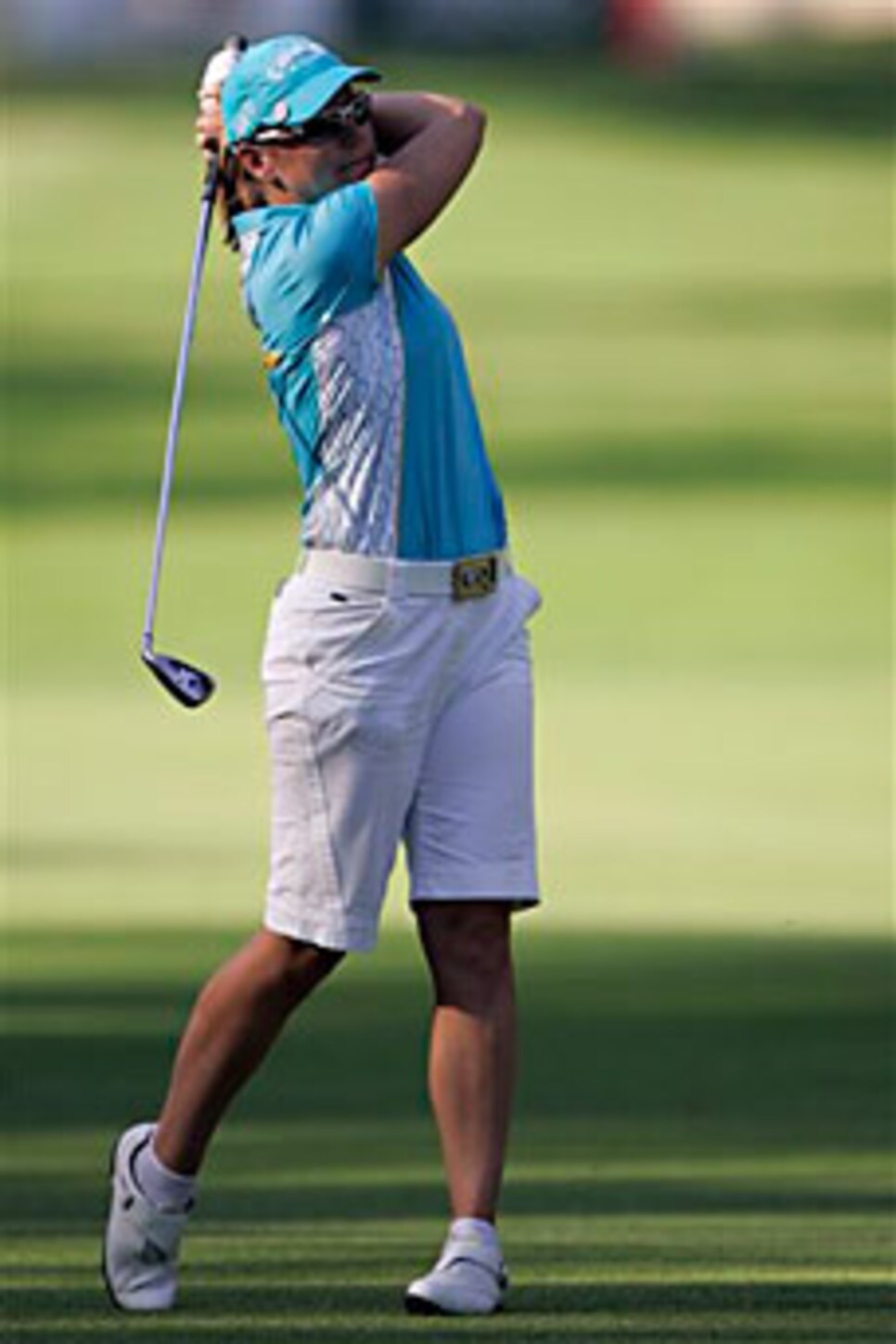 Annika had six birdies and an eagle on Saturday.
GUADALAJARA, Mexico (AP) -- Annika Sorenstam made up five strokes on leader Angela Stanford on Saturday in the Lorena Ochoa Invitational, shooting a 5-under 67 to cut her deficit to just a stroke with one round left.
Making her second-to-last start before leaving the LPGA Tour, Sorenstam eagled the par-5 10th and added six birdies. The Swedish star is seeking her third tour victory in Mexico -- and first since the 2006 Mastercard Classic.
"Maybe it's the tacos or the margaritas," Sorenstam said. "I'm excited about tomorrow. I look forward to tomorrow. I will play the best that I can, make some putts, and hopefully win."
The 72-time tour champion will need to get past Stanford, the Bell Micro LPGA Classic winner in September who has four straight top-five finishes. Stanford followed opening rounds of 68 and 66 with a 72 on Saturday.
Annika Sorenstam has not been in this position very often recently: One stroke out of the lead in a tournament that features all the top names in the women's game.
"I'm excited to have a chance to win tomorrow," she said after posting a third-round 67 to vault past 10 players for the day. "Looking at the field, this is the best of the best of women's golf. So when you have a chance to win against the best, you know that you're playing good golf. I'm just going to go out there and play my best tomorrow."
How does she assess her chances of catching Angela Stanford, whom she'll be paired with in the final group? "I trust myself and I've done it before," she said. "I'm not going to think about anything else. It's just another Sunday and hopefully I'll hit some great shots, sunny weather, and that's what I look forward to."
Annika also assessed the chances of tournament host, Lorena Ochoa, who is eight strokes behind. Annika came back from a 10-shot deficit to win in 2001, an LPGA record: "I always keep telling myself, it's never over until it's over. A player of Lorena's caliber, she can do it. She just has to get off to a very good start. Sometimes you need a little help from the leaders."
"There's going to be some pressure," Stanford said. "She's one of the legends of our game and she is probably the best of all time. She's going to play really well. She's been there 72 times and she knows how to do it and I'm still learning."
Australia's Katherine Hull (66) was two strokes back. South Korea's Jee Young Lee (69) was 7 under and compatriot Sun Young Yoo (70) was another shot behind.
Sorenstam hit a 5-wood to 28 feet to set up her two-putt eagle on the 475-yard 10th. She closed with a birdie on the par-5 18th, hitting a sand wedge to 2 feet.
"I would say the biggest difference today is I made some putts, especially early on, and I hit a few shots a little closer today," Sorenstam said. "When you get the birdies going, it's easier to get the momentum, and you know, the putt on 10 was huge. So I would really say it's just a matter of inches."
Stanford had two birdies and two bogeys in her even-par round.
"It was definitely a grind out there," Stanford said. "My swing felt all over the map, and fortunately I was able to save some pars."
Tournament host Lorena Ochoa celebrated her 27th birthday with her best round of the week, a 70 that left her eight strokes back at 2 under. LPGA Championship winner Yani Tseng, No. 2 in the world behind Ochoa, also was 2 under after a 78.
At the beginning and the end of the round, the fans sang Happy Birthday to Ochoa.
"It was a very nice gesture, I want to thank the fans for all of their support, it was a very special day in the golf course," Ochoa said. "I still believe I can win it, Annika won a tournament when she was 10 under, so it is possible. I will never give up. I will try. I have nothing to lose, so tomorrow I will be very aggressive."