News
Tommy "Two Gloves" Bigger Break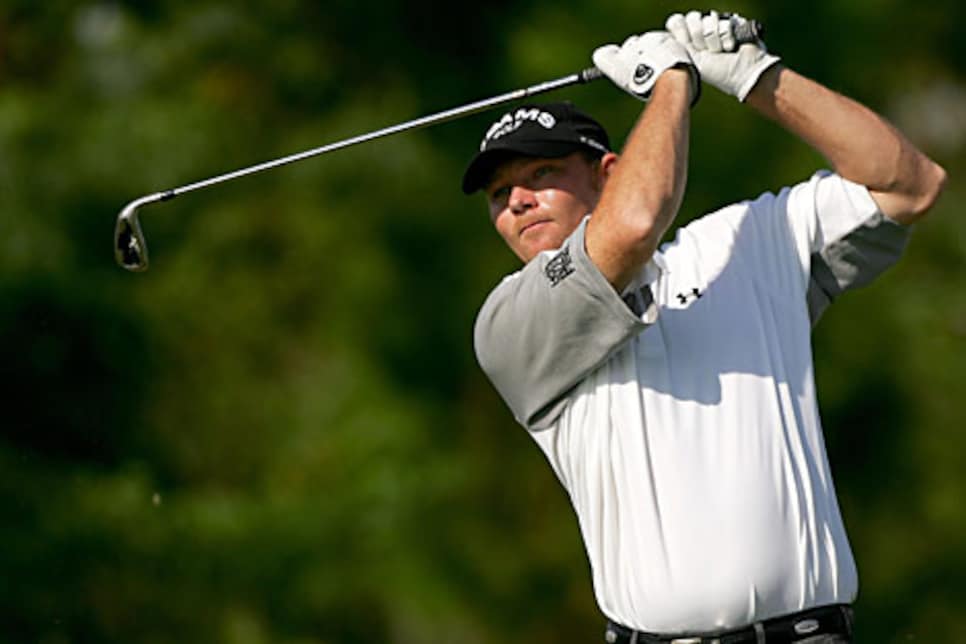 After 13 straight missed cuts and a 10 at Habour Town, Gainey had to wonder if it The Big Break was really his bad break.
Purists continually pan "The Big Break," but it produced one of the year's best real-people stories from the Fall Series in Tommy "Two Gloves" Gainey. On Sunday at Walt Disney World the poster child for the Golf Channel reality show threw a reality check into Davis Love III by shooting 64 in the final-round of the Children's Miracle Network Classic to take second place in the last event of the 2008 PGA Tour season.
The direct deposit of $496,800 came after six months of no pay and moved him 80 spots up the money list, from 228th to 148th. Just inside the 126-150 category on the final money list, he'll get his tour reps in 2009 no matter how well he does in the finals of the PGA Tour Qualifying Tournament. But the biggest bonus, as Gainey made the eight-hour drive from Orlando to rural Camden, S.C., on Sunday night, was not heading west on I-4, to Brooksville, Fl., for the second stage of Q School.
"I was so pumped up after the finish, my biggest thought was not having to go through second stage after what I went through in the Disney tournament," Gainey said on Tuesday morning after getting in at 2 a.m. "I've got my ticket punched to final stage. I've got two, maybe three weeks to chill out. I get some needed rest. I played a lot of golf this year."
Not a lot as it relates to four-straight days of tournament golf; a lot as it relates to missing cuts. Starting with the Verizon Heritage in April, Gainey went 13-straight tournaments where he never saw the weekend. At the Buick Open, he never even saw Friday, WDing after an opening-round 82.
It all started with a 10 on the 10th hole at HarbourTown GL, during the second round of the Verizon. "That destroyed me, my confidence and stuff, after I made 10 on 10," he said. "[Disney] was the sixth cut I made all year. That pretty much sums it up."
With the mindset that he had nothing to lose, Gainey opened 68-66 (after shooting 77-80 the week before at the Gin sur Mer Classic), and closed 130 on the weekend. It seemed easy after he went to the Rife Putting studios in suburban Orlando, went on the computer, went from a 35-inch to a 34-inch shaft, and changed to a mallet head.
Ranked 193rd on tour in putts per round, he took 24 and 25 strokes on Saturday-Sunday at the Magnolia course, with six birdies in his last nine holes. "Let me tell you, to live my life out here is unbelievable," Gainey said. "I was asked in the media a question about how me and Davis Love came from different worlds. It's true. I look at it from a different side of the spectrum. When Davis Love went to North Carolina, he was all world. Me, I graduated with a tech (school) certificate and went to work. Money was an issue. Nobody was recruiting me."
So after graduating Central Carolina Technical College, Gainey started wrapping insulation around water heaters next to his father at A.O. Smith Water Products Company. His one-day record: 1,500 water heaters.
But Tommy was a golfer, who wore two gloves because his father wore two gloves during his games at Bishopville CC. He got to play in some of the shootouts at Northwoods CC in Columbia with some names that may be familiar, like Fall Series winner Dustin Johnson, or David Robinson, the Tarheel Tour winner, or Kyle Thompson, who was a star at the University of South Carolina. Famous for his walk, he played the Tarheel, Hooters and Gateway tours with an air of confidence that surfaced in that closing stretch of birdies at Disney.
His two Big Breaks came in 2005 at Carnoustie and 2006 at Reunion in Orlando, which he won. That set up his run through all three stages of 2007 Q School. "The Big Break is not a golf show," he said. "It's a reality show with some golf shots. But what you can tell off that is what kind of person he is, does he have the mental stability to get it done."
His idol, or the guy he'd like to pattern himself after, is Boo Weekley. On the same week that Gainey made his demoralizing 10, Weekley was winning at Hilton Head for the second straight year, on his way to a starring role in the Ryder Cup and the Jay Leno couch. "We come from the same kind of place so to speak," Gainey said. "We're pretty much cut from the same cloth and I'm glad to be one of his friends. I think he's done nothing but bring more people to this game. Look at what he done to the Ryder Cup, what kind of fire and heart he brought to the players."
Fire and heart, that's Tommy Gainey. His father, Thomas Dale Gainey, Sr., is retired from the A.O. Smith plant. His mother, Judy, still works in a textile factory in Bethune, S.C., 8-10 hours a day, five days a week. Two Gloves' goal is to make enough so she doesn't have to work anymore.