News
Love Lost And Found Again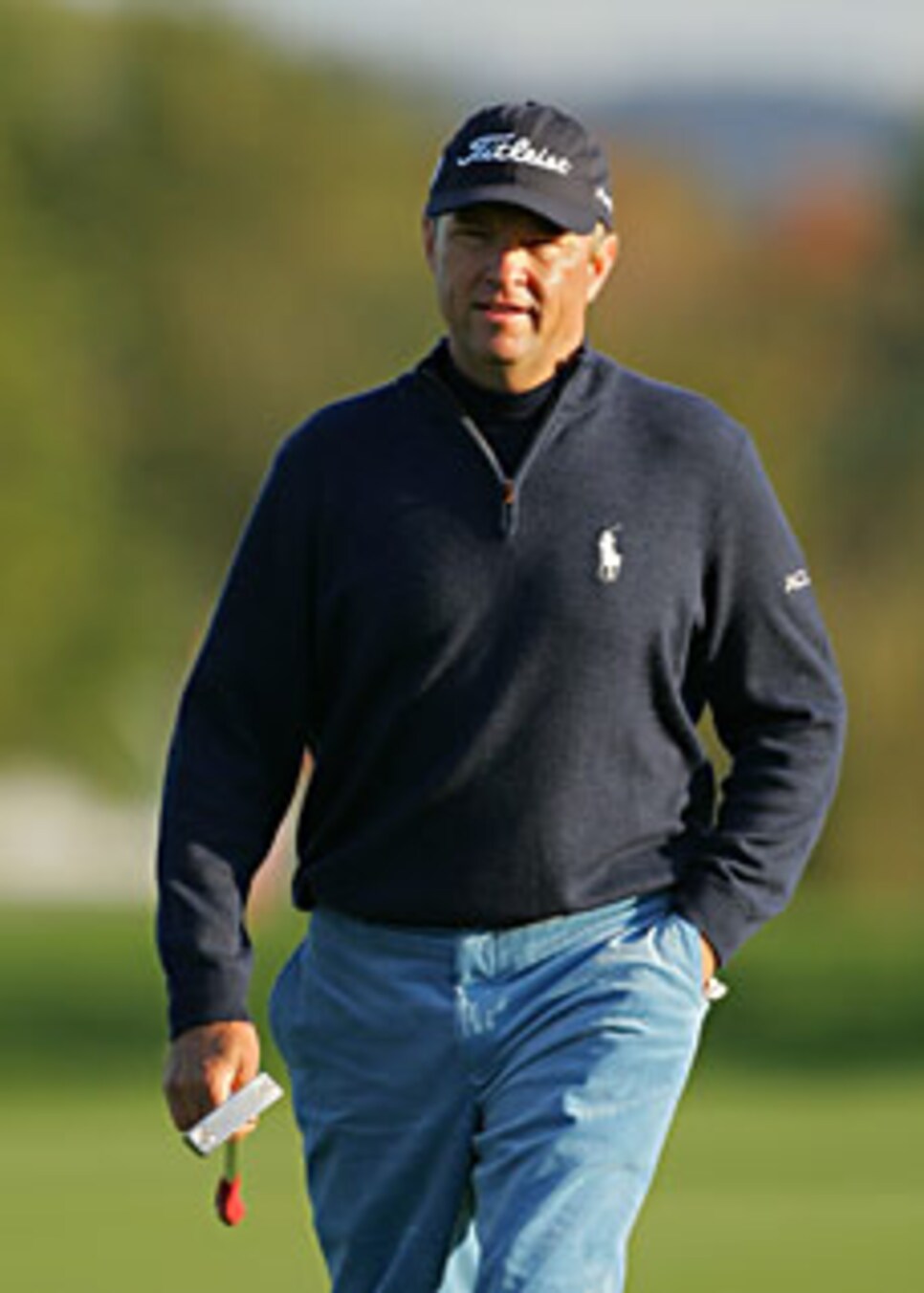 Love is happy about his 20 wins, but his focus is on remaining competitive like Vijay and Fred Funk have.
The drive home Sunday night from Orlando to Georgia took Davis Love III past the World Golf Village, but the newest member of the 20-win club didn't pause to reflect, keeping his mind on the road ahead. Love's milestone win in the Children's Miracle Network Classic, one that all but assured him eventual entry into the World Golf Hall of Fame, was gratifying on all levels, but not the last stop before Love permanently parks at Sea Island.
There were thoughts about his father, of course. Twenty years ago, almost to the day, a single-engine plane went down in a fogbank at Jacksonville Airport, killing instructors Davis Love Jr., John Popa and Jimmy Hodges and pilot Chip Worthington. He has lived through that, the suicide of a brother-in-law and a marriage that had survived tough times and innuendo. Ultimately he has come out on the other side, at age 44, loved at home, respected in the golf community, and with a new life as it relates to his career.
"My two nieces [were] in the truck," Love said Monday morning. "They were texting back and forth with everybody for me while I was driving. One of the texts was from Morgan Pressel in the Tokyo Airport. They thought that was really cool."
Even cooler was seeing Uncle Davis bounce back after two winless years, after ankle surgery 13 months ago, after reaching the depths where it was necessary to play six-straight events in the Fall Series to protect his playing status for 2009. To gut it out in the last event of the 2008 season, to save par on those final two holes, showed the true character of this statesman.
When he was presented with the Payne Stewart Award in September at the Tour Championship, Love was 155th on the money list. He didn't have a top-10 finish all year. His string of major championships ended at 72 when he didn't qualify for the Masters. He had to play his way into the U.S. and British Opens. But when his name was thrown into the mix for the Ryder Cup captaincy, Love said he wanted to make the 2009 Presidents Cup team captained by close friend Fred Couples. He said he wanted to pull a Justin Leonard, win during the Fall Series to qualify for the Mercedes-Benz Championship and ride the momentum into a new year.
It took shooting a pair of 64s on the weekend at Walt Disney World's Magnolia course, but Love now heads to Hawaii in January not just for the Sony Open, but also to Kapalua, where all the champions congregate--or at least those who can fit it into their global schedules.
He wouldn't miss it. "Now I'm trying to figure out how much I've got to move up to play the [Accenture] Match Play," said Love, who is 76th on the World Ranking and needs to move into the top 64 to play the WGC event. "It never ends. Obviously the gorilla in the room is trying to get in the Masters. They have a qualifying for it every week." A victory in a regular season PGA Tour event would qualify him for Augusta National.
Love was on the comeback trail before blowing out an ankle in a freak accident while playing golf with back specialist Tom Boers in September 2007. A fitness program started with strength coach Randy Myers in 2005 addressed the chronic back and neck issues that interrupted Love's career. Boers had just cleared him to play two hours earlier. After Love hit what he thought was a bad drive, he went back to the cart for a provisional ball, stepped in a hole and tore ligaments.
Prior to that, in the summer of 2007, Love was sidetracked by a bout with kidney stones. Something his father always warned him about--analysis by paralysis--was also delaying his comeback. At Oakmont for the U.S. Open, Love was in such a panic in trying to fix his swing that all he thought about was beating more balls. A month later at the British Open, sport psychologist Bob Rotella pulled him aside for a reality check. "Look," Rotella said at Carnoustie. "You're trying too hard to get better."
For most of his career, Love was criticized for not trying hard enough, for having too many toys, for leading the good life, whether it was at his compound off the Georgia coast or extreme heli-boarding in the mountains near his winter home in Sun Valley. Now he was tangled mentally and broken down physically. "I was already playing bad," he said. "Now I'm playing bad and I got hurt. It was like I was getting ready to be cut from the team anyway. Now that I'm hurt, how do I get my spot back on the team?"
The ankle injury and surgery forced Love to stop trying too hard, allowing him to realize that it's as much about smart work as it is hard work. He diligently used a red stick that swing instructor Todd Anderson gave him to work on alignment, and he spoke with a different sport psychologist, Morris Pickens, to use as a sounding board along with Rotella. He worked with a therapist who trains the Canadian bobsled team and the Red Bull mountain bike team. He learned it was as much about practicing routines as hitting shots; that the time in the gym is as important as time on the range.
Playing the Fall Series, Love saw guys just acting as he was at Oakmont, desperately trying to find their swings in the dark. "I can see now they were not working at it the right way," he said. "When was the last time you saw Tiger doing that at a tournament?"
But every Friday when manager Mac Barnhardt called to see if Love wanted to enter the following week, Davis wanted in. He finished third at Turning Stone, sixth at the Justin Timberlake, 11th at the Frys, closing out a run of eight-straight rounds in the 60s. The numbers were coming. He just had to catch the right week.
Disney was it. Paired with old friend Scott Verplank and a fearless upcoming star in Steve Marino, Love played that final round as he did in 1992, or 2003--his two big years. In the end, the short game won it for him, a direct reflection of his "smart" work.
"Not many 44-year-old guys play six weeks in a row anymore," he said. "It's all about proving something to myself. That's why I'm not hung up on 20 wins. Twenty is nice, but I'd love to play like Vijay Singh into my late 40s, to be like Jay Haas and Fred Funk and stay competitive."
So one of the great, lost talents found himself--again. Twenty victories, including the 1997 PGA, and two Players Championships, and 12 Ryder or Presidents Cup teams, is a legacy for most.
For Love, it is a stop until the next qualifying tournament for Augusta.
"The goal wasn't just to get to 20," he said. "At 44, I feel like I can still win an awful lot more."