News
Tiger's Prowling The Cliffs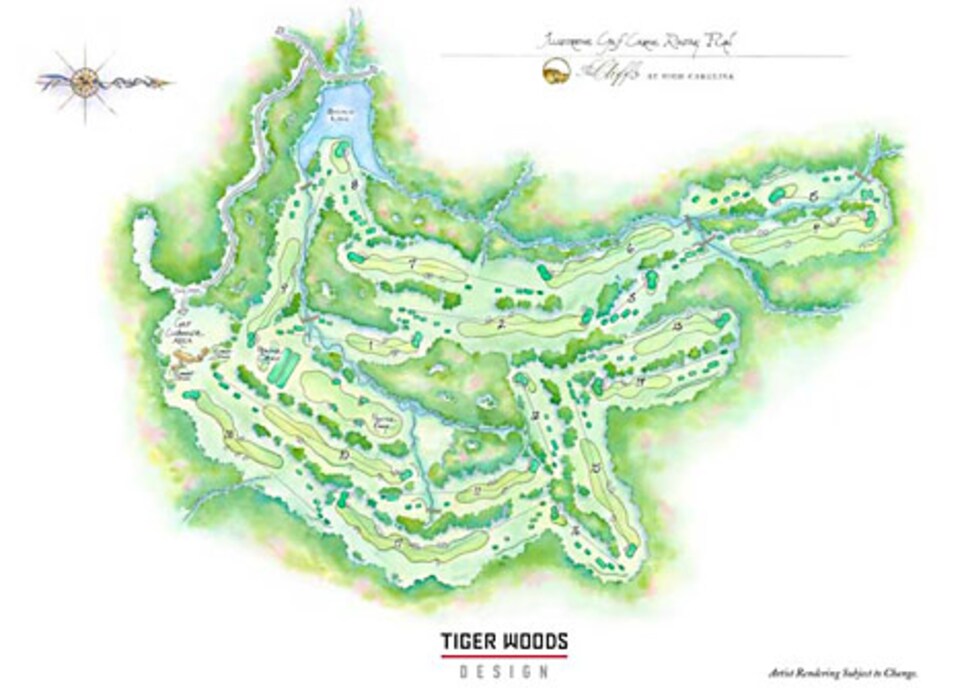 Tiger unveils course routings for his design at The Cliffs at High Carolina.
On a clear, crisp autumn Saturday in the brilliantly-clad North Carolina mountains -- when most sports fans would be either at a college football stadium or in front of their flat screens -- about 2,000 people piled into a tent so they could say they were under the same big top as the greatest golfer of this generation.
Tiger Woods' newest best friends gathered at the Cliffs at High Carolina, just outside Asheville, for the unveiling of the routing of his first golf course design in the United States. Billed as a press conference, but resembling a pep rally, Woods and Cliffs Communities founder and CEO Jim Anthony stayed on message and told the crowd what it wanted to hear: Despite the unraveling of the economy, times here are still prosperous and a home bordering a Woods creation would be something special, indeed.
In fact, home sales at Anthony's five other communities that comprise the Cliffs are down about 20 percent, according to him. But after the conclusion of Saturday's love-fest, a reported $45 million in lot sales at High Carolina were written. Even in the most fearsome economic times this country has known in decades, Woods can move the financial needle enough to convince those with $1 million to spare to plunk it down for a lot on his golf course.
Between the roasted chicken, chardonnay and the chocolate truffles, Woods and Anthony shared a stage and stirred the faithful to a downright frenzy. Anthony declared that the fruits of the combined labor would result in "the best course in the world." Woods declared that he had never seen 50-mile views that are there for the asking at High Carolina.
"I grew up in 'So Cal,' " he said. "We didn't have 50-mile views. We had smog."
Hyperbole aside, the first Woods anything is sure to draw a crowd and a high price tag. While neither would discuss the designer's fee, Anthony did say, "It was a tough negotiation because it was a complex deal."
He went on to point out that his experience thus far with Woods the course designer has been rewarding. "A good friend of Tiger, Byron Bell, said to me that Tiger is loyal and will do what he says in every case and more," Anthony said. "The reason this is a fun deal is because exactly that is true. He and his team have done more than asked in every case. To this point, Tiger has put more steps on the ground at this stage of development than any architect we have dealt with."
Anthony can even quantify that statement, claiming Woods walked 22,000 steps on one visit -- and not long after his knee surgery. Woods asked to come to High Carolina and have another look at the ninth hole after it had been moved from its original routing.
"You could tell he was really still recovering," Anthony said. "We've got this big group of boulders out here and Tiger is climbing up on [them] and jumping from one to the other. I'm thinking the whole time that he's going to fall off and I see the headlines: 'Tiger reinjures his knee on a High Carolina rock pile.' "
Boulder-hopping or not, Woods was smitten with the piece of land, which sits in a valley surrounded by mountain ridges. Even at 3,000 feet of elevation, with an estimated 350 feet of elevation change throughout the course, Woods and Anthony maintain that High Carolina will be a walking course.
"First off, this property is absolutely phenomenal," Woods said. "It's just breathtaking, it really is. The serenity, the quietness, the panoramic views. You know, seriously, when we did the routings, as Jim alluded to, it took us 28 routings to get it right. I'm sure we'll tweak it a little bit again. But one of the things that the project incorporated is to see the views.
"And one of the things that I think is neat about this property is that ... you play next to a lake, you play over streams, you play along a creek, you have dense forests, you have open meadows. You have such an amazing variety of shots of holes with views that you just don't find [everywhere]. We want to make sure we capture that correctly, and I think we have done that."
There will be six sets of tees at High Carolina -- from 7,500 yards to 5,000 yards -- and Woods says there will be no forced carries on any of the holes, which brought a big cheer from the audience. He favors open fronts to every green, demonstrating his appreciation for links golf.
"One of the things I haven't really liked about some of the golf courses that I have watched and played and looked at is that they take the ground game away," Tiger said. "That's why I love St. Andrews so much. You can utilize the ground as your friend."
Woods has three courses on the drawing board and in early construction. His first creation is in Dubai, called Al Ruwaya, for which he was reported to have been paid $25 million. And his third is Punta Brava, 25 miles south of San Diego in Mexico. Al Ruwaya is scheduled for completion in 2009, High Carolina and Punta Brava for 2011.
Woods says he is not looking for a second career. "I'm not going to design a bunch of golf courses. It's not something I want to do," he said. "I want to do a small collection and make sure I do them right. I want to work with great partners.
"I still feel that my best golf is ahead of me, so I want to focus on that," he said. "Also, you have to understand who I am and how I operate. I can't do anything half-heartedly. And once I get into something, I go all the way. That's one of the reasons why I spend a lot of time here. I want to do it right and that's just how I've always been. I'm a natural workaholic."