News
Bettencourt, Molder Build Lead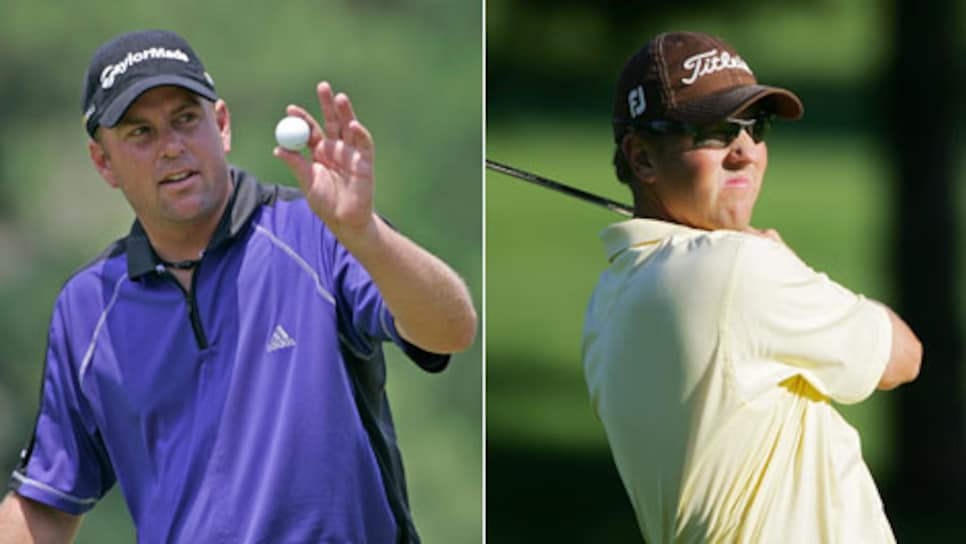 Bettencourt (left) has locked up his 2009 PGA Tour card, but Molder needs to move up seven spots from 32nd to get his.
MCKINNEY, Texas (AP) -- Bryce Molder closed in on a PGA Tour card Saturday, shooting a 7-under 64 for a share of the third-round lead with Matt Bettencourt in the season-ending Nationwide Tour Championship.
Molder, 32nd on the money list, needs to finish in the final top 25 in the earnings race to earn a 2009 PGA Tour card.
"I'm not there yet, tomorrow is going to be a big day for me," Molder said.
Bettencourt shot a course-record 63 to match Molder at 15-under 198 at TPC Craig Ranch. Peter Tomasulo (63), Kyle Reifers (65) and Darron Stiles (70) were 12 under.
Molder birdied Nos. 12-15, had pars on holes 16-17, then finished up with an up-and-down birdie from a bunker on 18, nearly holing his sand shot.
"I was walked down the 11th fairway, saw my wife and had her give me a kiss. Now I was ready to make some birdies," Molder said.
Bettencourt entered the week 12th on the money list, high enough to guarantee a spot on the PGA Tour next year.
"My goal at the start of this week, honestly, was to move into the top 10 on the money list," Bettencourt said. "No. 1 is obviously a dream, but I'm just going to try and win a golf tournament."
Bettencourt spent much of Thursday morning in a hospital with kidney stones.
"I called my caddy late Wednesday night and said, 'I think I'm dying,'" Bettencourt said. "He came over to pick me, punched hospital on the GPS and away we went."
He returned to his hotel at 3 a.m., Thursday full of pain medication, and has had it close at hand all week long. After opening rounds of 68 and 67, he got on a record roll early in his third round.
After a birdie and a bogey in his first four holes, he was 7 under on the next six holes with four straight birdies, an eagle on the par-5 ninth and another birdie on 10.
It was the best birdie-eagle streak on the Nationwide Tour this year and boosted him to the top of the leaderboard.
"Saturday is moving day and I was just trying to get myself in position for victory. I'm glad I did," he said.