News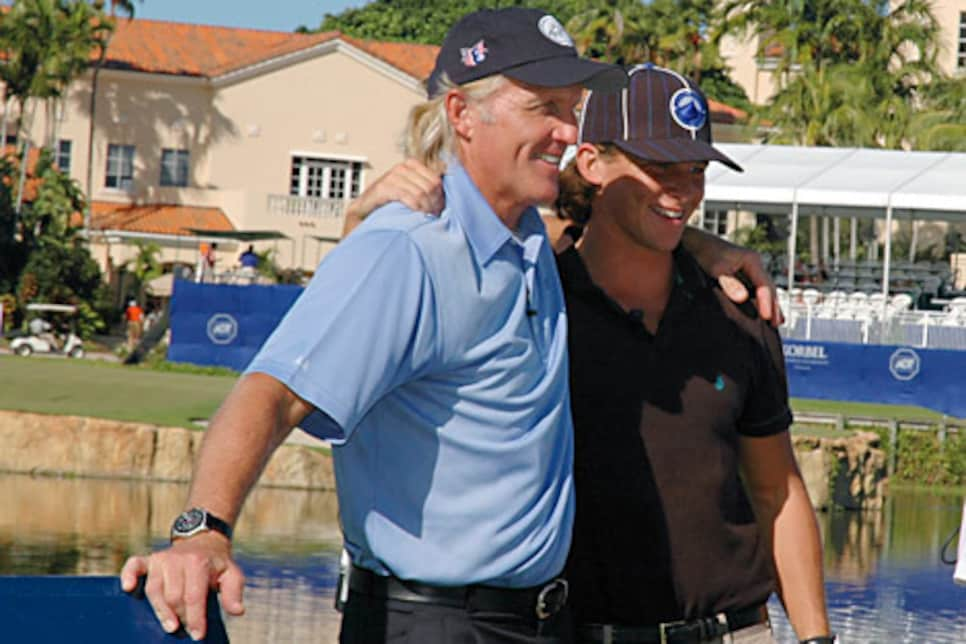 Greg Norman and his son Greg Jr., whose final shot, an inch from the cup, just nosed out Rocco Mediate and "Average Joe" Matt Achatz.
AVENTURA, Fla. -- This pro-am party was a little different than most. Frank Caliendo was the entertainment, doing his uncanny impersonations of everybody from Bill Clinton to Bush 43, from Robin Williams to John Madden, from Charles Barkley to Robert De Niro. In the room were some of the great athletes of our time, from Presidents Cup captains Greg Norman and Fred Couples to Peter Jacobsen, Carlton Fisk, Gary Carter, Ozzie Smith, Bret Saberhagen, Paul O'Neill, Joe Theismann, Jim McMahon, Mike Eruzione and Vinny Testaverde.
But the star of the day and the night at the ADT Skills Challenge at the Fairmont Turnberry Isle was the Average Joe. He didn't hit the winning shot, and he didn't have the street cred PGA Tour caddies Mike (Fluff) Cowan and Joe LaCava did. "Superstar," is what Rocco Mediate called his caddie, Matt Achatz.
It's pronounced ACK-ITZ, which Mediate shortened to "The Ax," and the caddie will be all over the TV screen during Christmas weekend when NBC compresses a day of eight separate competitions into two two-hour shows. Achatz was hitting shots that had Norman, Couples and Jacobsen busting his chops and saying, "Wow."
Just two years ago Achatz was waiting tables at The Laundry in East Hampton, N.Y., where he prided himself on being a good server. He met Mediate caddying at Calusa Pines in Naples, Fl. When Rocco changed caddies earlier this year, he went with Achatz, whose first major was the U.S. Open at Torrey Pines. If Mediate's playoff loss to Tiger Woods wasn't a Forrest Gump moment, the shots Achatz hit with the TV cameras rolling and the corporate box filled with all those jocks and three of the best golfers in the world just a few feet away sure were.
With all those big names staring down upon him, Achatz, who calls himself "a 7-handicap who sucks," won three of the four categories -- and almost the grand prize of the pro-caddie competition when Mediate lipped out the final shot of the day, over a pond to an island green.
This unbelievable ending, and the shot hit to 1 inch by Greg Norman Jr. that won the competition, still didn't overshadow Ax's performance. He holed a bunker shot, hit a trouble shot to 2 feet 9 inches and a chip shot to 1 foot, 5 inches.
"What do you do in your spare time?" -- Norman
"Ax, if you had a club in your hands in that [U.S. Open] playoff, we never would have heard of Tiger Woods." -- Jacobsen
"Happy for you Matt." -- Couples, in a less-than-enthusiastic voice
It looked like Achatz was a sandbagger. He wasn't.
"At first he couldn't put the tee peg in the ground, he was shaking so hard," Mediate said. "Then I hit a good 6-iron [in the mid-iron competition] and that relaxed him. He's got a ridiculously good short game and this does not surprise me at all. He's having the time of his life, that's all that matters."
Achatz, 33, played some mini-tour events after playing at St. Clair County Community College in his home state of Michigan with a "stroke average of around 84." The only cut he made as a professional came in the Michigan Open, where he hit nine greens in 72 holes.
"I'm fairly comfortable with Rocco, because I spent so much time with him," Achatz said. "But when I have to step up and hit shots in front of Greg Norman and Fred Couples and Peter Jacobsen, three of the greatest players who have ever played -- what's Norman won, 91 tournaments? -- and I've got to hit a shot in front of him, seriously?"
There really wasn't much seriousness involved in this competition, which was designed by NBC's Jon Miller to include the pro's caddies for the first time. This brought together Couples and LaCava, who have been together for 20 years, and reunited Jacobsen and Cowan. Young Norman has worked for his father in several tour events and will be on the bag for the Senior Skins this winter in Hawaii.
The Jr. Shark has got movie-star looks and a game not unlike his dad's, but kite-boarding and surfing have been a priority to this point in his life -- again, another parallel to his father. After a stylish shot, Jacobsen needled him with the line, "You ought to think about quitting that caddie job."
Cash also raised the level of the choking point, with $20,000 offered per team per competition, and a six-figure grand prize at the end. "Everybody's watching, no question there's pressure," LaCava said. "You don't want to hit bad shots. I hit half decent and half bad. People are going to be watching on Christmas, and rough you up but I've got no problem with that."
Cowan, who has twice won the PGA Tour's Caddie Championship and who plays at Congressional CC, called his play "mediocre at best," but said it wasn't the pressure, just the untidiness of his game. "It was awesome that [of] the caddies that were there, Gregory held up his end pretty nicely," Cowan said. "He hit the shot that won the thing, that's pretty awesome. The fact that Matt did so many things through the various skills was spectacular. Joe and I kind of sucked."
They may have sucked on a couple of swings, but they're sevens and nobody cared. It came down to the last skills test, the short iron over water. Earlier, in the pitch-over-a-water hazard contest, Greg Norman Jr. clanged a shot off the pin but was upstaged by his father, who, on his last ball, jarred a wedge after trying two impossible mega-flops with the face of his wedge open like a spatula.
Now, with a full pitching wedge, and a "Liquid Force" baseball hat on his head ("Best wakeboard company in the world," the kid said, working an endorsement deal.), young Norman took it back just like his dad and hit a wedge that spun back off a crown and stopped a breath away from the cup.
Last up were Achatz and Mediate. Because of the lead they built up, they were given five balls each. On his last shot, Achatz came close to holing it -- but not as close as Mediate, who was tackled and shoved to the ground by Norman & Norman, making for great TV.
"I'm going to watch the show just to see that shot," Couples said, sitting in his director's chair after Mediate peeled himself off the grass.
"Looked staged, right," LaCava said, sitting alongside.
Folks, believe me. It wasn't. These caddies have some game.