News
Stenson Takes One-Stroke Lead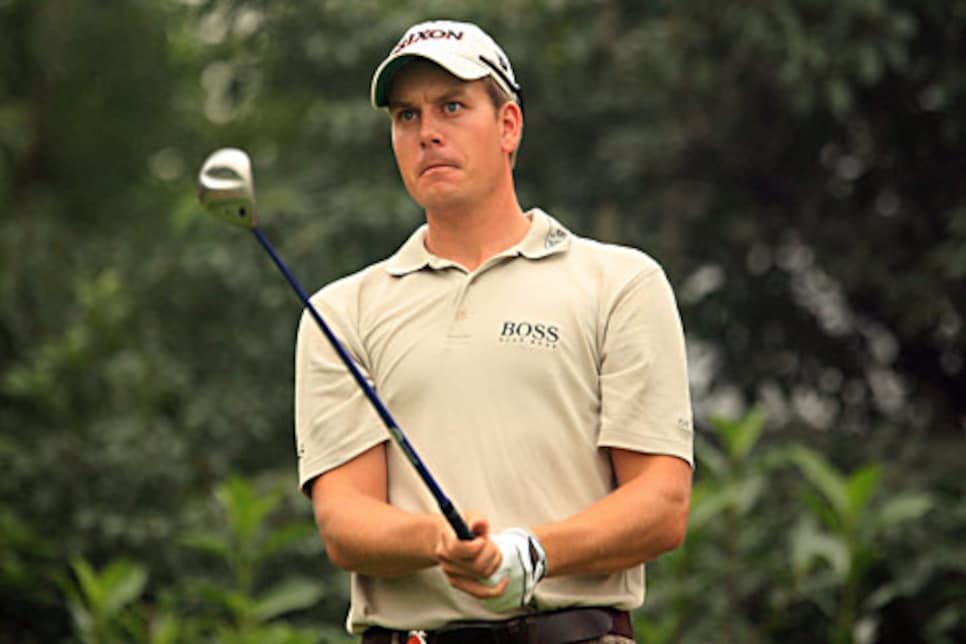 The HSBC Champions opens the new European season that will culminate in the fall of 2009 with the $10 Million Race to Dubai.
• Update: Friday's second round was cancelled due to rain. Play will resume Saturday.
SHANGHAI, China (AP) -- Henrik Stenson shot a 7-under 65 on Thursday to take a one-shot lead after the first round of the HSBC Champions.
The Swede dropped a 20-foot birdie putt on the 18th, putting him a shot ahead of four of the game's top players: Sergio Garcia, Anthony Kim, defending champion Phil Mickelson and Australia's Adam Scott.
Garcia nearly tied for the lead, but the Spaniard missed a four-foot eagle putt on the 18th. "Unfortunately, my putting stroke didn't feel as good as it's been feeling lately," Garcia said. "Maybe it's the jet-lag or something."
Garcia is the world's No. 3-ranked player behind Tiger Woods and Mickelson, and has a chance to move in to second if he finishes in the top three this week.
If he wins, the No. 2 spot is his. If Garcia finishes second, Mickelson needs to finish at least fourth to keep his spot. Mickelson will need to finish at least 15th if Garcia is third.
"The important thing is that I'm moving in the right direction," Garcia said. "It will be nice to finish the year as No. 2, but if I don't, I'm just going to come out next year going strong and try to keep playing well."
Mickelson said he seldom thinks about being ranked No. 2 behind Woods, or losing that spot to Garcia this week.
"That's the last thing that I really think about, other than trying to improve my game and be the best that I can be and hopefully the best in the world," he said. "But I don't worry about the points system or the actual rankings themselves."
The HSBC event is being called "Asia's major," and there are suggestions it should become a World Golf Championships event. For now, it's simply a $5 million tournament with 10 of the world's top 20 playing.
An all-day drizzle combined with some heavy rain -- mixed with fog and Shanghai smog -- to limit visibility at the Sheshan Golf Club located just outside China's financial capital.
Stenson said at the 288-yard 16th he could see only "contours" of the green.
"It was pretty hard to see at times, yeah," the Swede said. "I thought there would have been a fog delay, or a smog delay."
Added Mickelson: "Although it was difficult to see, it was very good scoring conditions."
Stenson opened with a bogey, but then dropped a 6-foot putt for an eagle on No. 2. He birdied the next three holes -- two with 15-foot putts -- and kept building momentum.
"I was rolling it good on the greens," Stenson said. "I think it was more being able to shoot a really good score without playing well."
Kim limped around the course after badly spraining his right ankle and bruising his jaw while horseback riding in the last few weeks. He said the horse raised up and as it came down, his mouth slammed shut as his mount hit the ground.
"I don't know what's going on with it," Kim said of his jaw. "I just can't open my mouth very wide."
"My diet is pretty much limited to noodles," he added.
The HSBC Champions is the first event of the European Tour season that culminates a year from now in the Dubai World Championship. The European tour has also rebranded the Order of Merit -- the season money title -- and now calls it the Race to Dubai.
The Dubai tournament will have a $10 million purse with $10 million more available in bonus money.
Several American-based players -- including Kim and Camilo Villegas of Colombia -- have recently joined the European tour hoping to capitalize on the season-ending money prize.