News
Jones and Letzig Share Lead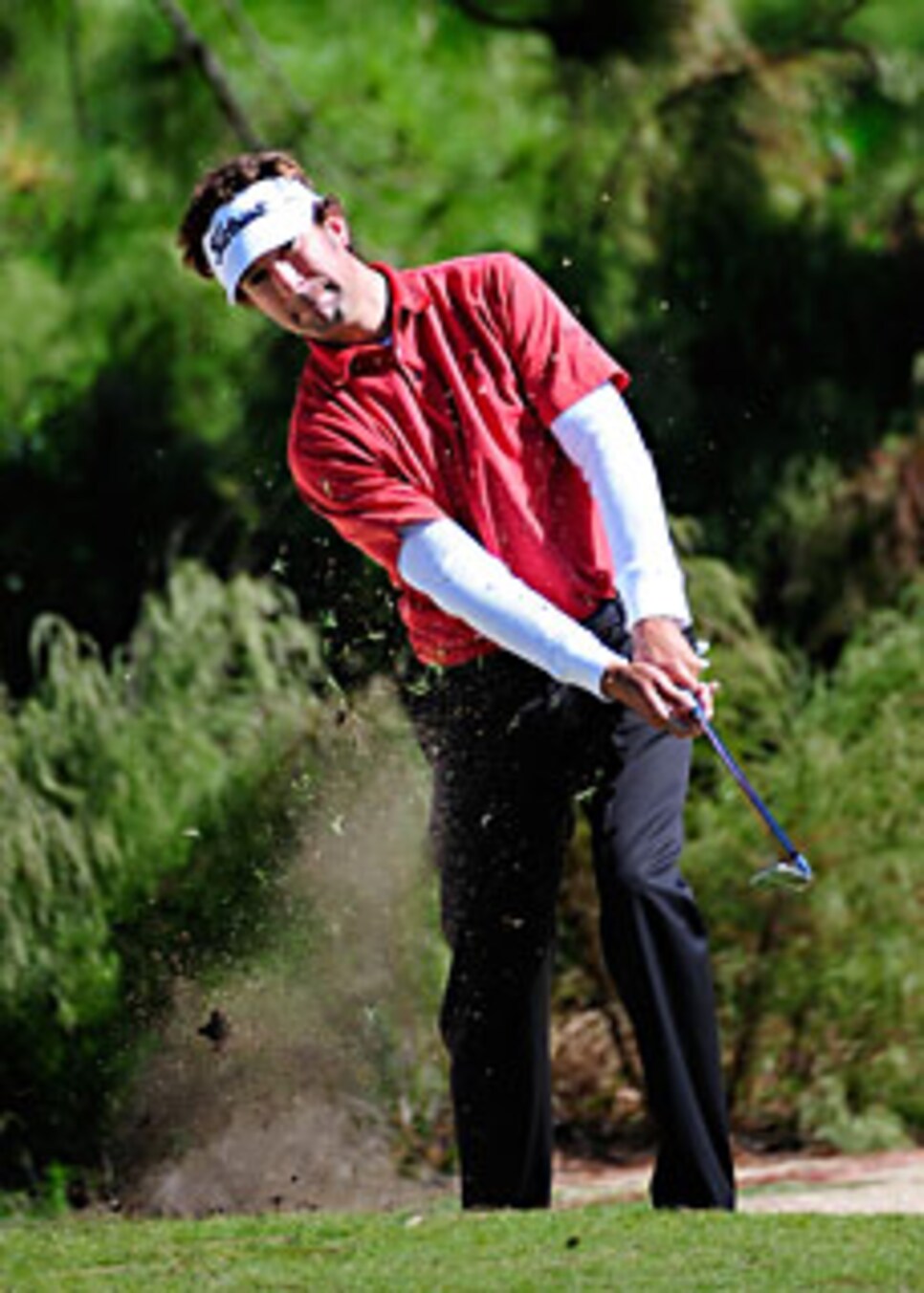 Letzig's 25 putts on Thursday had him T-3 putts per round.
PALM COAST, Fla. (AP) -- Kent Jones recovered from a tee shot in the rough to birdie the 18th hole Thursday for a 7-under 65, giving him a share of the lead with rookie Michael Letzig in the first round of the Ginn sur Mer Classic.
They had a two-shot margin over Ryan Palmer, who birdied three of his first five holes and eased his way to a 67.
Jones and Letzig played college golf at New Mexico a decade apart, but that's where the similarities end.
Letzig, who had never played a PGA Tour event in his life until earning his card last year through the Nationwide Tour, is 109th on the money list and is in good shape to keep his job for next year.
Jones has spent most of his 10-year career around the 125th spot on the money list -- the cutoff for keeping his card -- and he arrived at the Ginn Ocean Hammock Resort at No. 179.
He hacked out of waist-high native grass with a 5-iron into a fairway bunker on the par-5 18th hole, then hit 6-iron into 6 feet for an unlikely birdie that gave him a share of the lead.
"That was my best round of the year, but that's not saying much," Jones said. "I played very solid. For some reason, I seem to play better in the fall. I would like to play better earlier in the year and not put this pressure on myself, but I can't think about that."
Letzig, who has no such worries, made six of his birdies from outside 20 feet and matched Jones with a bogey-free round.
"It was all putting," Letzig said. "I pretty much secured my card last week, so there's no pressure. It's been a lot of stress all year, with a lot of middle-of-the-field finishes but the pressure is off and I'm kind of keeping relaxed out there."
Cameron Beckman, who won in Arizona last week to earn a two-year exemption on tour, kept right on rolling with birdies on two of his last three holes for a 4-under 68 to join a group that included James Driscoll, Tom Scherrer and Robert Allenby, who at No. 30 in the world is the highest-ranked player at the Ginn sur Mer Classic.
Vaughn Taylor, at No. 129 on the money list, was in a group at 69.
Jeff Overton, playing only a week after an emergency appendectomy because he has fallen to No. 126 on the money list, got off to a strong start before he settled for a 71.
Driscoll had his own medical issues, playing the last eight holes with a gash in his thumb after a tee split when he was using it to repair a pitch mark on the 11th green.
A sliver of the tee impaled itself in his thumb, but he removed it and made a 20-foot birdie putt while still dripping blood. He bandaged the wound and kept going, closing with seven pars while missing only one green and no fairways.
"These greens are hard," he said. "It was nasty. But I taped it up, and it was fine."
Defending champion Daniel Chopra, who won last year in south Florida, had two double bogeys for an 81. He wasn't the only one to had a tough day on the Conservatory Course. Davis Love III, coming off eight consecutive rounds in the 60s, had a 75.
Patrick Sheehan, holding down the 125th spot on the money list, opened with a 74.