News
A Misunderstanding Says Daly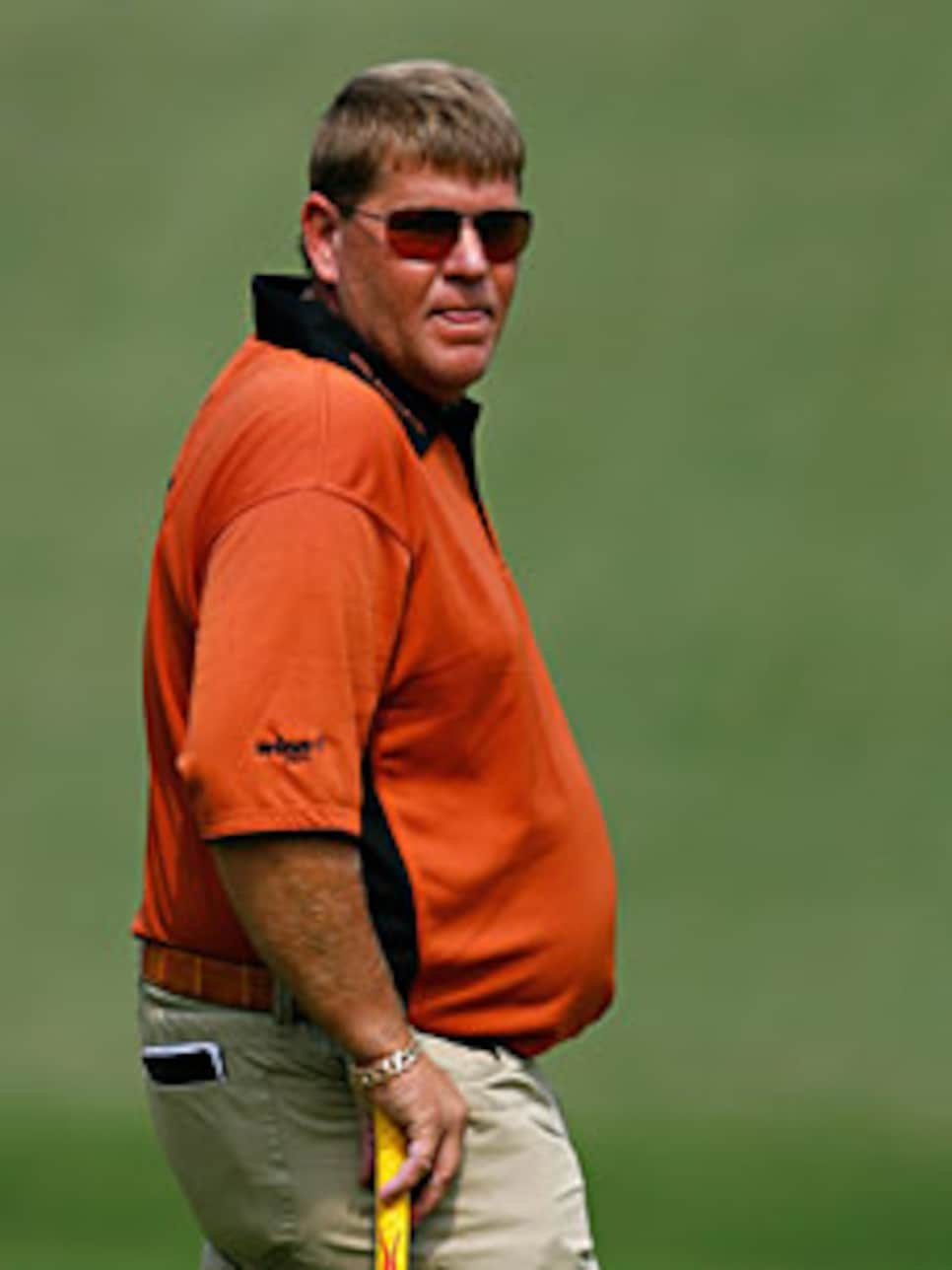 Police described Daly as "extremely intoxicated and uncooperative."
(AP) -- With no golf on his schedule, John Daly says he went to North Carolina to have fun with some friends.
What followed was a night in jail to sober up, a photo of Daly in orange coveralls with his eyes half-open, and the kind of publicity that seems to accompany the two-time major champion no matter where he goes.
"Nothing is going right in my life right now," Daly said in a telephone interview Sunday. "I'm going through a hell of a divorce. I haven't seen my son. It was an unfortunate incident, but it's a joke what people are saying. I take full responsibility for what happened, but it wasn't that big of a deal."
According to Winston-Salem police, Daly appeared "extremely intoxicated and uncooperative" when he was found outside a Hooters restaurant early Oct. 27. With no other means of transportation, he was taken to the Forsyth County jail for 24 hours to get sober.
Daly said it could have been avoided if his friends had realized he tends to sleep with his eyes open when he's tired, stressed and has been drinking. He said the driver of his private bus, parked near Hooters, panicked when he saw Daly and called the paramedics.
"If I had seen someone like that, I probably would have done the same thing," he said. "They were only trying to protect me."
But he said he was not arrested, nor was he thrown out of Hooters. The restaurant closed more than an hour before police arrived.
"The thing I want people to know is when I called my girlfriend at 11:30 p.m., I was going back to the bus to go sleep," Daly said. "I'm not going to say I wasn't drunk. I did have a few drinks. I said to them, 'I'm tired, I'm drunk and I'm going to bed.'"
Daly said his friends woke him up about 2 a.m.
"The bus driver called 911 because my eyes were open," Daly said. "I said, 'What's going on?' He said, 'We thought you were dead.' Anybody who knows me ... when I'm tired, I sleep with my eyes open. They know it takes awhile to wake me up."
Daly said he wanted to go to a hotel, but was told someone sober had to be with him. That's when he was introduced to a North Carolina law called "Assistance to Intoxicated Persons."
"It's like a public service," Winston-Salem police Lt. C.A. Lowder said Sunday. "The person is taken into our custody for their own welfare due to impairment or intoxication. It's not a criminal offense."
Daly said he does not know why he was put into orange coveralls, or why his photo was released to the public.
"The picture looks like I'm drunk," he said. "I wasn't drunk when they took the picture. The picture people are seeing is me half-asleep."
The night in jail -- not to mention the picture -- is the latest in a troubling trend for Daly this year. He has not had his PGA Tour card since his 2006, when his two-year exemption expired from his last victory, the Buick Invitational in 2004.
He has made only five cuts in 17 starts on the PGA Tour, his best finish a tie for 40th in the Viking Classic after rib surgery.
Daly hired swing coach Butch Harmon at the start of the year, but Harmon quit after a week in Tampa, Fla., when Daly spent a rain delay in a Hooters tent, then returned to play with Tampa Bay Bucs coach Jon Gruden as his caddie.
A week later, he was disqualified from the Arnold Palmer Invitational for missing his pro-am time.
Daly said he did not sign up for Q-school, instead wanting to earn his way back to the PGA Tour by playing well enough in Europe to reach the top 50 in the world ranking.
He currently is No. 774 in the world.
Daly played five European tour events this year, his best a tie for 23rd in the Italian Open.
He once had so many sponsor exemptions on the PGA Tour that he had to turn some of them down. But after two years of poor play that Daly said was brought on by injuries, those exemptions are hard to find.
His endorsements are drying up, and Daly fears his sponsorship with Hooters could be the next to go.
"The world perceives that I passed out at Hooters, that I was thrown out at Hooters," he said. "I was asleep on the bus. I didn't pass out at Hooters. I've never had an incident at Hooters. I hate that their name is brought into it this way. They'll probably have to terminate me because of the negative publicity."
Meanwhile, Daly is looking for a place to play next year, with Europe his top consideration.
"He's looking at his options," said Bud Martin, his agent at SFX Sports. "In Europe, he's always enjoyed playing over there. I think he would be welcomed warmly by the European tour."
Daly said even if he could get into PGA Tour events, he could not play enough in a row to build confidence and momentum.
"If I can't get four or five in a row, it's not worth it for me to try to get those exemptions," he said. "I need to play three or four weeks to get into a rhythm. I'm not like Tiger. I can't play one week and win."
As for the fallout from his night of fun in North Carolina?
"Just tell my true fans that I love them," he said. "If they give up on me, I'll understand. But I've still got to play golf. I've still got to earn a living. I'm not sure I'll ever be back to where I was, but I'm going to keep trying."