News
'Grandma' Helen Alfredsson Wins Again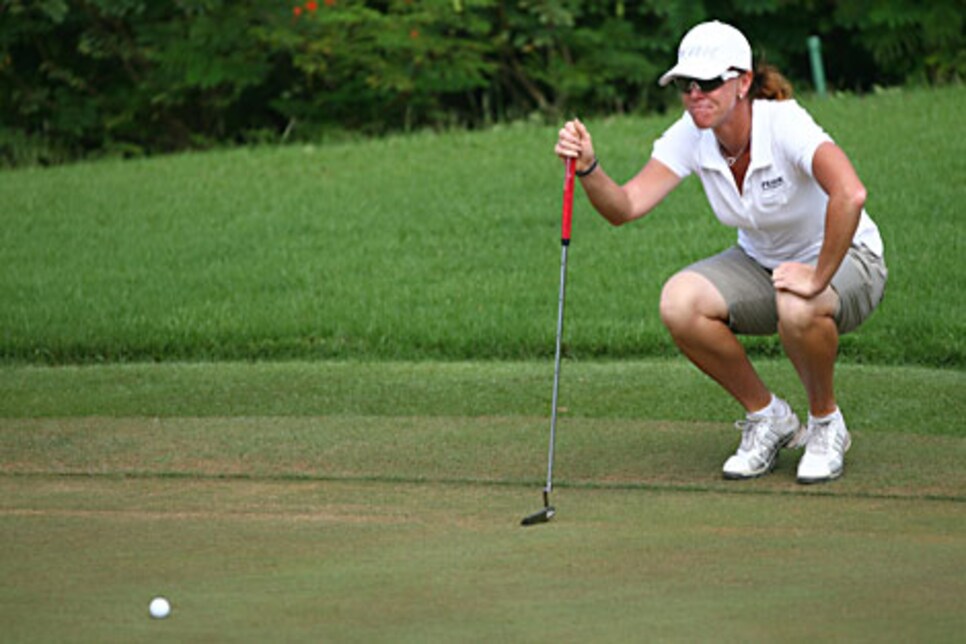 Alfredsson was five-strokes behind the leader when the final round began.
HAIKOU, China (AP) -- Helen Alfredsson gets a kick out of calling herself "Grandma," particularly when it suits her.
The 43-year-old Swede shot a 7-under 65 on Sunday to win the Grand China Air tournament, beating 19-year-old Yani Tseng of Taiwan by three strokes for her second victory of the season.
Alfredsson joked about her age earlier this season after winning the Evian Masters for the third time. She was at it again after this victory, taking a good-natured jab at Tseng, who won the LPGA Championship this season as a rookie.
"Today I said to her, 'You got beat by a grandma. You need to start beating her,'" she said.
Alfredsson, Europe's 2007 Solheim Cup captain, trailed second-round leader Karen Stupples by five strokes entering the final round of the 54-hole event, the first LPGA tournament in China.
She ran off six birdies on the first 10 holes. The final one in that surge gave her the outright lead, moving her to 11 under for the tournament and a stroke clear of Stupples. She went to 13 under with birdies on 14 and 17. Alfredsson played three groups ahead of the final threesome, and left the door slightly open with a poor chip and a dropped shot at 18.
"I was certain at that point," Alfredsson said. "I was 4 up and I didn't have huge pressure on me for the chip shot. But it was not a great shot. But it's great to be on 18 and have a four-shot lead."
Alfredsson finished at 12-under 204 after opening rounds of 70 and 69. The victory was worth $270,000, pushing her career earnings past $5 million.
Tseng also started five back. She finished with a 68 to go with rounds of 72 and 67. It was the fifth time this season she's been the runner-up.
Laura Diaz of the United States, the first-round leader after a 63, had a round of 72 and was four back. Stupples of England was five off the pace with a 75.
Young Kim of South Korea had a 71, six back, and China's Shanshan Feng carded a 68 and finished seven behind. Feng is the only Chinese player on the LPGA Tour.
Diaz and Stupples were trying to end victory droughts. Stupples hasn't won in four years, and Diaz in six. They both crashed on the back nine, where Stupples had four bogeys and Diaz had three.
Alfredsson said she's likely to play only another year or two, joining fellow Swede Annika Sorenstam, who will step away from golf after this season. But she still gets pleasure beating players who are decades younger, like Tseng.
"They don't want to get beat by us because we are so old, and we still want to beat them because they are so young," Alfredsson said.
Alfredsson praised American stars like Morgan Pressel and Paula Creamer, and a young group of South Koreans like Seon-hwa Lee, Inbee Park and In-kyung Kim.
She added Tseng and Feng to the list, suggesting China could become a power in women's golf. This event is on the LPGA schedule for next season, although the venue has not been announced.
"I'm so happy I'm not going to be on tour when all the Chinese girls come out," Alfredsson said. "I'll be retired. They (Chinese) have a great work ethic, and obviously I think it's great they've seen the Korean girls being very successful. ... So it's just a matter of time."
Tseng was the crowd favorite at the West Coast Golf Club, located on China's tropical island of Hainan. Conditions were sultry Sunday, broken only by a light breeze off the Strait of Qiongzhou, which links the Gulf of Tonkin and the South China Sea.
Earlier this season, Sorenstam, who finished 10 off the pace with a 72 on Sunday, said Tseng would be the No. 1-ranked player in three seasons.
"That was very exciting," Tseng said Sunday. "I can't believe she would say that because she is my idol. I don't want her to be disappointed so I will work hard."