News
Beckman Gets Playoff Victory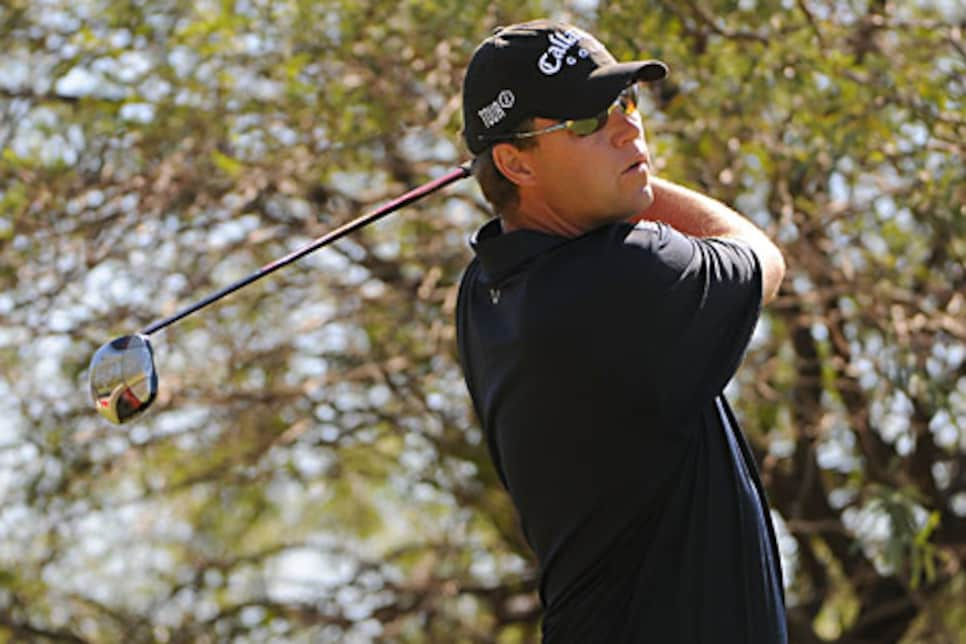 Before the Frys.com Open, Beckman was 176th on the money list and expecting a trip to Q-school if he wanted to play in 2009.
SCOTTSDALE, Ariz. (AP) -- Cameron Beckman tapped in a par putt on the second playoff hole Sunday to complete a big comeback and beat Kevin Sutherland in the Frys.com Open.
Beckman, 176th on the money list and 447th in the world ranking entering the tournament, was four shots behind Sutherland at the turn, then made birdies on five of the next seven holes. Sutherland missed putts of 13 and 9 feet that would have won it at the end of regulation and on the first playoff hole, also the 18th.
The second playoff hole was the 464-yard, par-4 17th, and it was a nightmare for Sutherland. His second shot sailed far to the right over a cart path and into the dirt. His third shot went over the green and down a hill.
Beckman, meanwhile, hit his second shot 6½ feet from the pin. He just missed the putt, and the tap-in gave him his second PGA Tour victory. His first was the Southern Farm Bureau Classic seven years ago.
It was the second playoff loss for Sutherland this year. He and Sergio Garcia were beaten by Vijay Singh at The Barclays on Aug. 24. Beckman made the turn four shots behind Sutherland, then birdied Nos. 10, 11, 14, 15 and 16.
Beckman made the turn at 13-under, then stormed back with birdies on the 10th, 11th, 14th, 15th and 16th holes.
He finally tied it at 18 under when Sutherland missed a 6½-foot par putt on the par-3 16th, snapping his 53-hole streak without a bogey. Beckman finished with a final-round 63, and Sutherland had a 66.
While many players were scrambling to finish high enough to earn full exempt status for next year, Sutherland had no such pressure. He entered ranked 32nd on the earnings list and already had qualified for next year's Masters and British Open.
Beckman, though, had only one top-25 finish. He was fighting to keep his tour card, but the victory means he's exempt for the next two years.
Australian Mathew Goggin closed with a 63 to finish third at 17-under 263. Defending champion Mike Weir also had a 63 to wind up tied with J.J. Henry and second-round leader Arron Oberholser at 14 under.
Sunday was the warmest yet, with a high near 90 degrees, in what was a perpetually sunny four days of play on the 7,115-yard Raptor Course at Grayhawk Golf Club.
The Frys event, in its second year, was the fifth of seven stops on the tour's Fall Series.