News
"Rookie" Sluman In Position To Win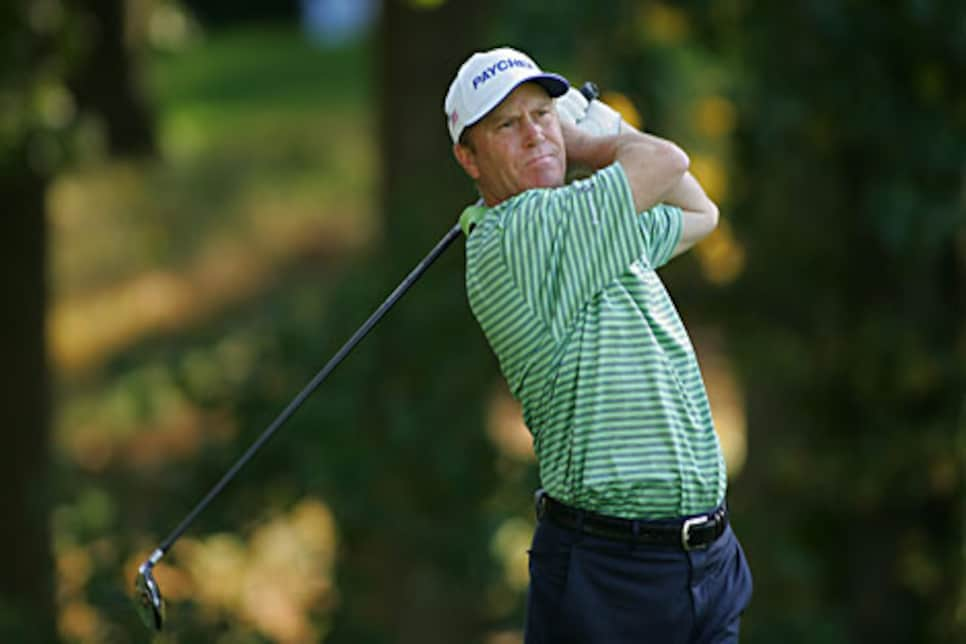 11-under par after 36 holes, Sluman predicts a final-round birdie shootout.
SAN ANTONIO (AP) -- Jeff Sluman moved into position for his third Champions Tour victory of the season, shooting a 7-under 64 on Saturday to take a one-stroke lead over defending champion John Cook and Mark James in the AT&T Championship.
The 51-year-old Sluman had an 11-under 131 total. Cook shot a 63, and James, the first-round leader, had a 69 on the Oak Hills course.
"It's going to be a birdiefest on Sunday," Sluman said.
Jim Thorpe also shot a 63 on another sunny and warm day, leaving him tied with Bruce Fleisher (65), Tom Purtzer (66) and Dan Forsman (69) at 9 under.
"I'm right were I want to be going to the final round, unless I had a seven-shot lead, of course," James said.
Because he only played in five Champions Tour events after turning 50 late last year, Sluman is considered a rookie. The second of his two victories in 2008 came at the Bank of America Championship in June.
"I've been playing pretty well lately, but for some reason I've never really done well here," Sluman said. "I always thought this course was well-suited to my style of play."
He started the second round four shots behind James, but birdied three of the first four holes, while James struggled with a bogey and three pars in his first four.
Sluman added birdies on the par-4 eighth and the par-4 10th to take the lead for the first time. He came home with birdies at 15 and 17, then two-putted for par on the par-3 18th for the one-shot edge.
Cook trailed by six after the first day but got back into contention with eight birdies, including four in five holes.
"This is still my title until somebody takes it away," Cook said. "It would be nice to defend tomorrow. I know somebody is going to play well."
James' slow start included a second bogey on the sixth hole, but he came back with birdies on Nos. 8, 10 and 11. He finished with seven straight pars.
Thorpe's 63 was third of the year, but his first since May.
Charles Schwab Cup points leader Fred Funk was tied for 41st after 36 holes. He said he was already looking forward to next week's season-ending tournament to win the $1 million dollar Schwab annuity.
"I'm playing so bad this week, I can't do anything, but I still have next week's finale to look forward to," Funk said.